RCBJ-Audible (Listen For Free)
Piermont Celebrates Its History With First Heritage Day, Honors Life Of African American Firefighter Thomas Pomplin With Statue
The Village of Piermont on Saturday will unveil a series of panels that chronicle its history in Gair Memorial Park at the corner of Ash Street and Piermont Avenue.
Proclaiming Sept. 17 "Piermont Heritage Day, Village leaders, in concert with the Piermont Historical Society and the Piermont Chamber of Commerce, are shining a light on the river village's place in history.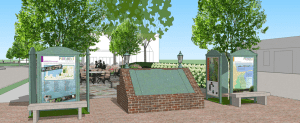 Also on Saturday at noon at Flywheel Park, former fire chief Dan Goswick of the Piermont Fire Department will unveil a statue of fallen firefighter Thomas Pomplin, whose 1854 death is the first recorded Line of Duty Death in the fire service in Rockland county. The statue's creator is Jean Marc Superville Sovak, a multidisciplinary artist and teacher.
'Pomp' as he was known, died at 28 years old, but because he was black, he was denied the distinction, according to the Piermont Historical Society. Goswick and Empire Hose members are the driving forces behind this belated recognition.
The permanent display of eight panels at Gair Memorial Park tell the story of Piermont's role as a river village, a railroad town, and an important stop on the New York & Erie Railroad. The panels, designed by a committee of volunteers, True Color Designs, and BFF Photography & Art, include wayfaring to several Piermont visitors.
The festivities will include music from the Old #7 Band.
---
Helen Hayes' and Charles MacArthur's Pretty Penny  Recognized as Rockland County's First Literary Landmark™ Designation
"Pretty Penny," the Nyack house owned by the late Helen Hayes and Charles MacArthur from 1932 to 1991, has been designated Rockland County's first Literary Landmark™.
Literary Landmarks™ is a program of United for Libraries, a Division of the American Library Association. The Literary Landmarks™ Register, The Empire State Center for the Book, and the Pretty Penny Literary Landmark Committee will celebrate Hayes and MacArthur and the new designation with three events.
On Friday, October 7 at 8 p.m. at Nyack Center, Rivertown Film Society will present Helen Hayes on Film: When the First Lady of Broadway Conquered Hollywood. This evening of film clips and discussion, sponsored by Wright Bros. Realty, will be presented by the film historian John DiLeo who will present film clips spanning more than four decades including The Front Page and Twentieth Century. Tickets will be available at www.RivertownFilm.org.
On October 8 at 3 p.m. at "Pretty Penny," Joyce Bulifant, (former daughter-in-law of Hayes and MacArthur and television star) and the families of Helen Hayes and Charles MacArthur will host "Memories of Pretty Penny", followed by the official dedication of the Literary Landmark™ Plaque. A champagne reception will follow. Space is limited at this outdoor event. Pre-paid reservations can be made at www.RocklandHistory.org.
Also on October 8 at 8 p.m. at the First Reformed Church in Nyack, ArtsRock will present "Remembering Helen Hayes with Love!" a live and in-person show by Joyce Bulifant, with Bryon Sommers on piano. Bulifant will make a rare stage appearance with her one-person show filled with music, images, and personal stories about her mother-in-law. The show will be followed by a Q&A with Joyce Bulifant, hosted by Richard Skipper. Tickets are available at www.ArtsRock.org.
---

---

Spring Street Deli, the former Hayward Deli in Sloatsburg, Cuts Ribbon To Celebrate Opening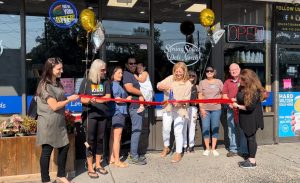 The baton was passed. The long-beloved Hayward Deli & Market on 59 Orange Turnpike in Sloatsburg has been reopened as Spring Street Deli. The opening was marked by a ribbon cutting last Friday.
New owners Jim and Torva Durkin also own the Spring Street Deli in Ramsey, NJ.
The Durkins, who bought the Hayward's business this spring, have renamed the beloved go-to for sandwiches, convenience store items, and community support Spring Street Deli. Like Hayward's, the new owners are a mom-and-pop team who opened the Ramsey deli 17 years ago. This is their first grocery expansion.