RCBJ-Audible (Listen For Free)
St. Thomas Aquinas College Partners with Veolia to Launch STEM Summer Exploration Program
Veolia has awarded a grant to St. Thomas Aquinas College to fund its upcoming STEM Exploration Summer Program. The week-long program began July 24.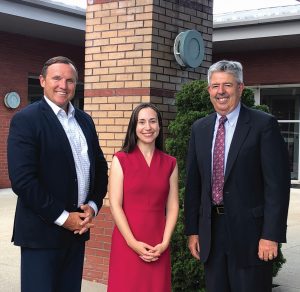 "We are thrilled to have Veoila's support for this mission-critical program," said Ken Daly, President of St. Thomas Aquinas College. "Our students have a proven passion for environmental sustainability, and we know that our students will be the leaders needed to create a cleaner, greener future."
The theme and focus of the STEM Exploration Summer Program is ecological transformation – protecting our planet's resources is one of the biggest challenges we face this century. This transformation is dependent on advancements and partnerships across STEM fields.
"We are excited to partner with St. Thomas Aquinas College on this terrific summer program," said Bill Madden's Veolia's Director of Communications and Government Affairs in New York. "The future of innovation is rooted in STEM-centered programs and the encouragement of students pursuing careers that make their communities more sustainable. Increasing STEM awareness in schools is strongly supported by Veolia across the country."
---
Pfizer To Spend $470 Million To Expand Vaccine Research Lab In Pearl River
Pfizer Inc. will spend $470 million to expand its vaccine research facilities in Pearl River, where the company aims to maintain its advantage in the booming field of messenger RNA, the technology behind its blockbuster Covid-19 shot.
The drugmaker will construct a new building and renovate existing facilities on the campus, which has been the nexus of laboratory research driving its vaccine programs, including the one for Covid in partnership with BioNTech SE.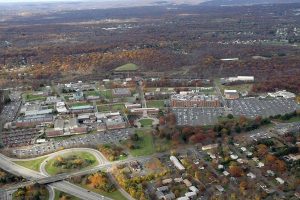 Pfizer's board signed off on the 260,000-square-foot expansion — including 55,000 square feet of lab space — at the end of June. The drug giant, which is headquartered in Manhattan, aims to complete the Pearl River construction in the first quarter of 2026.
Discussions about expanding Pearl River began before the pandemic, and Pfizer's Covid research put more strain on its facilities. Scientists there were responsible for designing the shot, testing it on animals and conducting other quality checks and analysis. They've also done research and development work on vaccines including Pfizer's Prevnar for potentially lethal pneumococcus, the world's best-selling vaccine until the Covid shot arrived.
The Covid vaccine, Comirnaty, has almost doubled Pfizer's annual revenue, bringing more than $36 billion in 2021 sales alone, according to Bloomberg. Pfizer is aiming to replicate that success by applying mRNA to other disease areas. Expanding Pearl River will bring additional lab space to develop a new portfolio of mRNA vaccines to prevent influenza and other viral pathogens. It will also benefit existing projects, such as Pfizer's experimental vaccine against respiratory syncytial virus, which uses a more traditional technology.
Pfizer recently made a separate $29 million investment to establish a lab in Pearl River that's used to study potentially dangerous infectious agents like Covid. The lab, commissioned in December 2020, has a biosafety level 3 rating, qualifying it to study infectious agents or toxins that may be transmitted through the air and cause lethal infections. The drugmaker is now committing another $20 million to double the capacity of the lab.
"Pfizer's announcement to further its vaccine research here in Pearl River is exciting," said Jamie Schwartz, president of the Hudson Valley iCampus. "This significant investment is right in line with our collaboration with Pfizer and our common goal in making the Hudson Valley iCampus a place where innovation thrives, as it is quickly becoming one of the biotech and life sciences hubs in the region."
Pfizer's property is contiguous to the Hudson Valley iCampus, a 2 million-square-foot mixed-use, multi-tenanted campus on 207 acres. The campus formerly was owned by Pfizer, which in 2015 sold most of the property to Industrial Realty Group (IRG).
---

---

---
Hudson Gateway REALTOR® Foundation Presents Donation to Drug Crisis in Our Backyard
The Hudson Gateway REALTOR® Foundation, the charitable arm of the Hudson Gateway Association of REALTORS®, has donated $2,500 to Drug Crisis in Our Backyard, based in Somers, but serving the Hudson Valley.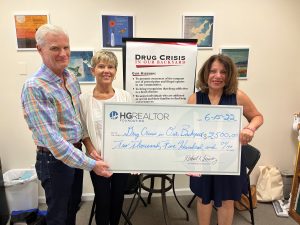 Drug Crisis in Our Backyard was founded in 2012 by Susan and Steve Salomone, and Carol and Lou Christiansen after the loss of their sons to a battle against heroin. The organization promotes awareness about drug use, assists addicted and at-risk individuals and their families, and implements measures, including legislation that holds accountable organizations and medical institutions that perpetuate drug use through over-prescription of opiates and other drugs. It serves the region with support groups and various events.
"A huge thank you to the Hudson Gateway REALTOR® Foundation for their generous grant. We appreciate your commitment to help us continue our mission of helping families struggling with substance misuse," said Susan Salomone.
Steve Salomone is a Associate Broker with Houlihan Lawrence Commercial in Rye Brook and Christiansen is an Associate Broker with McGrath Realty in Mount Kisco,
For more information, visit www.drugcrisisinourbackyard.org.