RCBJ-Audible (Listen For Free)
Rockland County Redistricting Information & Feedback Sessions Begin Wed. June 8
Rockland County Legislature's Special Committee for Redistricting will conduct public forums in June to outline the redistricting process and timeline, and to allow for public comment and community participation. The first session will take place tonight in Orangetown.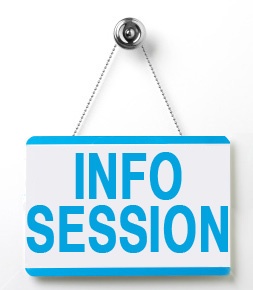 Many aspects can be considered when drawing district boundaries, including keeping communities of interest together, something that can be based on similar social, cultural, ethnic, economic, religious, or political interests and priorities.
Ten years ago, based on the 2010 Census, each of the county's 17 legislative districts was drawn to contain about 18,000 people. Each district must now contain roughly 19,918 people, according to the 2020 Census.
Some significant disparities include a district that contains nearly 21 percent more people than that (24,089) and a district that contains about 13 percent fewer people than that (17,324). By reapportioning the districts to hew to the 19,918 number, the people residing in the districts will be equally represented.
It is almost impossible to divide all districts equally, but the Rockland County Legislature has set a deviation target of 3 percent or less. That means that a district's population would contain no more than 20,515 people and no fewer than 19,321 people.
During a series of five public forums – one in each of Rockland's five towns – a presentation will be made to outline the process and timeline involved in the redistricting effort.
Here is the Forum Schedule:
Town of Orangetown: 6 p.m. Wednesday, June 8 at Orangetown Town Hall, 26 Orangeburg Road, Orangeburg.
Town of Haverstraw: 7 p.m. Thursday, June 9 at Haverstraw Town Hall, 1 Rosman Road, Garnerville.
Town of Stony Point: 6 p.m. Tuesday, June 21 at Rho Building, 5 Club House Lane.
Town of Clarkstown: 6 p.m. Wednesday, June 29 at Clarkstown Town Hall, 10 Maple Ave., New City.
Town of Ramapo: 6 p.m. Thursday, June 30 at Ramapo Town Hall, 237 Route 59, Airmont.
New district maps reflecting population changes between 2010 and 2020, as determined by the 2020 census, are expected to be completed in August/September, and will be available for public viewing and comment.
---
Senator Reichlin-Melnick Champions Improvements to Route 303 in Orangetown
Legislation sponsored by Senator Elijah Reichlin-Melnick (D-Rockland/Westchester) to make Route 303 in Orangetown safer passed the New York Senate. The bill would require the Department of Transportation to conduct a comprehensive study to evaluate how to improve the outdated and dangerous stretch of road.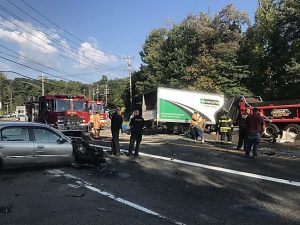 "This bill is long overdue," said Senator Reichlin-Melnick. "Route 303 was built more than 80 years ago, and while Orangetown has seen major population growth since then, there have been few significant improvements on this roadway. With more warehouses and light industry coming to the 303 corridor, the time is now for the Department of Transportation to prioritize improvements so that people in Orangetown have a safe path from their homes and their work."
Orangetown Supervisor Teresa Kenny said, "The volume of truck traffic, speeding and distracted drivers has made Route 303 extremely dangerous to both drivers and pedestrians. Last November, my 18-year-old niece was in a terrible car accident on Route 303 in Blauvelt caused by an oncoming vehicle crossing three lanes of traffic and hitting her head on. I want to thank Senator Elijah Reichlin-Melnick for listening to my concerns and getting Senate Bill S8930, asking New York State to conduct a comprehensive safety study of the Route 303 Corridor, passed today. Orangetown residents need this study so that improvements can be made to make Route 303 a safer road for all of us to travel."
S8930 passed the Senate on a unanimous vote on June 1, 2022.
---

---
---
NY Lawmakers End Session Without Vote On "Good Cause" Eviction Bill
The New York State Legislature ended its legislative session without voting on the proposed Good Cause eviction bill, a decision cheered by multifamily industry representatives who said it amounts to another form of rent control and would hinder rather than help create affordable housing and decried by housing advocates who say it will lead to higher rent hikes and homelessness.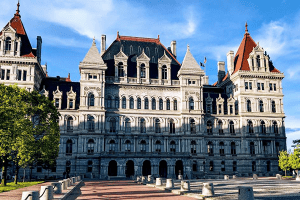 The Good Cause eviction legislation was introduced in 2019 and 2021 and again this year by state Sen. Julia Salazar of Brooklyn and Assembly Member Pamela Hunter of Syracuse. Progressive Democrats and housing advocates across the state were pushing the bill even harder this year as eviction moratoriums put in place during the COVID-19 pandemic expired.
The legislation would apply to nearly every rental building except for owner-occupied properties with less than four units. Among the more controversial elements of the proposed bill is setting a standard for rent increases at 3 percent or 1.5 times the Consumer Price Index, whichever is higher. Landlords who want to raise rents higher would have to justify those increases in court. It would also guarantee tenants the right to lease renewals unless they had not paid their rent, violated their leases, or created nuisances.
Multifamily property owners were concerned those regulations, if approved, would keep them from evicting troublesome tenants.
"The proposed bill would have effectively eliminated the ability to evict a (resident) who caused building difficulties, or violated other (residents)' peace and comfort," said Kenneth Finger, a real estate attorney with the White Plains, N.Y., law firm of Finger & Finger and chief counsel to the Building and Realty Institute, a trade association serving the Hudson Valley, N.Y., area.
---