RCBJ-Audible (Listen For Free)
American Dream Megamall in New Jersey Is 80 Percent Leased, With More Deals In The Works
Venue Strikes Pact With Live Nation To Host Concerts and Events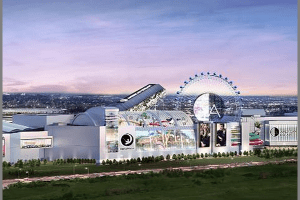 American Dream, the entertainment-and-shopping complex that encompasses roughly 3.5 million square feet, is 80 percent leased more than two years after it opened.
The update on the $5 billion project in East Rutherford, New Jersey, was provided in a filing for the project's bondholders. As of April 1, American Dream had executed leases for 2.8 million square feet, including 100 percent of the 119,605 square feet occupied by its retail anchors, according to the filing by debt servicer Trimont Real Estate Advisors.
Canadian mall operator Triple Five is the company behind the project, and the entity that finally brought it to fruition.
"The developer has successfully leased or is expected to self-operate (or operate via its affiliates) all the currently anticipated anchor space in the center," according to the filing, which described American Dream as "significantly larger than a typical regional or super-regional mall."
Adding in deals that are under negotiation, American Dream is about 85 percent leased, the filing said.
The development, roughly two decades in the making, has faced setbacks and delays, in terms of its construction and lining up tenants, as well as financial woes trying to make its debt service payments. It lost several of its would-be tenants — including Lord & Taylor and Barneys New York — when they filed for bankruptcy protection.
Part of the complex, the indoor Nickelodeon Universe Theme Park and an ice skating rink, debuted in October 2019. But its water park and main retail openings were stalled in part by the the pandemic in 2020, when the venue was forced to temporarily close. The complex's 300-foot-tall observation wheel is slated to open later this month.
American Dream also announced that it had struck a multiyear partnership with Live Nation to bring concerts and  live events to the venue. Hip-hop star Ludacris is scheduled to perform on May 7, followed by rapper J.I. on June 17; DJs and producers Two Friends on June 18; rapper Lil Tjay on July 22; rapper Shek Wes on Aug. 13; and Japanese rock band Band-Maid on Oct. 30.
Live Nation also plans to create pop-up shops and book launch parties for new music releases and upcoming tours in spaces located throughout American Dream.
---
Rockland County Legislature Puts Brakes On Rockland Green's Ask For Charter Change; Says It Wants More Information On Hi-Tor Proposal
The Rockland County Legislature last week pulled a resolution from its agenda that would have voted on a request from Rockland Green (the former Solid Waste Management Authority) to amend its charter. Rockland Green, a public authority, is hoping to take over the Hi-Tor Animal Shelter in Pomona, saying the Authority is better suited to run the facility than the troubled nonprofit that has managed it for decades.

Sources say the legislature did not have the votes to give Rockland Green the greenlight to take its request to Albany. Members of the legislature are looking for more information, including financial projections and a business plan, from Rockland Green, before the resolution will be voted on.
Two Rockland County legislative committees had previously unanimously approved Rockland Green's request to allow the Authority to ask the New York State Legislature to introduce "home rule" legislation that gives the Authority the ability to change its charter. The Authority wants to expand the authority's purposes, powers and responsibilities to include "animal management services."
Rockland Green next meets on April 28th. The board meetings are alternatively held at the Clarkstown Town Hall and the County's Legislative Chambers in New City. Board meetings, which begin at 5 pm, are open for public comment.
---

---
Home Mortgage Applications Hit Three-Year Low
Home mortgage applications fell last week for the fifth consecutive drop, reaching their lowest level since 2019 as interest rates run higher, according to CoStar.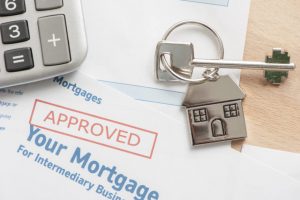 Overall, the Mortgage Bankers Association's weekly index declined 6.3 percent for the week with a reading of 398.50, the lowest since March 2019.
Refinancing took the biggest hit, dropping 10 percent from the previous week. Mortgages for purchasing homes fell 3 percent.
"Mortgage application volume continues to decline due to rapidly rising mortgage rates, as financial markets expect significantly tighter monetary policy in the coming months," Joel Kan, MBA's associate vice president of economic and industry forecasting, said in a statement.
Last week, interest rates were rising and hit 4.9 percent. On Wednesday, Mortgage Daily News showed interest rates closed at 5.08 percent after Fed Vice Chair Lael Brainard issued a warning earlier in the week that the Fed needs to slow its bond buying, which increases pressure on interest rates.

---