RCBJ-Audible (Listen For Free)
Realterm Purchases Final Mile Warehouses in Blauvelt For $102 Million
Realterm has purchased two final mile warehouses in Blauvelt, totaling 307,275 square feet on 32 acres, at 200-400 Oritani Drive and 100 Oritani Drive in Hudson Crossing Industrial Park. Both properties have long-term tenants, excess parking and a combination of drive-in and dock-high loading positions. According to the recorded deeds, Realterm paid $57.5 million for the property at 400 Oritani Drive, and $45 million for the property at 200 Oritani Drive, or about $327 /sf and $342/sf, respectively.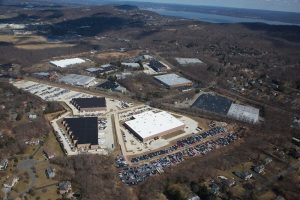 "The tri-state region, New York, New Jersey and Connecticut, is a leading final mile market with high barriers to new development, a population with strong income demographics and deep user demand, all of which make these warehouses extremely valuable additions to Realterm's portfolio," said Ben Andreycak, East Region Acquisitions, Realterm.
Brian Fiumara of CBRE facilitated the transaction and represented the seller.
"We are pleased to add well-located, highly functional facilities to our portfolio in the tri-state region," said Stephen Panos, Senior Vice President and Fund Manager, Realterm. "We remain committed to expanding our interest in the high flow-through industrial sector given the rising demand for these types of properties."
---
American Dream Mall In New Jersey Seeks Delay on Debt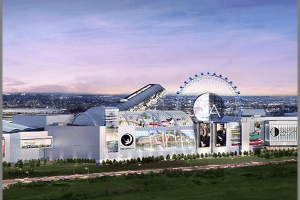 New Jersey mega mall American Dream's owner reportedly is seeking an extension to repay its construction loan on the $5 billion entertainment-and-shopping venue.
Triple Five Group asked the JPMorgan-led group of lenders for a four-year delay on paying back nearly $1.7 billion in construction financing, Bloomberg reported citing people familiar with the discussions.
The discussions on the construction financing are part of broader effort to restructure the mall's debt to stave off filing for bankruptcy protection, according to Bloomberg.
Of the total, a $475 million mezzanine loan comes due this year. Last week, the developer depleted its reserve account to make a $9.3 million payment due on bonds, leaving less than $1,000 in the account.
The mall has suffered during the pandemic. Last year, it generated a small fraction of the $2 billion gross sales the developer projected the mall would produce.
---

Rockland County Launches Office of Buildings and Codes; 30-Day Moratorium on New Permit Applications in Effect until March 15th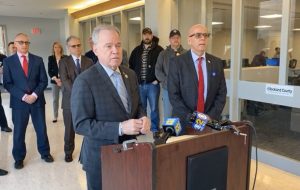 Rockland County has launched the Office of Buildings and Codes, which assumes full control over the Village of Spring Valley Building Department as ordered by New York State.
The County of Rockland was ordered by the New York State Department of State on November 16, 2021, to take over the functions of the Spring Valley Building Department.
What the takeover includes:
    Weekly meetings with New York State and Spring Valley Village officials and attorneys.
    Five new resolutions drafted in 90 days.
    Renovating an old, unused cafeteria, into office space in under 20 days.
    Launching the web page for the new Office of Buildings and Codes.
The Office of Buildings and Codes main office is located on the 2nd Floor of Building A in the Robert Yeager Health Complex in Pomona. Rockland County will also have a small satellite office at Spring Valley Village Hall to accommodate the needs of village residents. The satellite office will be staffed by a clerk and certified code inspector to provide forms and answer questions.
Former NYPD Police Officer and Suffern Mayor Ed Markunas is the Director of the Office of Buildings and Codes. During his time as Mayor Ed Markunas oversaw the Village's Building Department and developed and implemented the Village of Suffern Code Initiative (modeled after the Rockland Code Initiative) which combatted code, housing, and fire safety issues.
"Based on the information provided by Spring Valley there are over 800 outstanding inspections that we must tackle as quickly as possible which will be prioritized based on any safety concerns," said Markunas. "To accomplish this, we have 20 certified code inspectors and several support staff who will tackle the outstanding inspections. As this process plays out, we are prepared to increase staffing and inspectors if the workload demands it."