RCBJ-Audible (Listen For Free)
New York Towns Watching Cannabis Industry Take Off In Neighboring Berkshire Region, As Deadline For Opting Out Has Passed
By Tina Traster
It's mid-morning on the last day of 2021 and the charming streets in Great Barrington, MA are unusually serene, if not a bit ghostly. Restaurants and the many upscale shops in this year-round resort in the Berkshire Hills about two hours from Rockland County are winding down for New Year's Eve. Even parking isn't difficult.
Conversely, patrons are packed wall-to-wall in this town's cannabis dispensaries, four of which sit within a two-mile span along the main stretch of town. The crowds, ranging from woolen beanie-wearing millennials to gray-haired retirees, jockey for room as they peruse the well-appointed shelves or queue up for the dispensary to fill their cannabis orders.
At first glance –once you get past the non-descript security check-in desks that ask to see government-issued ID – both Calyx Berkshire Dispensary and Farnsworth Dispensary resemble beautiful jewelry stores with arched backlit shelves, carefully appointed displays, bright lighting, blond flooring, and whimsical design. Theory Wellness, the first recreational cannabis dispensary to open in town in 2019 a bit north of the hubbub, rocks a hipper vibe with comfy seating and army fatigue leisurewear, and is both a medical and recreational dispensary divided in two spaces.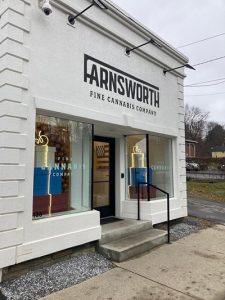 All three, along with Rebelle Dispensary at the southern end of town, have ushered in a new era of retailing in the Berkshires that legitimizes a legalized recreational culture and has stimulated a local economy with its novelty. Their shelves are filled with cannabis offerings, including the plant flower for smoking, rolled joints, cannabis-infused ice cream, sorbets, seltzer, mints, chocolate, gummy bears and more. Retail paraphernalia includes pipes, glass bongs, ash trays, cannabis-themed jewelry, clothing, books.
Great Barrington is the nearest destination for Hudson Valley residents to purchase weed while New York and New Jersey slowly gear up to compete in what is expected to become a burgeoning industry.
As New York prepare for recreational dispensaries and lounges, towns across the state had to decide whether or not to be on the forefront of this new frontier by Dec. 31, 2021. In Rockland County, the results are in: The Town of Haverstraw is Rockland's only opt-in town, along with the villages of Nyack, Piermont, Airmont, Spring Valley, Chestnut Ridge, the Village of Haverstraw, and Hillburn. The remainder of the county's municipalities voted to opt out – which means cannabis retailers will not be permitted in their jurisdictions until or unless they opt back in.
In neighboring Orange County, 43 municipalities took the same course. As the Dec. 31 deadline approached, seven appeared likely to allow dispensaries and just three – the city and town of Newburgh and village of Woodbury – were set to allow places where cannabis products are sold and consumed. Woodbury is the site of Woodbury Commons outlet stores.

Rockland and Orange County municipalities were more conservative in their opt-out decisions than their counterparts in neighboring counties and the state. Statewide, 588 of all 1,518 municipalities, or 39 percent, had blocked dispensaries, while 670, or 44 percent, had prohibited consumption sites, according to the Rockefeller Institute. These numbers may rise when total Dec. 31 tallies are in.
A century after becoming the first U.S. state to criminalize recreational cannabis, Massachusetts voters elected to legalize it in 2016, following a ballot initiative in November of that year. The state began allowing licensed recreational sales in 2018. The industry has since grown to include hundreds of businesses, thousands of employees and, as late 2021, roughly $2.3 billion in cannabis sales.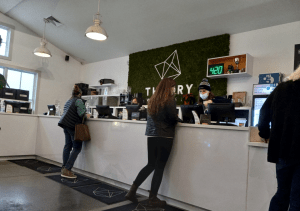 But the start-up process for Donna Norman, chief executive officer of Calyx Berkshire Dispensary, was a head trip – a slow, somewhat grueling three-year odyssey to open her doors.
"It took me three years to get my license," said Norman, adding that she is the only 100 percent woman-owned dispensary in the Berkshires. "I was a dog with a bone. It was a feat. I wanted to do this so badly."
Norman worked in finance in Manhattan for 20 years but kept a weekend house in the Berkshires. After a trip to Colorado, where she visited a cannabis dispensary, Norman found her calling.
"I was a kid in a candy store," she said.
Getting started wasn't child's play. Norman said she carried the rent on her Main Street location for three years before opening because snaking through the licensing process was a nightmare.
The Massachusetts Cannabis Control Commission (CCC) wanted Norman to write by-laws, it demanded a site visit, which meant she needed to secure a space before being licensed; the delays were endless.
Most importantly, Great Barrington tweaked its zoning laws to allow the dispensary to operate in the heart of the retail center.
In mid-2020, at the height of the pandemic, Calyx opened its doors.
"It brought business to town," said Norman, who organized the Berkshire Busker event, which drew more than 75 street musicians who performed in front of her shop. She is also raising money for the Elizabeth Freeman Center, a nonprofit that shelters women of domestic violence.
"We are normalizing cannabis," she said. "It's losing the stigma. If you smoke a joint, you're not a bad mom."
To date, the CCC has approved 945 marijuana business licenses, including for 379 retailers, 285 cultivators and 218 product manufacturers.
So far, 176 retail stores have opened their doors, 62 cultivators (including eight outdoor grows) are tending to a cumulative 1.79 million square feet of marijuana canopy and 55 companies are manufacturing products like edibles and vaporizer cartridges.
Norman says cultivators, vendors, and makers are scouring the local property market for empty warehouses, paper mills, and other commercial buildings.
In Massachusetts, purchases are subject to a 10.75 percent marijuana excise tax, plus the state's normal 6.25 percent sales tax, and an optional local excise tax, up to 3 percent. Consumers can expect to pay roughly 17 percent to 20 percent tax as an out-the-door total. Medical marijuana: Purchasers pay no taxes on medical marijuana.
In New York, the adult-use cannabis industry has the potential to create significant economic opportunities for New Yorkers and the state. Tax collections from the adult-use cannabis program are projected to reach $350 million annually. Additionally, there is the potential for this new industry to create 30,000 to 60,000 new jobs across the State.
Norman says towns opting out may regret that later on.
"Those who are opting out may end up kicking themselves in the butt because the process is long but the opportunity is great." Great Barrington has developed into a destination as the Southern Massachusetts hub for recreational marijuana dispensaries. New York municipalities that are early adopters might follow suit.