RCBJ-Audible (Listen For Free)
Finding Location To Build Out A Swimming Pool In Suburbia Is A Real Estate Challenge
By Tina Traster
Will Graves took to the water early having grown up on the shores of Lake Michigan in a comfortable suburb with backyard pools. But when he attended the United States Naval Academy in Annapolis, Maryland, he was flummoxed to learn that many students, particularly those from disadvantaged backgrounds, didn't know how to swim.
After earning a business degree from the Wharton School of the University of Pennsylvania and building a career in tech and finance, Graves changed lanes and became a franchisee of the Goldfish Swim School, a growing national brand that teaches children from four months to 12-years to swim. The Troy-Michigan-based company, founded in 2008, has more than 122 schools in 21 states, and more than 100 in development across the U.S. and Canada.
In 2018, Graves and his wife Gillian, a former elementary school teacher, opened a Goldfish Swim School in Yorktown Heights. The couple opened a second location in New Rochelle this year, undertaking a complicated buildout during the height of the pandemic. Now they are scouting Rockland County, along with Westchester, to build a handful of locations for their exclusive bi-county territory.

"I grew up with a real passion for the water," said Graves. "Swimming is not just about recreation. Fundamentally it's a safety issue, especially for children. Drowning is the number two cause of deaths for children."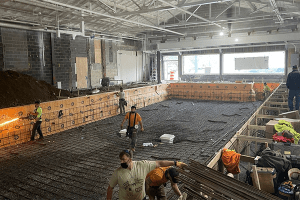 Opening a Goldfish Swim School is indeed more complicated than franchising a quick service restaurant. Typically, a franchisee like Graves needs to scout a location ranging from 6,000 square feet to 10,000 square feet, and then make the hefty investment of digging out an indoor space to construct an 80- by 20-foot swimming pool. Ideally, Graves says, buildings will have open spans, lack columns, good water sewage systems, robust power for heating the pool, and the underlying ground soil needs good drainage.
As Graves learned, finding the right property is a long process – sometimes lasting up to 18 months. In both Yorktown Heights and New Rochelle, landlords were willing to amalgamate several properties to make it work. The location at 92 Triangle Center is Yorktown Heights called for razing five buildings at the tired shopping center and combining the site for an 8,500-square-foot facility.
"The shopping center had some good tenants like TJ Maxx and Acme, but it also had a lot of legacy stores that weren't going to be filled," said Graves.
The New Rochelle Goldfish Swim School at 14 Weyman Avenue sits in an industrial urban redevelopment zone and required an amalgamation of three separate buildings. Additionally, columns were taken down and trusses were built to support a new roof.
"This location straddles New Rochelle and the Bronx," said Graves. "It will attract a diverse consumer base, from Larchmont and Rye to the Bronx and Queens. We're excited to bring this kind of business to this location."
The two Westchester Goldfish Swim Schools have been leased for 20 years and together employ more than 50 people. Dan Israel, vice president of franchising for Goldfish says nearly 90 percent of the franchises are leases; another 10 percent purchase the site.
Franchisees pay a $50,000 fee with an initial investment ranging from $1.3 million to $3.3 million. Franchisees must have a $1.5 million net worth, with $600,000 in liquidity. The franchise takes a 6 percent royalty fee, and an additional 2 percent advertising royalty fee.
"Our franchise partners take great pride in knowing their business is truly impacting their community," said Israel. "With Goldfish, they're investing in an organization with a strong culture, solid systems, and a strong business model with a talented support team."
Goldfish schools are located in strip malls and in industrial parks. Graves said parking is a priority and good visibility is desirable but not a necessity because the facilities are destinations for parents who want to get their kids in the pool early and often. An annual swim membership is $144 monthly for perpetual swim lessons in a 92-degree, four-foot-deep pool. Goldfish's proprietary curriculum, The Science of SwimPlay®, is designed to build life skills using play-based learning in a fun and safe environment, according to the company.
"I can't imagine being afraid of the water," said Graves. "Swimming is a lifetime activity. It brings great joy. There's nothing better than seeing my kids entertaining and laughing in a swimming pool."