---
BANNERS, BOXES, IN-STORY ADS, SPONSORED CONTENT, AUDIO & EMAIL SPONSORSHIPS
Rockland County Business Journal is a 24/7 online business journal covering the county. It is Rockland's only comprehensive source for local business news. Visit us at: rcbizjournal.com
Our coverage of hyper-local and highly targeted business news is updated daily online to almost 79,000 unique visitors on a monthly basis. More than 70% of readers view Rockland County Business Journal on mobile devices. We reach the heart of the community through social media, networking, events, word-of-mouth, and via targeted daily email campaigns to subscriber-based mailing list of approximately 6000 readers. Our open rate is approximately 33% and our click-through rate exceeds 12%.

Our SEO is top notch.
Advertisers will not find a more targeted audience in Rockland County for latest news, features, real estate, business, technology, industry, and other categories. We look forward to working together to plan a strategic advertising campaign and to explore profitable partnerships.
---
AUDIO SPONSORSHIP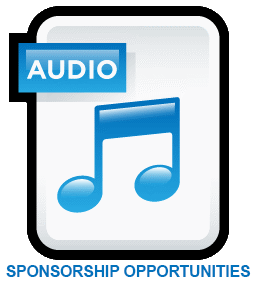 All new stories are TTS (Text-To-Speech) enabled and can be read aloud to viewers with the click of a button — perfect for easy reading, drive-time, vision-impaired readers, and added convenience. A 10-second, sponsorship (commercial, if you will) is available at the beginning of each story. It can be as simple as "Today's story is sponsored by ________________." or "Come visit ________________ at ______________." or just about any text you choose. Weekly sponsorships (5 stories) cost $100. Monthly sponsorships (20 stories) cost $250.
Talk to us about how best to utilize this new opportunity. The audio file can be branded along with sponsorship.

---
IN-STORY ADVERTISING
InStory Advertisements appear daily as part of the text of the day's lead story. It remains attached to the story for the run of the ad campaign. InStory ads can be 728×90 pixels, 728×150 pixels, 300×250 pixels or 300x400pixels. Prices vary with size.
Banners, boxes and custom ad sizes are now available in our Latest (Breaking) News and other Featured Stories. In-Story Rates start at $150/week. Monthly rates start at $500/month. Call or write for more details. Placements are limited.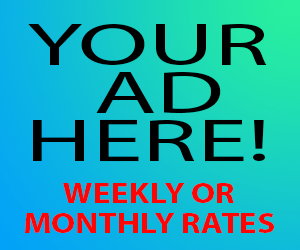 ---
Sponsored Content
Sometimes an advertisement is simply not enough. Perhaps you've opened a new office, have a new hire or promotion, have a new product announcement, or have been recognized for excellence in your field. There may be a story in there that you want to tell and an advertisement just won't cut it. Talk to us about sponsored content. Prices vary on length of time and content, but there are lots of options available. To view a sample of sponsored content, click here.
---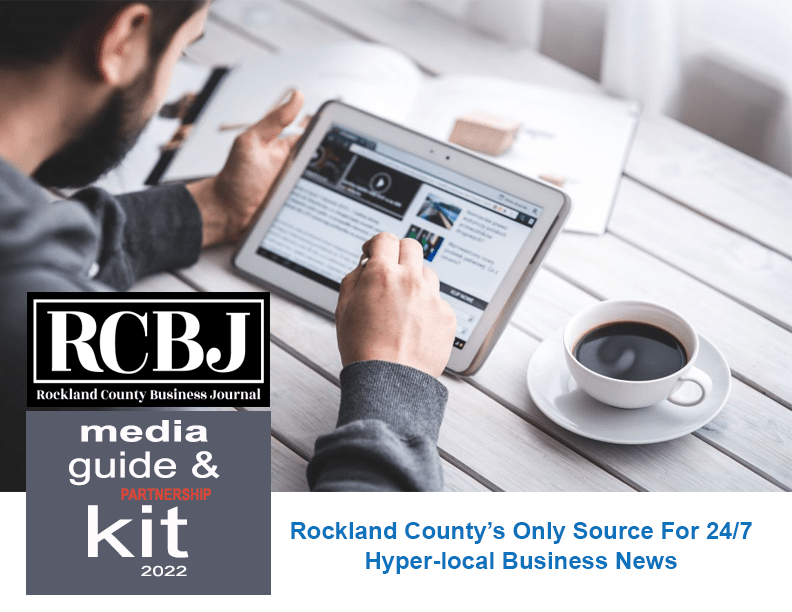 ---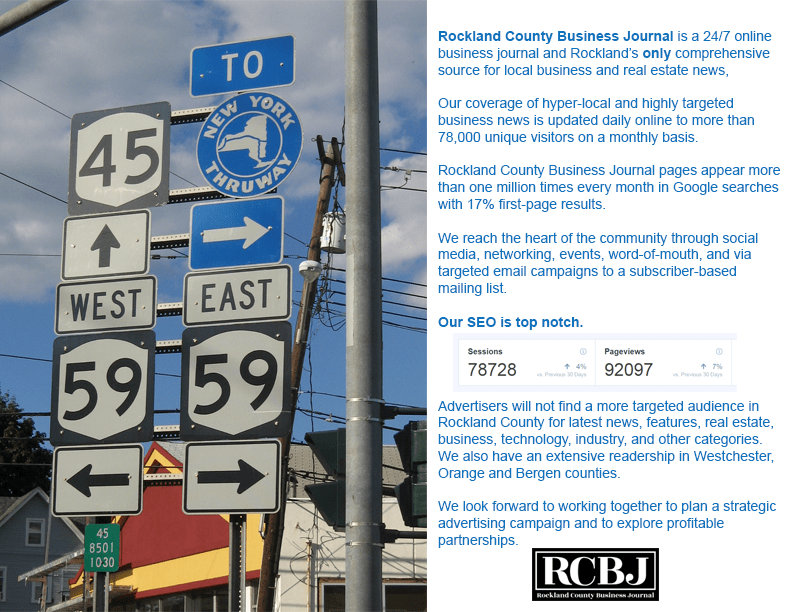 ---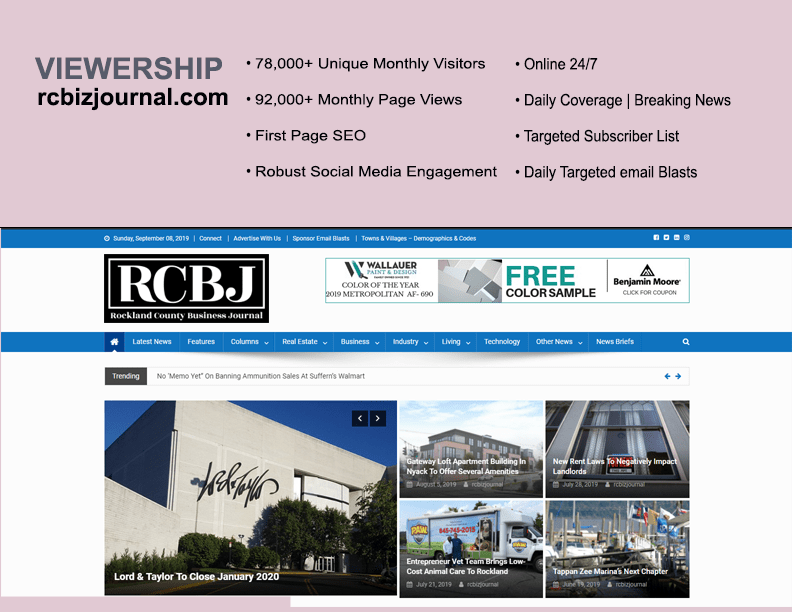 ---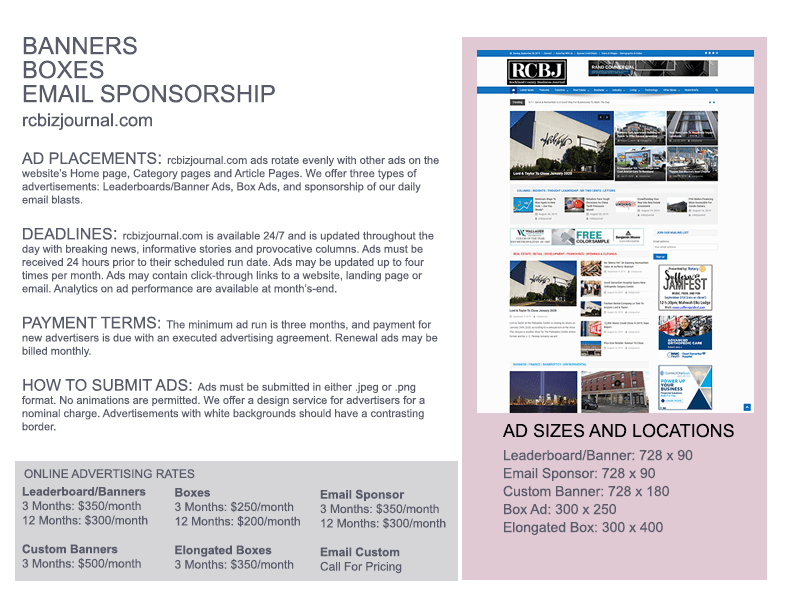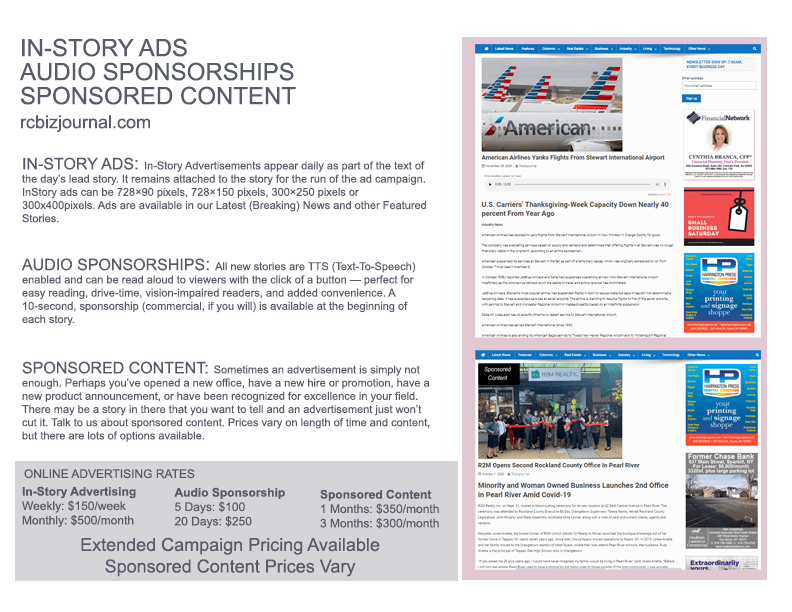 ---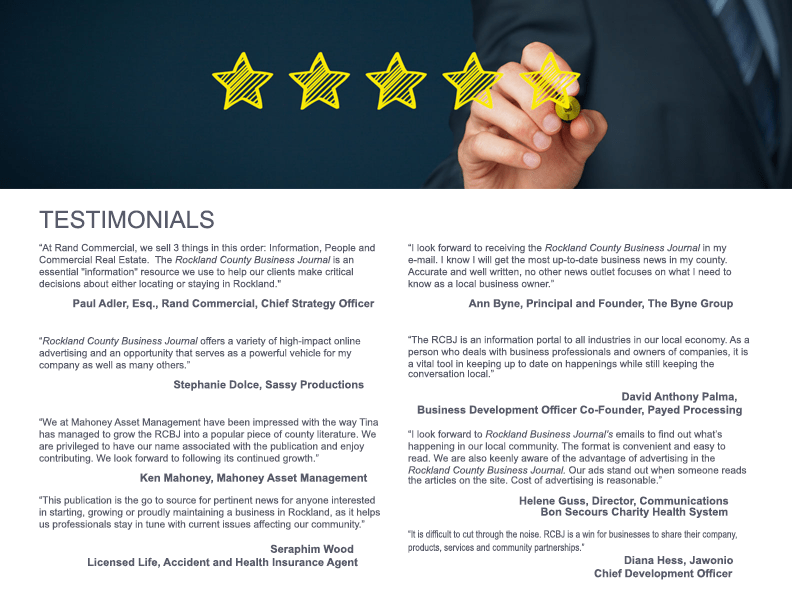 ---
For advertising rates or more information, call Tina Traster, Publisher at 646-256-2884 or email Tina at: ttraster@rcbizjournal.com.
---