RCBJ-Audible (Listen For Free)
Piermont Outfitters Secures Trademarks To Sell Tourist Merch In River Towns, Hudson Valley
By Tina Traster
It started with a problem in search of a solution, as so many businesses do. Specifically, a ratty, threadbare sweatshirt Christine Cazzola wanted to replace for her partner Cindy. But it wasn't easy to find a newer version of the garment, with its faded letters of Cazzola's hometown Piermont.
After a frustrating trip to Buttercup, the now-shuttered boutique where the sweatshirt was originally purchased, and a dissatisfying look around the internet amid the COVID blues, Cazzola didn't surrender. Instead, her inner entrepreneur took hold and led her to create Piermont Outfitters, a line of sweatshirts and leisurewear that promotes Piermont with a slick logo of the village's name and the Mario M. Cuomo bridge. The company also promotes Nyack and plans to expand to other river towns in Westchester.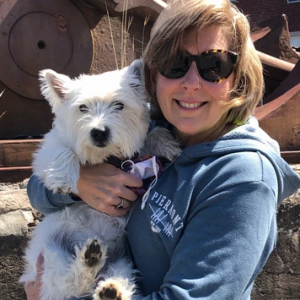 "After looking around everywhere, I had no other choice but to design one," said Cazzola. "I knew I could have one custom made with just the word 'Piermont,' online but I wanted to make a quality product with a great design at a time when people were wearing comfy clothes because of the pandemic."
What Cazzola has quickly figured out since launching her online portal in Nov. 2020 is that she is really in the tourism industry. At the recent Piermont Octoberfest, which drew more than 10,000 people, her merchandise sold briskly.
"People come to a place, and they have a good experience," said Cazzola. "They visit Piermont and go for a hike or out to dinner and they want to leave with a sweatshirt. It's not something they're seeking out. It's an impulse purchase."

Over the past 14 months, Cazzola has experienced the growing pains of a small business in search of its niche. Selling at the Piermont Farmers Market – when she can get a table – has proven fruitful. Trying to snag a spot in Nyack has been impossible to date. Cazzola prepared robustly for the Piermont winter bazaars that ran three consecutive weekends but were poorly attended.
The online retailer has set up a pop-up in Canzona's market on Piermont Avenue. Her merch is for sale at Maria Luisa and Long Path Outfitters in Nyack.
Cazzola moved to Piermont seven years ago and spent eight months renovating a house. She was drawn to the Hudson River village by its beauty, nearby hiking, the friendly village feel. Although she continues to work in the property management field, Cazzola felt inspired to put Piermont on the map via leisurewear.
Originally, she approached the Piermont Civic Association with her idea. The group didn't bite. So her partner said "then do it yourself." Which is how it came about, said Cazzola, who turned to her artist daughter to create the sleek logo.
With a design in hand, Cazzola next secured trademarks for Piermont, Nyack, Tarrytown, Irvington, Upstate and Hudson Valley.
"This way I can expand the brand," said Cazzola, who understands that her product is fundamentally a tourism item. The line, sourced from the U.S., includes hoodies, zips and tees for adults, toddlers, babies, and dogs. Sweatshirts sell for $60.
For now, Cazzola is finding her entrepreneurial sea legs to promote Piermont and neighboring Hudson River villages. She says she'd like to find a 500 square foot space where she can set up shop. Even better, Cazzola thinks Piermont needs a visitors' center, which she says she'd man.
"This is my big dream," she said. "I've approached the village about this. I'd be there with a crew working for me, so long as I can sell my sweatshirts."