RCBJ-Audible (Listen For Free)
New Leader Has Work Cut Out For Him In County Simmering With Antisemitism
By Tina Traster
Ari Rosenblum is new to the Jewish Federation & Foundation of Rockland County, but the recently named CEO is a quick study.
Citing the Tower of Babel narrative in Genesis, an origin myth meant to explain why the world's peoples speak different languages, Rosenblum draws a parallel to the chaos of voices in ancient Babylon to the lack of dialogue in Rockland County that is fostering antisemitism and disharmony among its residents.
"If we are talking past each other, we're not going to build up a county," said Rosenblum. "We need to make sure we are paying attention to your needs, to the needs of others. We all need dialogue and tolerance."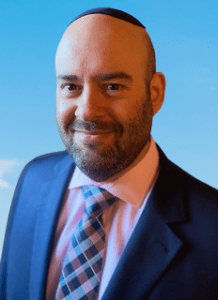 Rosenblum's words resonate in the wake of an antisemitic incident in the Town of Haverstraw that took place during a recent Planning Board meeting. A resident's explosive and hateful speech aimed at the Orthodox Jewish community brought more unwanted attention to Rockland County and highlighted the state of perpetual tension that often rises to a boil over land-use issues. The incident shocked many and prompted public officials, including Gov. Kathy
Hochul, to weigh in and proclaim that such hate speech won't be tolerated.
While this incident rose above the usual fray that plays out constantly on social media, and often in commentary during public hearings on development and land-use applications, Rosenblum understands the county's temperature often simmers with tension, misunderstanding, and obstructed bridges to allow for open communication. The conflicts arise over the Hasidic community's rapid growth over the past 30 years. Residents frequently cite concerns about the strain on public services and overdevelopment.
He hopes to change this by bringing together factions from all sides to talk and exchange ideas.
"I'm a bridge builder," said Rosenblum. "I have already started having conversations. Each conversation leading to greater understanding."
Rosenblum, 52, joins the Jewish Federation & Foundation of Rockland County following two decades of professional Jewish communal experience, with executive management expertise in fundraising, Israel and Jewish advocacy, strategic planning, and communications.

The Jewish Federation & Foundation of Rockland County, a 501c nonprofit, leads efforts to strengthen Jewish life and meet the critical needs of the Jewish community in Rockland County, Israel, and around the world. The organization is one of 140 Federations of the Jewish Federations of North America.
The CEO replaces CEO Gary Siepser, who led the organization for the past six years, and who has given 40 years of service with the Jewish Federations of North America.
"Ari has worked both within and outside the Federation system, and we are impressed with his versatility and readiness to take on new challenges," said Federation President Steve Gold. "I'm looking forward to collaborating closely with Ari to build and sustain our diverse Rockland community."
A native of Toronto, Canada, Rosenblum has served as Director of Development with the Jewish Federation of Ottawa and Ottawa Jewish Community Foundation; Chief Operating Officer for NCSY Canada, and Executive Director for the Regional Jewish Communities of Ontario.
Since relocating to the U.S. several years ago, he has held executive leadership and development positions with New York-based Chabad House Bowery and Hasbara Fellowships. Rosenblum lives in Riverdale with his wife and young daughter.