RCBJ-Audible (Listen For Free)
Town Officials Want More Input From Residents; More Guidance From The State
By Tina Traster
A handful of Rockland County towns have already decided to "opt out" of the recently passed New York State law that will permit the sale of cannabis through dispensaries and consumption lounges. Towns and Villages have until Dec. 31 to decide.
Most of the county's municipalities appear to be heading in the same direction, though many are struggling with the decision and are holding discussions and public hearings this month. For some, the decision has crept up on them, and officials say they do not believe the state provided enough guidance. Others want more feedback from residents.
One exception is the Village of Haverstraw, which will not opt out but will amend its zoning to permit the uses along Route 9w, and not in the downtown.
"We are not going to opt out," said Mayor Michael Kohut. "It's legal to smoke on the streets. It would be silly now to prohibit the shops; it's a way to make money, and its a way for people who have been most affected by the old laws to benefit, possibly even as legal merchants."
In the Village of Nyack, the board had readied a resolution for its Oct. 28th meeting to opt out, citing the ability to opt back in at a future date. But more than a dozen residents made compelling arguments in favor of opting-in – or essentially doing nothing – prior to the Dec. 31 opt-out deadline. At the end of the Zoom meeting, Nyack officials had softened their views and said they needed more time to consider the issue. The board had argued it might be prudent to opt out for now and revisit its zoning codes before opting in next year.
However, adopting new zoning laws could take months, and entrepreneurs might go elsewhere to open new businesses – a potential loss of economic activity for the village.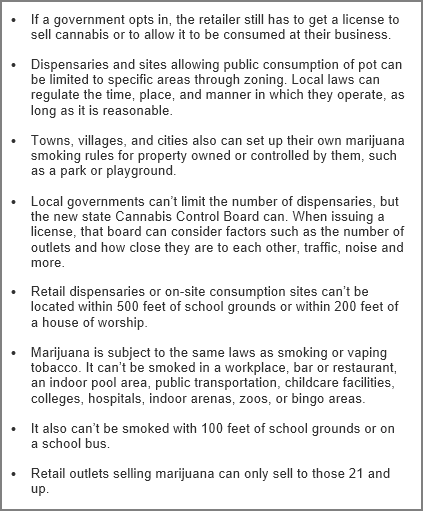 New York State collects sales tax on cannabis retail sales, and pays 4% of that tax revenue to counties, which keep 25 percent, and distributes the remaining 75 percent only to towns and villages in the county that have retail dispensaries, pro rata to their sales.
"I think it's safer to opt in now and get the ball rolling rather than play catch up," said Nyack resident David Soderlund. "The opportunity to get licenses might not be a bottomless pit. We could miss the boat if we opt out now and the licenses are snapped up by other towns."
Arguments from residents to preserve the opportunity to open dispensaries and lounges pointed to the potential for economic stimulus, legalizing a drug that is otherwise left on the streets unregulated, the health benefits of cannabis as a pain management drug, and the ability to take advantage of a limited number of licenses once the state gets underway.
Another public discussion in the Village on opting out is set for Nov. 18.
To date, Stony Point, Orangetown, the Village of West Haverstraw, and the Village of Suffern have opted out. Ramapo will hold its second discussion on Nov. 10. To date, Clarkstown has not held a public discussion on opting out and there is no hearing scheduled as of publication.
The Ramapo Board will likely vote next week, but Ramapo Supervisor Michael Specht says he can't predict which way the vote will go.
"I'm still open-minded," said Specht. "I can still go one way or the other."
Sources say Villages including Chestnut Ridge, Hillburn, Wesley Hills and Montebello appear to be leaning toward opting in.
Stony Point was the first municipality to opt out.
"Stony Point is a small, family-oriented town and we want to preserve the small-town character," said Town Supervisor Jim Monaghan. "We don't think it's something our residents want in town. We think it sends the wrong message to young people."
In April, New York became the 15th state to legalize recreational marijuana for adults 21 and older. The new law allows the use, possession, cultivation, and sale of cannabis – although cities, towns and villages can opt out of some aspects of the legislation. Jurisdictions that choose to opt out can't prohibit the use, possession, or personal cultivation of the drug – they are only permitted to restrict the retail portion of the market, meaning dispensaries and on-site consumption sites.
Possession and use of cannabis are legal statewide but retail sales are not expected to begin until 2023. State regulators still need to write the rules for how marijuana can be legally sold.
"Nyack is understandably cautious and waiting for more guidance from the state but the reality is that the guidance will not tell towns and villages whether or where in town it's appropriate to have a dispensary or a consumption lounge," said Sean Mack, a Nyack resident and attorney with Pashman, Stein.

Mack said state guidelines will focus on how to make sure products are safe and operators behave responsibly.
Many who spoke during Nyack's Zoom meeting said the Village should consider zoning the under-performing upper part of Nyack for dispensaries.
"Dispensaries will be a great opportunity to turn around dilapidated buildings," Mack said. "I am working with several clients who are looking to open dispensaries in New Jersey. Most are planning high-end retail stores that look like the Apple Store or Sephora. They help create a vibrant business community."
Cities, towns, and villages that want to opt-out of allowing adult-use cannabis retail dispensaries or on-site consumption licenses must pass a local law by December 31. However, municipalities do not have the power to overturn other provisions of the Marijuana Regulation and Taxation Act, such as legalizing the possession and personal cultivation of cannabis.
The law expands the state's existing medical marijuana program and will set up a licensing and taxation system for recreational sales. The development of an adult-use cannabis industry in New York State under this legislation has the potential to create significant economic opportunities for New Yorkers and the State. Tax collections from the adult-use cannabis program are projected to reach $350 million annually. Additionally, there is the potential for this new industry to create 30,000 to 60,000 new jobs across the State.
Piermont officials are also struggling with the decision.
"We're not sure if Piermont is a good place for a dispensary," said Piermont Mayor Bruce Tucker. "It's a small village. We have limited parking. I'm not sure this is conducive for the village. But we're hoping to hear from more people. Piermont does consider itself to be a progressive village."
The Mayor said only two residents spoke at a meeting last month, and another two residents corresponded on the issue.
The village has set another discussion for Nov. 16.
Sloatsburg Mayor Peter Akey spoke more decisively about the issue, which will be discussed at the Village's Nov. 9th meeting, and again at a public hearing on Nov. 23.
He, too, said he's heard from two residents – one advocating for opting out and another advocating to allow it in the village. He wants more feedback.
"I don't want to pre-judge this," said Akey. "I like the idea of freedom but at the same time I'm torn because I speak to children about not doing drugs, and I don't want to be hypocritical."