RCBJ-Audible (Listen For Free)
Second Annual Rockland Fashion Week To Take Place At Palisades Center Nov. 6; Opening Cocktail Party at Hotel Nyack On Friday, Nov. 5
By Tina Traster
Lorraine Freeman learned to sew at her mother's knee. One of eight children growing up in Guyana, she absorbed the skill while watching her mother clothe five girls.
"She made us dresses and I made dresses for my dolls with the scraps," said Freeman, owner of Customly Yours in New City. "By age 11, I was making little skirts for myself."
In 1982, Freeman's family emigrated to the U.S. At 19, the teenager, with a hankering for fashion studied design, worked in the garment district, and ultimately built a one-woman custom atelier. On Nov. 6, she will be among a bevy of designers participating in the second annual Rockland Fashion Week 2021 at The Palisades Center. The launch party will take place at Hotel Nyack on Friday, Nov. 5 at the Speakeasy Lounge.
Local designers participating include LeTiffany of Kurvacious Boutique, AnnMarie Kelly-Jameson of Elite Repeat, and Sandra Szpicek Leylegian of Things I Love from New City. Other designers on deck include Time To Clothes, Forever 21, V H Hanley, LaPainture, Acor Du Roi, Health Jox.
Fashion Week is the brainchild of local celebrity designer Hope Wade.
Hope Wade designs have strutted the runways of London, New York and Caribbean Fashion Weeks. In June 2019 Hope Wade Designs was selected to represent Jamaica at Caribbean Fashion Week for their international collaboration with Nigeria. Hope Wade Designs has won the Alpha Academy Alumnae Association Woman of Excellence Award. Wade also designed the gown for Miss World pageant in China worn by Khadijah Robinson Miss Jamaica last year. In January 2016 Wade was invited to present her designs in Pecha Kucha 20×20 with Rosie O'Donnell in Nyack NY.
Wade Designs, a custom design atelier at 23 North Broadway, opened in Nyack in February 2020.
Rockland Fashion Week skipped 2020 during the pandemic shutdown but the 2019 show was a sold-out event that took place at Kirkbride Hall in Stony Point, said Wade.

For years, Freeman, 58, has built a word-of-mouth home-based business. She is sought after for her dresses and evening wear. Now she is hoping to grow her business beyond her garage.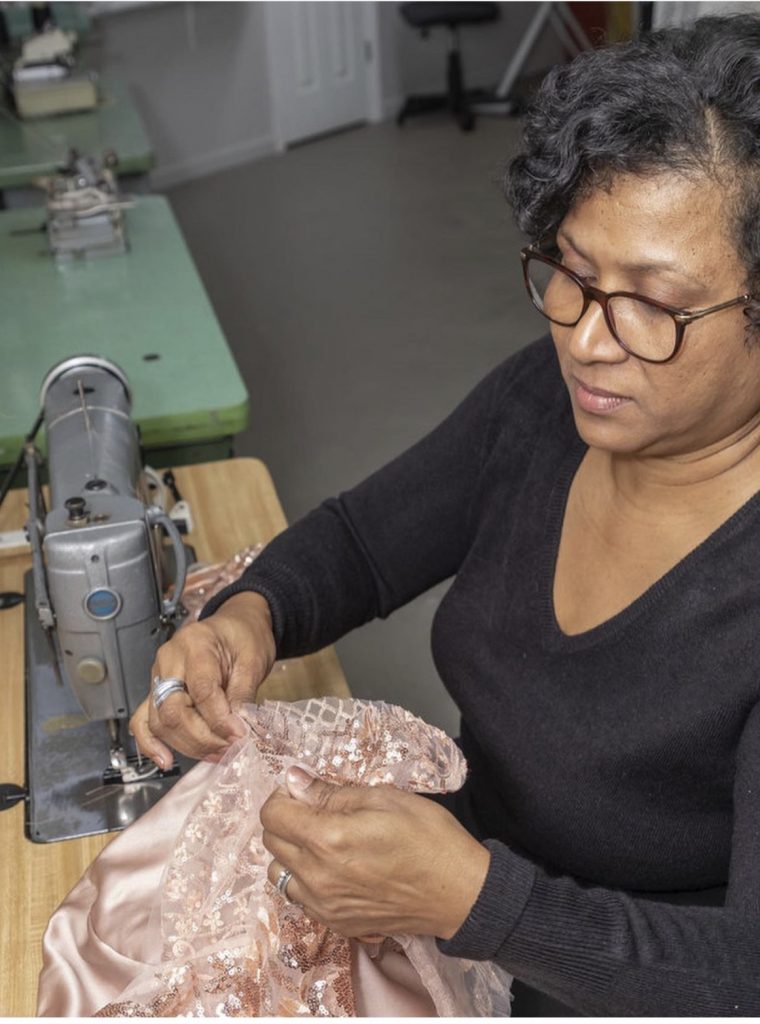 "I've got to get a bigger space with more exposure," said Freeman. "I've got six sewing machines, a computer, fashion racks. I've got just enough elbow room for me, but I've got growing pains."
There has never been a time Freeman has not made clothing. In her 20s, she was a assistant designer and pattern maker for the Japanese designer Kalima Marco. When the family first emigrated to the Bronx, her father, who had worked in the lumber business in Guyana, took a job working in a factory.
"Winter was coming and we didn't have the right clothes," said Freeman. "There was a fabric store down the street from where we were living. My Dad got me a used sewing machine, which smoked when I used it. But I managed to make simple things for my siblings and myself until we were able to purchase clothing."
That skill, and her ease at the sewing machine, developed into a hot passion. She was her own best billboard: she'd sew a dress and wear it at a wedding or for a special occasion and friends and family began asking her to make them custom-fitted garbs.
"No matter where I lived, I had to have a sewing room," said Freeman.
In 1992, Freeman, and her husband Jasper, moved to New City. She's always sewn and designed clothing but she established her business Customly Yours in 2006.
Her forte is being able to recreate a garment by sight.
"Someone brings me a photo of something they like and I can make it for them, custom."
For Rockland Fashion Week 2021, Freeman has created "The Essential Wardrobe" line, which is a departure from formal wear. The line is a mix-and-match assortment of ten essential business and leisure wear outfits for fall and winter.
"My husband is retiring in January," said Freeman. "He wants me to retire. That can't happen. I have my dreams. I have to pursue them."
Tickets can be purchased at Eventbrite.com