RCBJ-Audible (Listen For Free)
Schultz Ford Said To Be Buying Suez's West Nyack Site
For two years, the sale of Suez Water New York's former headquarters at 360 West Nyack Road has been held up over the uncertainty of the water company's ability to move its fleet of cars and trucks and its various utility and repair shops to its new headquarters at the former Tilcon site on 162 Old Mill Road in West Nyack.

Now that the Town of Clarkstown Planning Board granted Suez preliminary site approval to move forward with plans to round out its relocation after a two-year battle hinging on environmental issues, the sale of the property is expected to be on track once again. Suez has said the building is under contract for the past two years, but insiders say the sales was contingent on Suez receiving proposals to relocate its entire operation to its new site.
Sources have told RCBJ that Schultz Ford is said to be eyeing a purchase of the site. Schultz Ford Lincoln Inc. is a full-service car dealership on Route 304 in Nanuet.
---
Stony Point Supervisor Says Town May Be Able To Bid Above Appraisal Price For Camp Bullowa
Stony Point Supervisor Jim Monaghan is doggedly searching for a way to purchase Camp Bullowa, which is up for sale by the Boy Scouts of America Greater Hudson Valley Council. The Council has been forced to sell assets to satisfy the court that is overseeing the Boy Scouts of America's bankruptcy, which is in the process of reorganizing.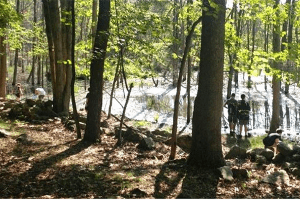 Originally, Monaghan believed the town could only propose a maximum purchase price based on 10 percent above the appraisal, which is said to be $3.2 million, according to municipal law.
But now the Supervisor says he's gathered additional legal advice and is revising that presumption. At present, the town has not submitted a formal offer to the Boy Scouts. The Scouts say they are accepting bids through Sept. 15th.
"We're being told the town can make a market value offer because there is no specific price tag on the camp," said Monaghan.
The 313-acre camp, along with Durland Scout Reservation, a 1,385-acre site at 65-300 Clear Lake Road in Putnam Valley, and Camp Nooteeming, a 272-acre site at 22-169 Camp Nooteeming Road in Salt Point, are being marketed by Cushman & Wakefield.
Insiders have told RCBJ that Camp Bullowa is likely worth about $4 million.
The Boy Scouts of America, the parent organization, must pay roughly $220 million toward a trust to compensate tens of thousands of former members who say they were abused as scouts. The proposal is part of a reorganization plan put forth by the nonprofit detailing how it intends to handle the massive child sex abuse case that's threatening its existence – the largest ever involving a single national organization – and emerge as a viable entity.
Hudson Valley Council's CEO Richard Stockton, has said the Council is going to seek to get as much as it can on one or more of the assets to satisfy its legal obligations. "We hope to retain at least one of these properties depending on the market value needed to fund our council's contribution to the survivor's compensation trust as part of the national organization's bankruptcy process."
---
Clarkstown Planning Board Greenlights Vanderbilt Grande Project To Zoning Board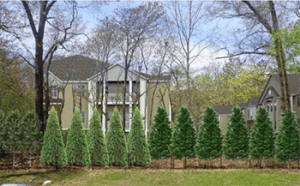 The Clarkstown Planning Board on Wednesday voted unanimously give the applicant Senior Housing Associates of Westchester, Inc. a negative SEQRA (State Environmental Quality Review Act) declaration, sending it on to the Zoning Board of Appeals for variances.
Vanderbilt Grande proposes a senior housing development of four buildings with 100 two-bedroom units and a community center on five acres of land on the east side of Route 304 near Congers Road in New City. This proposed development is in the AAR Senior Housing zone, which means the developer does not need a special permit.
However, the developer does need variances for side yards, building height to 50 feet and maximum building coverage.
Clarkstown's zoning code also has what is known as the AAR or Active Adult Residence zone, which allows a developer to apply to the Town Board for an overlay or floating zone allowance. The floating zone must be close to public transportation, shopping and community services. While an application can be considered in many of the town's zones, the site must be a minimum of three acres or larger.
The town has capped AAR units at 800. To date, 77 have been built at Eden Park (34) and Wolfe Landing (43), but another development, Vanderbilt Grande, will add 100 units to the tally.