RCBJ-Audible (Listen For Free)
Cushman & Wakefield Scores Listing To Sell Three Campgrounds Including Camp Bullowa In Stony Point
Cushman & Wakefield has been named exclusive broker on the sale of three campground sites including Camp Bullowa in Stony Point. The other camp sites are in Putnam Valley and Salt Point.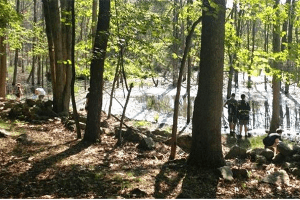 A Cushman & Wakefield team including Al Mirin, Bill Eisenhut, Matthew Torrance and Kate Schwartz will market the sites, which are nearly 2,000 acres in total, on behalf of the Greater Hudson Valley Council of the Boy Scouts of America.
"These assets present a once in a generation opportunity to acquire a vast amount of acreage within an hour's drive of New York City," said Mirin. "Each site is truly one-of-a-kind, offering its own unique features in extremely picturesque areas."
Camp Bullowa is a 313-acre site located at 17 Franck Road in Stony Point. The camp has several buildings and waterfront areas on Lake Boyce. The site has road and electrical access to most of the property and offers a dining hall capable of accommodating 125 people, seven cabins, numerous tenting sites and a training center that is planned to become the Council Service Center. The site is zoned special recreational/residential, which permits by right public parks, playgrounds and outdoor recreation facilities, as well as one-family detached residence.
Durland Scout Reservation is a 1,385-acre site located at 65-300 Clear Lake Road in Putnam Valley. Situated just north of Westchester County, the site has two lakes, 18 miles of color-coded hiking trails, nine group cabins, dozens of tent and lean-to sites and an event program pavilion. The main camp areas have utilities and the majority of the camp is accessible by road. The property has preservation district zoning, allowing for municipal buildings, public schools and parks and recreation services. Special permit uses would include a variety of educational and recreational uses, such as camps, golf courses and stables and riding academies.
Camp Nooteeming is a 272-acre site located at 22-169 Camp Nooteeming Road in Salt Point. The site has road and utility access to most of the property and features numerous structures, including a four-season visitor center, a dining hall with a capacity of 175 people and multiple cabins. The property offers access to one lake and ample waterfront areas for various activities. The site also boasts an artificial turf regulation-size soccer field, a swimming pool and a softball field. The Pathfinder Academy currently leases portions of the property related to the soccer field for specific periods of time throughout the year. The site is zoned rural agricultural, so all developments would need to be compatible with the natural limitations of the land.
---
The Henry In Pomona Sells For $54 Million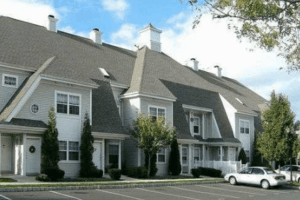 An affiliate of Harbor Group International (HGI) has purchased a 169-unit luxury apartment community in Pomona for $54 million.
CBRE brokered the sale of The Henry at 1 Crystal Hill Drive in Pomona. Jeffrey Dunne, Gene Pride, Jeremy Neuer, Steve Bardsley, David Gavin and Travis Langer represented the seller, a joint venture between Spirit Investment Partners and The Bascom Group, while also procuring the buyer.
"HGI is highly familiar with the Rockland County market given their past ownership of Alister Nanuet," said Pride. "The Henry is a terrific opportunity to apply their management expertise and local market knowledge. Renters are increasingly looking for larger apartments in suburban locations, which bodes well for continued strong performance at the asset."
Added Dunne, "We are pleased to represent Spirit Investment Partners and The Bascom Group in the sale of this asset. They did a fabulous job renovating the clubroom and apartments. The offering received significant interest from a broad group of investors considering the quality of the asset and site constrained location."
Built in 2001 and recently renovated, the apartment complex includes a resident clubroom, pool and sundeck, billiards room, fitness center and basketball courts.
---
RCC Professor Shamika Mitchell Is Co-Creator Of San Diego Comic-Con Museum Event
RCC English Professor Shamika Mitchell, PhD, is the co-creator of a San Diego Comic-Con Museum event that featured Alitha E. Martinez, a comic book artist best known for her work for Marvel Comics's Iron Man and DC's Batgirl.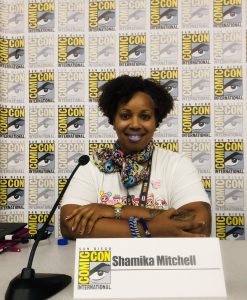 "San Diego Comic-Con and the Comic-Con Museum are wonderful institutions that are committed to building community and supporting fandom," says Mitchell, who is a founding member of the museum. She has recently launched Joystick Angels, a new project on Kickstarter, is the editor for WinC Magazine which debuts this month and is the lead editor for Rae Comics.
During the May event, Mitchell and Martinez talked about their experiences working for companies like Marvel, DC Comics, Image Comics, Archie Comics and Humanoids. "I've known Alitha for years, Mitchell says. "She is a highly credited artist who won the prestigious Eisner Award, and is also a professor and mentor to art students."
For students who are interested in a comics career and Comic-Con, Michell advises students to reach out and share their talents.
"Fandom knows no bounds, and there is room for everyone. For planning panels and programs, it's important to know your field of interest. Be prepared for rejections but keep applying-and create opportunities for yourself! Don't wait for approval from others to pursue the projects you are most passionate about."
The comics industry is more than just fun and games; those interested in pursuing a career must hone their skills, accept feedback and meet deadlines, Mitchell says. Juggling six projects, she depends on her calendar alarms to keep her on track. "If you are talented, but are always late with deadlines, you will lose opportunities-especially if you are from a marginalized or underrepresented population. But no matter what is going on in your world, keep creating! Your work speaks for itself."