RCBJ-Audible (Listen For Free)
Hi Tor Kicks In More Than $470,000 For New Shelter
Pit bull mix Roo presented Rockland County Executive Ed Day with two checks totaling $472,578 at the Hi Tor Animal Care Center in Pomona to be used for the construction of a new shelter building.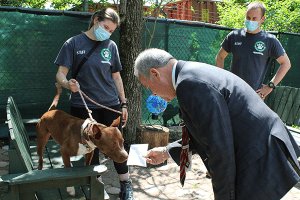 "We are so thankful to Hi Tor and all of the folks who donated to their shelter fund over the years for this contribution," said County Executive Day. "We will put this funding to good use in building the new state of the art facility to care for our county's animals. We had expected roughly $350,000 from Hi Tor, so this amount is a pleasant surprise which will reduce the amount of County tax dollars going to the project."
"We are proud to be able to contribute the nearly half a million dollars in our shelter fund to this important work; all thanks to our many generous supporters. On behalf of the Hi Tor Animal Care Center Board of Directors, we want to extend our appreciation to County Executive Day, the County Legislature and all of Rockland County for realizing the need and urgency in building a new shelter here at Hi Tor. Many of our animals have already had such a hard little life by the time they join us, and we are now overjoyed for them. We are so looking forward to a great place for our animals, volunteers, and staff," said Hi Tor Board President Debbie DiBernardo.
Rauhaus Freedenfeld & Associates Architects has provided progress design plans and specifications calling for a new 14,000 square foot shelter, replacing the current 4,000 square foot facility. Upon receipt of the final design plans and specifications Rockland County will solicit bids and a construction contract will be awarded to the lowest responsible bidder. The new facility will be built to accommodate future expansion if necessary.
A total of $8.3 million has been budgeted for the new shelter. Funding has been secured from the following sources:
    $472,578 from Hi Tor Shelter Fund
    $500,000 in grant funding from Assemblyman Ken Zebrowski
    $500,000 in grant funding from the New York State Companion Animal Capital Fund
    $6.9 million in Rockland Capital Project Funding
---
Montefiore Honors Pfizer For Covid-19 Work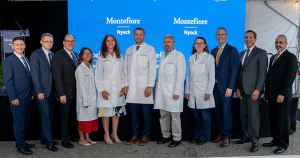 Montefiore Nyack Hospital last week presented Pfizer's Research and Development Center in Pearl River, NY with a plaque recognizing their team's expertise and heroic efforts for developing in record-breaking speed the COVID-19 vaccine that has saved and will continue to save countless lives worldwide.
The Hospital's Medical Staff presented honorary membership to five employees selected by Pfizer to represent their team of more than 800 members of the Pearl River Vaccine Research and Development Center. The honorary members include Adriana M. Cahill, MS; Philip R. Dormitzer, MD, PhD; Arman M. Fardanesh, MS, MBA, NREMT; Keri Swanson, PhD; and Desiree Villaraza, who were all welcomed to the stage and presented with a personalized Montefiore Nyack Hospital lab coat. The Pfizer Pearl River team was also presented  with a proclamation from New York State Senator Elijah Reichlin-Melnick and a citation from New York State Assemblyman Mike Lawler.
"The positive difference the Pfizer-BioNtech COVID-19 vaccine has made in the lives of so many is immeasurable. The efficacy of the vaccine has exceeded all expectations," said Mark E. Geller, President and CEO of Montefiore Nyack Hospital. "Seeing the pandemic come full circle from the toughest times to the present, where we are administering vaccines and getting back to life as we once knew it, has been a deeply humbling and extraordinary experience."
Montefiore Nyack Hospital has administered approximately 10,000 doses of the COVID-19 vaccine.
---
Developer Scales Back Condo Project At Route 9W and Rockland Lake Road
The builder 9W Valley Cottage LLC appeared before the Clarkstown Technical Advisory Committee (TAC) with a revised plan for 14 buildings with 35 dwelling units, a community building, and 140 parking spaces on 7.4 acres on MF-1 zoned land on the east side of Route 9W, approximately 765 feet south of the intersection of Route 9W and Rockland Lake Road in Valley Cottage. The condominium project would sit just to the west of Rockland Lake State Park's parking field and Executive Golf Course.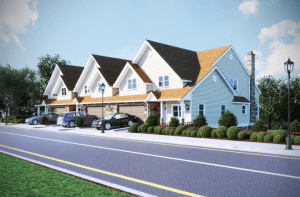 The developer originally hoped to build 42 units and sought an AAR (Active Adult Residences) Special Permit. The plan calls for merging three existing lots to allow for 12 buildings and a club house under the existing zoning.
According to the developer's submission to the Town of Clarkstown Planning Department, the site will be accessed by a private road serving only the development. And, although the AAR permit is no longer being sought, the developer expects buyers of the units to be "seniors and people looking to downsize from their current homes." The two-story homes would be built with elevators to enable buyers to continue to live in and fully use the residences even with limited mobility due to age or disability.
The proposed community building would include a recreation hall and indoor swimming pool. No price points for the units were offered.