RCBJ-Audible (Listen For Free)
County Seeks Input On Housing & Community Development Needs; Deadline June 9th
Rockland County Executive Ed Day and Office of Community Development Assistant Director Maria Frank will hold two public meetings related to the 2020 – 2024 Rockland County Consolidated Plan, which must be submitted to the U.S. Department of Housing & Urban Development (HUD).
"We need the opinion of housing and service providers and our residents to help guide the housing and community development priorities for Rockland," said County Executive Day.
As a recipient of Federal entitlement grant funds, Rockland County is required to submit a Consolidated Plan to HUD every five years. The Consolidated Plan describes the County's community development priorities and multi-year goals, which are informed by an assessment of housing and community development needs and an analysis of housing and economic market conditions and available resources.
The Rockland County Office of Community Development is the administrative agent for the HUD Federal Community Development Block Grant (CDBG), HOME Investment Partnerships Program (HOME), Housing Opportunities for Persons with AIDS (HOPWA), Rockland County Supportive Housing Programs and Emergency Solutions Grants (ESG) programs for the County. The survey for housing and service providers is available here: https://www.surveymonkey.com/r/Rockland-needs
The last day to complete the surveys is June 9, 2021.
---
Ribbon Cutting For New Cardiac Cath Lab at Good Samaritan Hospital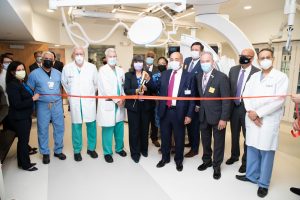 The expanded Cardiac Catheterization Laboratory at Good Samaritan Hospital offers new imaging technologies that deliver sharp images along with anatomical guidance for physicians to use during interventional procedures. Use of this equipment allows for diagnoses that are more accurate, decreases patient discomfort and increases the potential for shorter hospital stays.
The guidance system in use Good Samaritan Hospital's Cardiac Catheterization Laboratory    automatically maintains precise alignment with the patient's anatomy during the implantation of balloons, stents and other cardiac care devices.  This precise alignment enables the use of minimally invasive surgical techniques during implantation, which lessens discomfort in the surgical area.
The image acquisition speed of the new platform also reduces radiation exposure, and use of the system by Good Samaritan Hospital's cardiac specialists assists with transcatheter aortic valve replacement (TAVR) and mitral repair as well as stroke prevention alternatives and left atrial appendage closure (LAAC) procedures.  To refer a patient or to schedule an appointment with Good Samaritan Hospital, please call 845.368.5620 or visit GoodSamHosp.org/Cardiac-Programs
---
Risa Hoag, President of GMG Public Relations, Tapped As One Of Crain's New York Business 2021 Notables in Marketing & PR
Risa Hoag, president of GMG Public Relations, has been honored as a 2021 Crain's New York Business  Notable in Marketing and PR. GMG is celebrating their 30th Anniversary and recently moved their offices to 53 Hudson Avenue in Nyack, NY.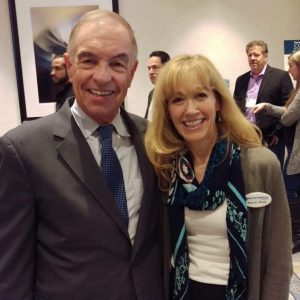 In selecting the individuals for the 2021 list of Notables in Marketing and PR, Crain's sought to salute professionals who are skilled at gauging sentiment, crafting stories and reaching audiences both broad and narrow. Hailing from an array of firms across a variety of sectors, working as both hired hands and in-house specialists, these accomplished individuals represent the leading edge of their industries.
To find these honorees, Crain's consulted with trusted sources in the marketing and public relations fields and in the New York City business world.
Honorees' profiles were drawn from submitted nomination materials. To qualify for this list, nominees had to be serving in a senior level marketing or public relations role at their organization or at an agency with at least $25 million in revenue and have used their skills to deliver significant value to clients. In addition, nominees had to demonstrate their involvement in community and/or philanthropic activities, mentoring programs, etc.
Hoag served as a director of public relations at Ernst & Young, where she was responsible for media placements, feature articles, press releases and market research before founding GMG Public Relations in 1991. Her past and present roles have been with the Greater Nanuet Chamber of Commerce, the Rockland Business Women's Network, the Rockland County chapter of Meals on Wheels, the Westchester Association of Women Business Owners, and the Orange and Rockland Community Investment Committee, among other organizations. Hoag also has received several community service awards."