RCBJ-Audible (Listen For Free)
ARCH, A Design Studio In Blauvelt, Understands The Junction Of Art & Commerce
By Tina Traster
The evolution of ARCH Production and Design, a custom design and fabrication studio in Blauvelt, is something akin to a rich, spicy complex bouillabaisse stew. The stew begins with a handful of fundamental ingredients but the cook layers in an exotic mix of fish and flavors to make it a masterful dish.
Driven by artistry but anchored by a keen sense of business building, ARCH founders Evan Collier and Brent Van Dyke, have built a solid but fluid entity that is both foundational but responsive to the junction of art and commerce.
For artists that can only tinker on the edge of making a living with their art, ARCH is an interesting case study in turning passion to profit. And though it has taken a lashing during the pandemic, like so many businesses, the company expects to rebound because of the strong foundation it has built and the pool of talent it has accrued.
It all began in Bushwick, Brooklyn, eleven years ago when Collier, a Canadian sculptor known for creating a life-sized Roman archway for Pier 59 Studios, along with a bevy of underground artists, began collaborating on installations and "immersive" environments in a cramped 1,000-square-foot space. Their work caught the attention of companies like Disney, Nike, Kettle One, North Face, Bacardi and Burton. ARCH also designs retail pop ups, and party spaces and sets for theater events.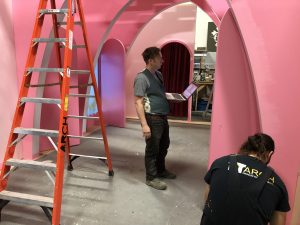 "We grew very organically," said Van Dyke. Over time, the company kept moving – to two more Brooklyn locations and then to garage on the Hudson River in Dobbs Ferry, when it won the commission to build installations for the Frieze Art Fair.
Moving to the burbs changed the equation. The founders and their crew of carpenters and metal workers were commuting 90 minutes twice a day from Brooklyn. "Every day was a crazy routine," said Van Dyke. "We didn't have any regional talent. I had to buy a car. We'd wait for rush hour to be over. Go home, eat, sleep and do it all again."
But three years later in 2017, ARCH crossed the river and inked a five-year lease for 9,000-square-feet of space in Corporate Park at 200 Corporate Drive off Route 303.
"We needed more space, 20-foot plus ceilings, and a lower overhead," said Van Dyke, adding the founders were initially scoping out cool spaces like a rustic old airplane hangar and an old ice factory. The pair wanted a space that reflected their artistic nature. "Evan and I are rebels. We talked about finding something lawless." But a practical turn-key space in Rockland County for $10,000 a month in rent won the day. Van Dyke says finding a comparable space in Brooklyn would have cost five times as much.
It took about a year to find craftspeople by advertising and through word-of-mouth before rebuilding a team of nearly 20 employees. Many of the original Brooklyn crew could not manage the commute. Van Dyke relocated to Nyack with his wife. Good neighborly PR to win over their corporate neighbors helped them get established.
"We'd be outside making a parade float with buzz saws and the noise and all wasn't immediately welcomed, even though our lease allowed us to do this work," said Van Dyke. "But we talked it out and made some signs for the tenants and won them over."
So does it feel soul-sucking for Brooklyn artists to work from a warehouse in Suburbia?
Van Dyke says it does not.
"We are making art and we're getting paid for it," he said, adding that sculptural retail displays and signage for companies like Nike represent ARCH's bread and butter. "If I wasn't making corporate art, I wouldn't be making art at all."
Ultimately it was an art commission that threw the company a lifeline through 2020.
In early March, ARCH was so busy it was turning down clients. Then the pandemic shut down the world. ARCH rushed to finish building a pop-up shop for Grand Seiko in Manhattan but by the end of the month, furloughed most of the staff, applied for PPP loans, and did what they could to keep the lights on. Van Dyke said the landlord worked with them through the pandemic.
Then the company caught a lucky break. A year before the pandemic, they bid on a government project to build a 9/11 memorial in Somerset, Pennsylvania to commemorate the 40 passengers and crew members on Flight 93 who died during the terrorist attacks. They didn't win the bid, but received word that the company that had begun the job couldn't complete it and they had been the runner up. Would they like to jump in?
"We were like YES with an exclamation point," said Van Dyke. "Our crew went to work. We built the 40 chimes for the 93-foot aluminum wind chime – one for everyone that died. It was a big undertaking, but it saved our business. It sustained us both spiritually and financially."
Through the winter, ARCH continued to feel the pandemic's anvil, given that the company's work relies heavily on the prosperity of the retail and entertainment sectors. Van Dyke says he sees a reawakening over the past few months with a pent up demand for pop-up shops and companies that are clamoring for the "instagramable moment."
"We're ready," he said. "Clients are calling us. Things are warming up and getting back to normal, though we're not really sure what the new normal will look like. We're still at minimal staffing. There are still a lot of uncertainties. But we've used this time to evaluate what a different future might look like."
Like a great chef tweaking and refining his bouillabaisse, the ARCH founders used the gift of time during the pandemic to reevaluate, to think about what they really want.
"We've decided that we're not in a hurry to get as big as we might have gotten over the next three to five years," said Van Dyke. "We're looking at working in the museum and theme park space. Working on projects that are long-lived rather than entertainment." And they're happy to remain in Rockland because they've found a home here.