RCBJ-Audible (Listen For Free)
Growing a Business Bean By Bean, Even Through A Pandemic
By Tina Traster
What does it take for a fledging business to mark a successful 10th anniversary – even when you factor in a year-long pandemic?
Let's pull a concept from "Bird by Bird," Anne Lamott's meditation on making things work. Java Love Coffee Roasting Company, an artisanal coffee roaster that started with a tiny store front in the Catskills a decade ago has grown into a regional provider of roasted coffees bean by bean.
With a methodical eye on the emerging independent coffee house trend, two novices jumped into the ring and built a brand that has had horizontal growth with four locations, including a roaster operation and café in Suffern. And the company has capitalized on the demand for organically grown, fair trade coffee with e-commerce, wholesale distribution, including six Whole Foods accounts, and expanded food offerings.
The pandemic brought on a slew of challenges for Java Love – as it has done for small businesses everywhere. The company has weathered the storm, figured out new strengths, taken time to take stock, and feels optimistic about 2021 as the world reopens, people are vaccinated and the desire to congregate once again is rife.
The Java Love brand is the brainchild of an unlikely pair of coffee entrepreneurs: Jodie Dawson, a clinical psychologist and Kristine-Ellis Petrik (a former journalist and a sommelier). The business partners, who share a life and parenting, in 2011 opened a 400 square-foot retail location in the historic Beekman Mill in Kauneonga Lake, a mile from the location of the 1969 Woodstock Festival. Two years later, they stepped up and bought The Front Porch, a former restaurant, on Route 17B, on the more traveled side of the same lake (which is called White Lake ).
"It was a leap of faith," said Dawson. One that spurred the couple, who live in Upper Montclair, NJ, to open a second location in their town in 2013. Three years later, they opened another location on Church Street in Montclair. Though the two locations, just two miles apart, offered the same service, the entrepreneurs saw two different markets. One for community denizens, the other more commuter oriented, close to NJ Transit.
This was the beginning of the "third wave," the time when hip roasters were opening and becoming community hubs. The Java Love ladies understood this. They recreated Java Love's Catskill vibe in New Jersey using benches made from coffee pallets and seating made with coffee bags.
Getting there early established Java Love as a staple in the community.
At the time, the buzz around Java Love was paying off. Exposure at the three shops, along with selling at farmers' markets brought Whole Foods to their front door. Today Java Love is sold in six Whole Foods, several restaurants, and to food service providers in healthcare settings.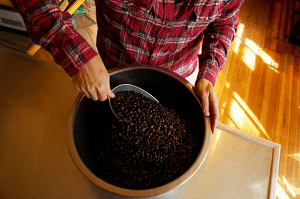 The next move, which brought the company to Rockland County, was more complicated. Outgrowing the Catskill space, the company opened its fourth location in the Village of Suffern at the former Capital One Bank building at 50 Lafayette Avenue. The permitting and buildout process for the 4,000 square foot location was long and protracted and took more than a year.
Java Love chose Suffern as a centralized location, close to rail service and highways, for its growing company. The partners expanded the food service in Suffern, banking on a commuter crowd, particularly from millennials moving into The Sheldon.
The partners had towed a long road. They were eager for the fruits of their labor to pay off. They weren't counting on a worldwide pandemic that would change the way we do everything.
By mid March, Java Love closed all four locations for two months, letting go of 35 employees (around 30 have since been rehired). The coffee sellers applied for EIDL and PPP loans, responded to ramped up demand for online sales, and reconfigured their operations to open on a limited basis in May.
"Our online orders took off," said Dawson, adding they increased 150 percent while wholesale orders dropped by 40 percent. Whole Foods continued to carry the brand, but restaurant business fell off the cliff. "Kristine and I, and our two children, became the staff. We went to Suffern, packaged coffee, and filled orders."
The pair quickly already knew being nimble is the key to navigating a crisis — they had never seen such a big crisis, however. Customers were calling to say they weren't receiving online orders. "We had to get creative," said Petrik. "The postal service was weeks behind. We started sending packages first class. We replaced a lot of coffee. It cost us more. But that's what you do when you're dealing with a crisis."
Throughout the pandemic, Petrik and Dawson have drawn from a deep well of experience – ten years had taught the duo how to be be reactive, to understand that business is never static.
"When we started Java Love, we did so without knowing anything about the business," said Dawson. "We've learned a lot about taking risks, being creative, not looking at a problem as something devastating but rather as a challenge."
Multiple revenue streams have helped keep the business alive but the coffee roasters had to invest substantially to jumpstart their retail locations with pandemic protocols. When they reopened in May, they discovered at both the Catskills and New Jersey locations new patterns of customer visits. People came later because they weren't commuting. A slew of urban refugees seeking country living to escape pandemic confinement boosted the Catskills' location.
But the Suffern shop didn't lend itself as easily to the new normal because it lacks  an overhang for shade, and because the company had not had enough time to build customer loyalty. By February 2021, the pair erected a tent and added whimsy to the location. Dawson said the company's landlord helped put word out. "That was how we got people coming back."
Now, Java Love says the Suffern location, far larger than any other, is poised to be a success because its spacious interior will lend itself to pandemic distancing, as that is still expected to be an ongoing concern because vaccination rates are too low for herd immunity.
For years, Java Love gamed out future growth counting on a steady pace. The post-pandemic world may demand a Bird by Bird, or bean by bean, approach.
"There are still so many variables," said Petrik. "Too many 'what ifs' for us. The best thing we can do is set stronger and smarter short-term goals, and as time goes by, establish goals and projections further and further out."
While the partners have spent a decade in forward motion, Petrik says the pandemic gave them a rare gift.
"We've had an opportunity to pause and look at our company in a different way," she said. "We have taken the time to tear things apart, dig deeper into the numbers and look at the business whole hog. This is not something we've been able to do in the past ten years."