RCBJ-Audible (Listen For Free)
Richard Stromberg, Who Built StrombergBrand Over The Past 50 Years, Died Suddenly In March
By Tina Traster
Richard Stromberg learned at his father's side but ultimately forged his own path, building StrombergBrand, a promotional umbrella company. In early March, Stromberg died unexpectedly at the age of 78, leaving his 50-year legacy in the hands of his wife, Helen, and their daughter Jennifer.
Both women are ready for the challenge, having been mentored by a man they describe as fearless, optimistic, and beloved in his industry.
Helen Stromberg met her husband in 1974 when he was 32 years old and had taken over his father's retail business on Manhattan's west side. "He started at the bottom, as chief broom pusher," said Helen Stromberg. Richard Stromberg's parents, European Jews who emigrated in the early 1900s, were hardworking and focused. His father, who had been a professor in Russia before coming to America, was steadfast about staying in the retail business.
"My dad always tried to push my grandfather while he was alive to make changes, but he wouldn't allow it," said Jennifer Stromberg.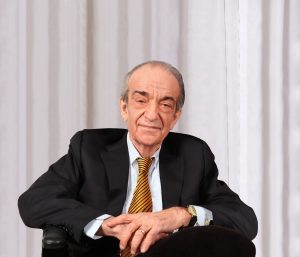 When it came time to take the reins, Richard Stromberg broke the mold and built a multi-million dollar wholesale business. He opened a factory in Manhattan's garment district to manufacture and design custom umbrellas. He changed the name of the company from Raindeer Umbrellas to the StrombergBrand.
"He recognized that wholesale is where the volume was," said Helen Stromberg, who joined her husband in the business nearly 40 years ago after a short stint in market research for Newsweek and U.S. News and World Report. "He loved working with people, designing logos for corporations, trade shows."
Stromberg understood how to shift with the times. When manufacturing moved offshore to China, so did StrombergBrand. He grew the business fearlessly, never being deterred by setbacks or loss. He was diagnosed with multiple sclerosis a quarter of a century ago but only recently did he slow down. He talked about going to live on a Greek island one day (Helen is of Greek origin) but never realized that dream. When he did talk about that dream, he always said he could work from anywhere.
"I'd tell my Dad you don't have to work, you can retire," his daughter mused. "But he never wanted to stop working. His business was his life."
Over the course of 20 years, Stromberg relocated his business first to Mt. Vernon and then to Peekskill until 11 years ago, when in need of more space, the company relocated to 12 Ford Products Road in Valley Cottage, close to the Tilcon Quarry.
StrombergBrand, which employs roughly 30, uses the 20,000-square-foot facility for inventory, shipping, and design. Blank umbrellas are made and imported from China and custom-designed for promotional gifts for companies. Popular items include golf umbrellas and patio umbrellas.
Jennifer Stromberg attributes the growth of the company to her father's visionary ways.
"My father never saw roadblocks, he only saw opportunities," she said. "He was afraid of nothing. Even during economic downturns, he'd stay positive. He'd say 'it will turn around,' and at that very moment, he'd spend money to make money."
Jennifer Stromberg grew up in the business – just as her father had grown up at her grandfather's knee. She traveled with her parents to tradeshows; the business was a second skin. But her father nudged her into the world and for more than a decade she worked in marketing for large corporations including Pepsi and Hewlett Packard.
She joined the business fulltime in early 2020, just before the pandemic, and in part because her dad was slowing down. At the time, she could not have foreseen what would lay ahead – a pandemic and the unexpected death of her dad on March 17th.
"I was really looking forward to transitioning from the corporate world and working with my dad," she said.
Before the coronavirus turned the world upside down, Jennifer had initiated a wholesale contract with Amazon. While business plunged more than 45 percent over the course of 2020, an uptick in Amazon orders steadied the loss.
"We had a huge uptick in patio umbrellas because home improvement was big during the pandemic," said Jennifer Stromberg.
If there's one thing he has taught his daughter, it's not to be complacent.
"He was always looking for new designs, different channels, or creative partners," she said. "He was always asking 'how can we do this? how can we do that?' "
For now, the mother-daughter team is ready to bring the business to the next level. They recently hired Richard Meth, an industry veteran, who will head up sales.
In moments of doubt, especially shepherding the company through the darkest days of the pandemic, Jennifer Stromberg closes her eyes, pictures her dad with his hands folded in his lap and thinks what would he do?