RCBJ-Audible (Listen For Free)
Rockland County Home Sales Increased 36.5 Percent In First Quarter 2021
Residential home sales in the lower Hudson Valley for the first quarter of 2021 benefitted from pent-up pandemic demand.
The residential market is normally cyclical with seasonal low sales in the first quarter as sellers begin to prepare their homes for the traditional "spring selling season". But Covid has blown away that predictability, turning the market into a burning flame because city dwellers have been steadily migrating to the suburbs, eager to escape the confines of tight living quarters and less in need of commuting to city offices.
Residential sales for the first quarter were unprecedented for the period and likely not sustainable over the long term, according to HGAR (Hudson Gateway Association of Realtors).
In Rockland County sales increased 36.5 percent to 823 units from 603 in 2020. Similarly, sales in Westchester were up 35.3 percent or 2,462 units as compared to 1,819 units in 2020.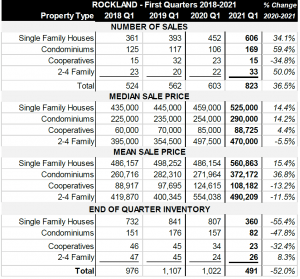 Sales in counties even further from New York City saw explosive growth.
Orange County experienced a whopping 54.2 percent increase in sales going from 896 units in 2020 to 1,382 units in 2021 first quarter. Putnam and Sullivan counties were each up over 62 percent, Putnam with 427 sales compared to 263 in 2020 and Sullivan County with 362 units sold from 223 units in 2020.
Median sales price (the point that indicates the exact middle of the market) also increased in every area and has now exceeded the "bubble" prices of the 2008-2009 market. The median sale price for a single-family residential unit in Orange County rose 22.5 percent to $340,000 (from $277,450 one year ago) exceeded by an increase of 36.2 percent in Sullivan County to $221,00 from $162,250 one year ago.
The median price in Westchester County, which has the highest price points, rose 10.8 percent to $708,995 from $640,000 last year.
The median sale price for a single- family residence rose in Putnam County by 16.4 percent to $390,000 (from $335,000), in Rockland County by 14.4 percent to $525,000 (from $459,000), in Sullivan County by 36.2 percent to $221,000 (from $162,250) as compared to the first quarter of 2020.
Sales of condominium units increased in in all counties (except Sullivan) but a more interesting number may be the increase in co-op sales in Westchester counties. Co-op sales have been lagging in both counties for the past year but rebounded in Q1, 2021.
It is likely that this rebound can be attributed to the dearth of choices in other housing types as well as the fact that co-ops remain an affordable alternative, at a median sale price of $192,750 in Westchester County, for first time buyers and other potential purchasers unable to afford rising single family home prices.
While the overall economy has been struggling during the pandemic, the suburban real estate market has been an anomaly characterized by increasing sales, rising prices, and increased demand.
But is this sustainable? At what point will prices become too high, at what point will a lack of inventory (choice) discourage some buyers and while interest rates remain at historic lows, ameliorating some of the effects of rising prices, there have been recent upticks in mortgage rates which will affect affordability for some buyers.
With continued uncertainty about the pandemic, and what a post-pandemic world might look like, it's difficult to predict near-term sales patterns.