RCBJ-Audible (Listen For Free)
Kangaroo Swirls Ice Cream Truck Ready To Hop Back After Pandemic Downturn
By Tina Traster
Meghan Clark teaches history, math, science and more to fifth graders at Little Tor Elementary School in New City but when the kids see her in the hall, they call her the "ice cream chick."
That's because Clark has spent the last 15 years motoring her ice cream truck, Kangaroo Swirls, around Clarkstown, gaining a long-time fanbase, and of course, her moniker.
The gig, Clark says, is an entrepreneurial side hustle that gives her the freedom to set her own hours and be her own boss but mostly it is a pleasure because she loves children. Over the years, business has expanded from a circling the streets to catering parties, corporate events and serving ice cream at summer camps.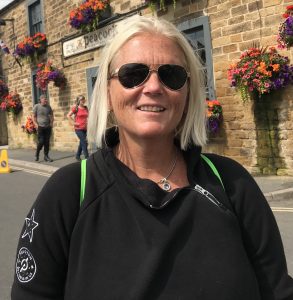 Don't be fooled, the ice cream chick says. Owning a food truck is a lot of work, the margins are lean, the hours are long. A rainy day dampens the appetite and keeps kids indoors. And the pandemic gave Kangaroo Swirls a licking, with sales down by 70 percent.
But ice cream is an enduring American tradition. And Clark, an Aussie who emigrated here in 1995, is gearing up for what she believes will be a blockbuster season. Pent up from lock downs, kids are beating a path to the backyard.
"They hear me coming,' said Clark, who has played a familiar jingle over the years.
So how did a long-time teacher raising one son with her partner (who has three older children) become the ice cream chick?
A disdain for idleness. Clark, who began teaching 21 years ago, needed to fill her summer days with productivity. There was something romantic about the way her son would run out the door when the ice cream truck rolled by.
"It was wholesome," she said. "It gave my son satisfaction to grab the money we kept by the door and go out and by a cone."
In 2006 Clark, now 47, bought an old postal truck for $3,500 and converted it into an ice cream truck. She quickly upgraded to a larger truck that could house cold-plate freezers. She customized the truck with a bump-out window and stickers to advertise her wares. By 2016, she rewarded herself with used Dodge Ram 1500 she bought for $20,000 that has air conditioning and better seating.
"I am getting older," she said. "I deserved a better truck."
Clark tools around the New City neighborhood at eight miles an hour from March through September. She serves ice cream after school to 6 pm and works 10 am to 3 pm in the summer. She has five freezers in her garage and receives two deliveries of roughly 80 cases of ice cream weekly. Solar paneling offsets the cost of electricity. Her frozen offerings include Rich's nut-friendly ice cream that is served in the schools, as well as Good Humor and Haagen-Dazs.
A food truck like hers requires a permit from the Town of Clarkstown but she doesn't need licensing from the Rockland County Health Department because she's serving prepackaged products.
Food trucks can be an easy entry for entrepreneurial dreams.
"The startup costs are affordable, you don't have to pay rent, there's flexibility," said Clark.
To date, Clark cannot cite any occupational hazards. She said she plans to be the ice cream chick for at least another ten years though she's grooming her teenage son to join her. Frequently adults will grumble slightly at the price tag for ice cream, mentioning that in their day ice cream cost a quarter.
But kids never complain.
"I make kids happy," she said. "I bring smiles."