RCBJ-Audible (Listen For Free)
Artisanal Ice Cream Maker Licked The Pandemic
By Tina Traster
Lorraine Li thought the pandemic was going to lick her newly opened ice cream shop Piermont Creamery in Piermont. But she told herself 'one day at a time, one scoop at a time. Just stay in the present.'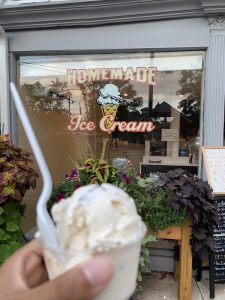 Now, Li is preparing to expand with an April opening of Piermont Creamery of Nyack at 85 South Broadway because a hot summer followed by a long stretch of temperate weather last fall and early winter kept people coming for home-made ice cream.
"Business has been good," said Li. "It's a little bit of a luxury at a time when there isn't much to do."
Piermont Creamery at 530 Piermont Avenue opened in October 2019, six months before COVID hammered the world and put every small business entrepreneur to the test. The ice cream maker opened for six weeks, then shut down for the winter before reopening two weeks before Gov. Cuomo mandated a lockdown.
"I was worried," said Li. "I'd put my life savings into this."
But Li, 48, had enough lifelong wisdom, family support, and experience as both a high school teacher and working at her family's restaurants in Brooklyn and Queens to find the fortitude to push on.
"At the beginning of the pandemic, I was afraid," she said. "I wasn't sure how I was going to make the next month's rent. I'd invested all my money in the store. But things began to turn around in May when the weather got warmer."
Piermont's Creamery benefits from foot traffic from the farmers' market, day trippers, hikers, and bikers.
Born in China, Li grew up in the food business. Always wanting to do something on her own, food seemed the right way to go. She chose ice cream – a singular retail endeavor – because she thought it was simpler than running a full-scale restaurant.
Li has carved a niche with artisanal small-batch ice cream, which gives her an edge in a boutique town like Piermont. She's hoping for similar demographic success in Nyack, which also bills itself as a foodie hub.
Using an Electro Freeze ice cream maker, the product is made in small batches. The mixer holds about 2.5 gallons, which makes about 50 scoops. After a seven to eight-minute mixing, the batch is put in a flash freezer for 12 hours, and later transferred to a regular freezer for another 12 hours.
Li said it is far more labor intensive than buying ice cream in large tubs but fresher and better tasting. "Most ice cream stores don't make their own ice cream," she said.
Cones cost $3.50 for kiddy-size, $4.50 for small, $5,50 for medium, and $6.50 for large.
Opening a second store will be a challenge. Li will continue to manufacture on site in Piermont and bring the ice cream to the Nyack location, which is about 700 square feet.
Li had planned to open a second store two to three years after opening the first. Spurred on by success, she began looking for space. At the time she was scouting for her first location, almost nothing was available in Nyack. Now, there were plenty of choices and she found landlords to be more flexible.
Adam O'Gorman from Triforce Commercial Real Estate brokered the deal.
"It looks like I'll be running back and forth all the time," said Li, adding that being an entrepreneur requires a hands-on approach, especially when you're serving up an artisanal specialty.
But having made it this far through what has been the toughest year for many, Li feels confident.
"The pandemic taught me that everything will be okay," she said." You just have to stay calm. Focus on one day at a time. What else can you do?"