RCBJ-Audible (Listen For Free)
Scott Vanderhoef Named Executive Director of Habitat For Humanity of Rockland County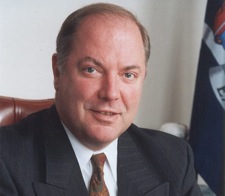 Habitat for Humanity of Rockland County, an independently operated affiliate of Habitat for Humanity International, has named Scott Vanderhoef Executive Director. Vanderhoef succeeds Keith Albert, who is retiring after five years in the role of Executive Director where his many accomplishments included leading efforts to build several houses, and helping other families stay in their homes through the Brush with Kindness program.
A lifelong resident of Rockland County, Vanderhoef served as County Executive for Rockland County for 20 years. Nearly 2,400 units of affordable housing were built during his administration. A lawyer by trade, Vanderhoef brings vast community experience to the organization. He has served with nonprofits such as Founder of Leadership Rockland, Chairman of United Way, and President of the Rockland Historical Society.
The mission of Habitat for Humanity of Rockland County, in partnership with thousands of local volunteers, is to build and renovate homes for qualified low-income families of all races, religions and creeds. Additionally, financial education is offered so families can live and grow in a stable environment.  To date, Habitat of Rockland has built eight homes for low-income families in the community, with a ninth due to be completed this spring.
For more information, donation and volunteer opportunities, visit habitatrockland.org or check us out on Facebook (@HabitatRocks).
---
Amazon Delivery Station In Blauvelt Opens, Poised To Hire More Than 150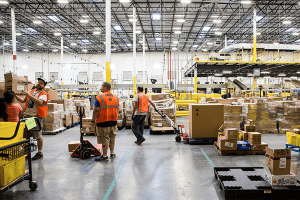 Amazon's new delivery stations in Blauvelt and East New York are open for business and Amazon Logistics continues to invest in New York with new leases in Brooklyn and Greece.
The 76,700 square-foot Blauvelt delivery station at 200 Oritani Dr. will create more than 150 full- and part-time associate jobs, all paying at least $15.75 per hour, in addition to hundreds of driver opportunities for Amazon's Delivery Service Partners and Amazon Flex drivers. In celebration of the station launch, Amazon donated $1,500 to the Center for Safety & Change to support individuals and families who have been displaced during the COVID-19 pandemic.
"The Town was happy to work cooperatively with Amazon throughout the approval process and looks forward to building on that relationship," said Orangetown Town Supervisor Teresa Kenny. "We thank Amazon for choosing Orangetown and their continued investment in our community."
Each of Amazon's new delivery stations are now designed to meet the needs of our electric delivery vehicles.  Ranging from the physical layout to the electrical design, we are optimizing these spaces to offer flexibility and scale as we move closer toward putting 10,000 electric delivery vehicles on the road in 2022.
---
Rockland Bakery Sues Upstate Baker For More Than $500,000
Rockland Bakery of Nanuet has sued a commercial Shoharie County bakery in the Supreme Court of New York in Rockland County for more than $500,000 in unpaid bakery products over a six-month stretch.
The defendant, T & B Bakery Corp, located in Gilboa, New York, has failed to pay $566,272 for goods received from Rockland Bakery between August 2020 and Jan. 2021, according to the suit.
The suit alleges the defendant wrote bad checks totaling more than $45,000, knowing at the time, there were insufficient funds to cover them.
---