RCBJ-Audible (Listen For Free)
Baker Toni Ann Salvato And Former Social Worker MC Dougherty Open Sweet & Salty's In Valley Cottage
By Tina Traster
Our long time-out, aka the pandemic, has unleashed a new generation of home cooks and bakers who have decided to hang up the hosiery and don an apron.
That is all good and noble but as the pros know it's not as easy as pie to scale up and sell culinary specialties while turning a profit.
Toni Ann Salvato and MC Dougherty, a Nyack couple, have done a pandemic pivot but they are counting on a baker's professional history of success, mishaps, and experience to grow Sweet & Salty's: The Great Cookie Caper, a bakery specializing in an assortment of decadent (their word) cookies. Salvato is the baker – in fact she's an accomplished pastry chef and graduate of the French Culinary Institute in Manhattan. She ran a sought-after Brooklyn dessert company for many years but had a better grasp on baking than business. Over the last decade, she has shored up her business acumen through a series of research and development jobs in the food industry.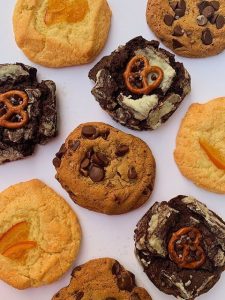 Prior to the pandemic, she had been R&D manager of a New Jersey food manufacturer, where she developed bakery items for Walmart, Trader Joes, and other major food outlets. A year ago, she took a job as product manager at Palermo Bakery in Little Ferry. She, along with 25 percent of the staff, lost their employment during the pandemic.
Meanwhile, MC Dougherty, who is a social worker and had toiled in criminal justice reform for many years, had been kicking around for a new lease on her professional life. The cookie company wasn't really an idea that started from scratch, so to speak. The two had been drafting the concept for some time. The pandemic was the kick they needed.
"I'd like to say there was a dark moment, the panic of losing my job," said Salvato. "But we've played around with this for a long time."
Their timing could not have been better.
The demand for cookies has increased 25 percent since the pandemic, with one in five Americans saying they eat more than three cookies a day on average, according to a report from TOP Data. Moreover, the report's data also reveals that 32 percent of Americans eat 24 to 42 cookies a month, and 15.5 percent consume 48 to 66.
"People want cookies," said Dougherty. "They hold them in their hand. They have a memory of making them with their mother or grandmother. We're just putting our own spin on them."
Early demand for Sweet & Salty's exotic creations like the O.G, the Brookie and Snack Attack, bear out the data. It also explains why Sweet & Salty's has made the leap in less than six months from leasing commercial kitchen space to opening a pick-up only, for now, location on Kings Highway in Valley Cottage.
From 2009 to 2012, Salvato ran Brooklyn Treat Shoppe, a dessert delivery business with more than 100 items including fancy sculptured cakes. Too much demand – not too little – ultimately led to the downfall of the business.
"I was doing it all by myself," said Salvato, who seeded her business with $2,000, but lacked a financial cushion. "I didn't have enough cashflow. Instead of looking for investors, I closed up shop. It was the hardest thing I've ever had to do."
But it led to more than a decade of experience that taught Salvato how to source ingredients, develop recipes, run a kitchen, budget, manage staff, and find a work/life balance. Today, the pair have savings to rely upon.
Now the baker is teaching her partner how to bake while she runs the operation, which includes sourcing, marketing, social media, customer service. "But I'm constantly in and out of the kitchen overseeing," she adds.
The pair say the key to building their brand is to create one item – cookies – instead of spreading themselves thin, and to build infrastructure so that they can grow their business through new hires. What Salvato learned from working for companies that sold to major food retailers is that an efficient process translates to profit.
"In the past, I'd make lumps of cookie dough and used a scooper to put them on a baking tray," said the baker. "What I learned is that cutting cookie dough into squares saves time."
The response to Sweet & Salty's has been positive. In July, they were selling 100 cookies a week. Christmas orders surpassed 500. Three months ago, they were churning out the goods with an 8-quart mixer and two oven racks. Today, they've got their own kitchen with an 80-quart mixer and eight oven racks.
The cookies sell for $7 for a two-pack, $20 for a nine-pack, and $36 for an 18-pack.
Eventually, the Kings Highway location will be a walk-in bakery with tables and chairs. The pair intend to grow the business with baby steps. They're counting on word-of-mouth to build a sustainable business. Something they can call their own.
"We have not had to put in a lot of our own capital," said Dougherty. "The business is paying for itself. It is a surprise but we feel lucky. We feel like we've landed on a good item, something people have been wanting during the pandemic."