RCBJ-Audible (Listen For Free)
The Eclectic Table: Timeless Recipes For The Eclectic Palate" on Amazon, A Compendium Of 40 recipes
By Tina Traster
A broken leg and a birthday cake. That is where a life-long love of food began for James Sklar, a Nyack resident and former chef/owner of BLOOM in Hastings-on-Hudson, which closed nearly twelve years ago.
Now, amid the introspective pandemic days, Sklar has self-published "The Eclectic Table: Timeless Recipes For The Eclectic Palate" on Amazon, a compendium of 40 recipes culled from Bloom, pop-up restaurants, and personal chef experience.
And, the irrepressible self-taught chef is considering a new food establishment locally with his wife Alyssa Sequoia, who Sklar calls "an incredible baker" – and who does standup comedy when she's not in the kitchen.
"I broke by leg when I was four and I started making my own birthday cakes," said Sklar. "My mom was a great cook. So was my sister Maggie. I was always around the stove."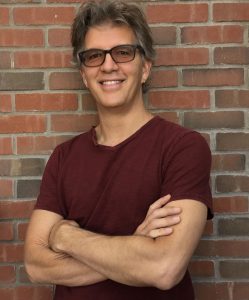 Sklar, who grew up in Milwaukee, originally planned to study medicine at Syracuse University. During senior year, he took a semester in Moscow and spent time acting. Wanderlust took him around the world, which he experienced with his palate.
It became clear food – which is medicine to him — would guide his path.
"I have my own motor," he said. "When I'm interested in something, I immerse myself."
Starting his life with a leg up – Sklar comes from a prominent Mid-Western real estate family – the aspiring chef had a stock portfolio and real estate investments to lean on. After Syracuse, he attended the California Culinary Academy briefly in San Francisco. Here, in the Mount Tamalpais region, the boy who was raised on meat, dairy and potatoes, learned about organics, biodynamic wineries, and vegetarianism.
Not long after, Sklar landed in Chappaqua, where he worked at a now-shuttered restaurant.
"It was in that tiny closet of a kitchen that I entered into my zone," he said. "The kitchen was so small I could reach everything without taking a step."
Sklar was ready for a big leap. In 2006, at 33 years old, he opened BLOOM, a theatrical eco-friendly upscale organic eatery that caught the attention of both The New York Times and the cover of Hospitality & Design, which commented on the restaurant's use of recycled steel, fallen trees and bamboo.
Sklar reached for the stars – but it may have been too soon. Five months in, he fired Executive Chef, Antonio Randazzo, taking over in the kitchen. Worse, the chef-owner said he became gluttonous – eating too much (he gained 50 pounds), drinking too much. His passion project bedeviled his marriage. Ultimately, Sklar chose to save what meant most to him – his relationship. He lost his shirt on his investment. Within two years, the restaurant closed.
A certified yoga instructor, musician and nature lover, and real estate associate for Weld Realty, says, the entrepreneur said "restaurants are beloved places."
"When you're an owner, you've got to be involved in everything. You have to spend time in the kitchen seeing how veggies are chopped, make sure the fridge is in good order, identify waste, be on top of the flow of service in the dining room."
Some say Sklar bit off more than he could chew; that his passion for perfection overtook his ability to run a restaurant of that stature.
For a dozen years since, Sklar has worked intermittently as a personal chef and in pop-ups. In recent years, his wife's Crohn's Disease and auto-immune disorders has led the chef to perfect breads, cookies, and pizza crusts with substitutes for diary, sugar, grains, and eggs.
Although the coronavirus pandemic has ravaged many restaurants, Sklar believes smaller, simpler restaurant concepts will thrive. He and his wife are toying with a healthy-oriented kitchen idea that would showcase his latest healthy recipes.
Meanwhile, "The Eclectic Table: Timeless Recipes For The Eclectic Palate" features everything from Zucchini Blossom Fritatta, Marinated Shrimp Cocktail, Moules Mariniere, and Flourless Chocolate Cake.
"These recipes have been sitting on my computer for a long time," said Sklar. "I just wanted to share them."