Rockland County Economic Director Says Now's The Time To Take Advantage Of The 'New Economy'
By Tina Traster
From March through May, the number of individuals and corporations registering new businesses in Rockland County plunged, which was not terribly surprising. What's more revealing perhaps is that since June 2020 registrations are mostly level or surpass those during the same period in 2019.
Although many of the new registrants are not necessarily up and operating, the intent to engage in commerce likely indicates one if not two things: faith that the economy will rebound and that this may be the time to launch that long-desired enterprise because finding employment elsewhere has become more difficult.
Compiling information from the Rockland County Clerk's office, RCBJ found in March 2020 only 43 individuals established new businesses compared to 67 a year ago – a 36 percent plunge. In April, only 10 businesses filed compared to 62 a year ago, a steeper divide. And in May 2020, 17, compared to 58 last year.
The coronavirus pandemic slammed the brakes on many planned enterprises, leaving entrepreneurs and company owners adrift in a locked down world with no map to navigate such uncharted territory. But in a breathtaking turnaround, filings in June through September rebounded, even surpassing 2019's numbers.
In June, there were 63 new filings by individuals compared to 43 last year; 65 in July compared to 51 last year; 54 in August compared to 48 last year. Even in September, there were 68 new filings compared to 61.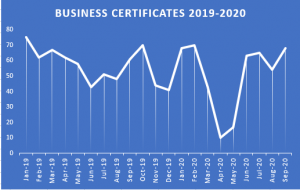 Take Henry Oswaldo, who filed a new business certificate for P&P Contracting of Spring Valley. After losing his job in the pandemic, Oswaldo said it was time to go out on his own. "These are the things I've been doing," he said, referring to installing windows, doors, drywalling and other home improvements. "Now I'll try to do it for myself."
Needed more than ever, Aidel Tyrnauer registered Dream Riders in Airmont, a therapeutic horse-riding company that helps children with special needs.
"Online schooling is hard for these children," said Tyrnauer. "I had the confidence to start my business now because the need is really there. Kids are looking for a way to get out. Being around the horses eases anxiety and is a good source of physical exercise. These are hard times."
Listings for newly incorporated entities also reveals a rosy optimism. While initially there was a dip, new listings from July through September have surpassed those from the same period in 2019.
"We are seeing economic activity, though there is a caveat: just because a company has registered a business, it does not mean that is it necessarily open and operating yet," said Jeremy Schulman, the county's director of economic development and tourism.
At street level, the pandemic landscape appears bleak, with scores of empty stores in the Shops at Nanuet, The Palisades Center, and on Main Street in villages and hamlets. Retail and restaurants have been hard hit by COVID as people continue to be fearful about comingling and restaurants close down because they cannot weather the storm. But Shulman says many entrepreneurs and corporations recognize there is opportunity with landlords amenable to giving rent concessions or favorable leasing terms.
"The uptick in new filings could show there's a lower barrier to entry," said Schulman. "Perhaps landlords are looking to replace a tenant because the space is unoccupied. This is the time for an entrepreneur to make a leap, to take a creative pivot, to participate in the new economy."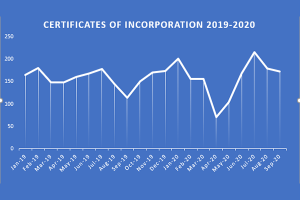 The number of newly listed corporations according to the Rockland County Clerk's office dropped slightly in March 2020 to 148 compared to March 156 in 2019. April filings totaled only 71, the sharpest drop from 148 last April. May saw a creeping back to normal numbers with 104 new filings compared to 161 the year before. June leveled off and by July, new filings were 216, surpassing 2019's 178.
The upward trend continued in both August and September: 179 in August compared to 145 last year, and 173 in September compared to 114 last year.
"Our office is busier than ever with requests," Schulman said, referring to companies from both inside the county and regionally that are looking to expand with additional production lines for manufacturing, warehouse distribution, and logistics.
"Companies like Amazon and film production are looking at Rockland for sites and incentives to grow their businesses. And landlords are recognizing that they have to be more flexible, maybe not generate top rents. Rockland is in a good position to fill the gaps in the market."
New business applications across the country hit the highest level in the third quarter since tracking began in 2014.
The U.S. Census Bureau reported Wednesday that applications to start a business hit nearly 1.57 million, a 77.4% increase over the previous quarter but close to double the strongest quarters over the past two years. The fourth quarter last year was the previous peak with 881,487.
Southern states led the way with 737,622, with western states coming in a distant second with 315,288.
John Haltiwanger, a University of Maryland economics professor, noted to CNBC recently that applications plummeted during the last recession. Haltiwanger said the surge is surprising but probably reflects a broad shift in the economy as a result of the pandemic to remote and online sales.
Breaking down the 1.57 million applications in the third quarter, 537,355 are "high-propensity," which means those businesses stand a strong chance of employing people. Another 178,662 applications show they will have a payroll.