Rockland Rewarded With Better Marks As It Addresses Fiscal Woes
By Tina Traster
Rockland County got an improved health checkup on the New York State Comptroller's 2018 Fiscal Stress Monitoring System report.
In 2017, the county scored 64.2, and earned a "Moderate" financial stress designation. "Significant" stress starts at 65. In 2018 the county turned it around with a score of 41.4, just under the "Susceptible" wire, which starts at a score of 45 but is the least severe category. The reason for the difference is that the year-end fund-balances increased from $10 million in 2017 to $38 million in 2018.
However The New York State Comptroller's Office has placed the Town of Clarkstown on their list of municipalities that are under "Moderate" fiscal stress – one of only seven towns among the state's 933 towns to land on the stressed list, according to a state report.
Clarkstown was given a fiscal score of 63.8, just 1.2 points away from "Severe Stress." For 2017, Clarkstown's rating was 50.8 or "Susceptible." In 2016, it was 28.8, without fiscal stress.
The New York State Comptroller's Fiscal Stress Monitoring System provides an early warning of fiscal stress to local governments by examining their financial information and aspects of their external environment; and feedback to local leaders, State officials and taxpayers about fiscal stress conditions to help them prioritize the needs of their community, understand trade-offs and follow through with tough decisions.
The 2017 report showed Rockland to have "Moderate Stress" an improvement from being in the "Significant Stress" category for fiscal year 2016. This year's list designated 18 municipalities across the state as either "Significantly" or "Moderately" stressed. A further 17 municipalities were listed as being "Susceptible to Fiscal Stress."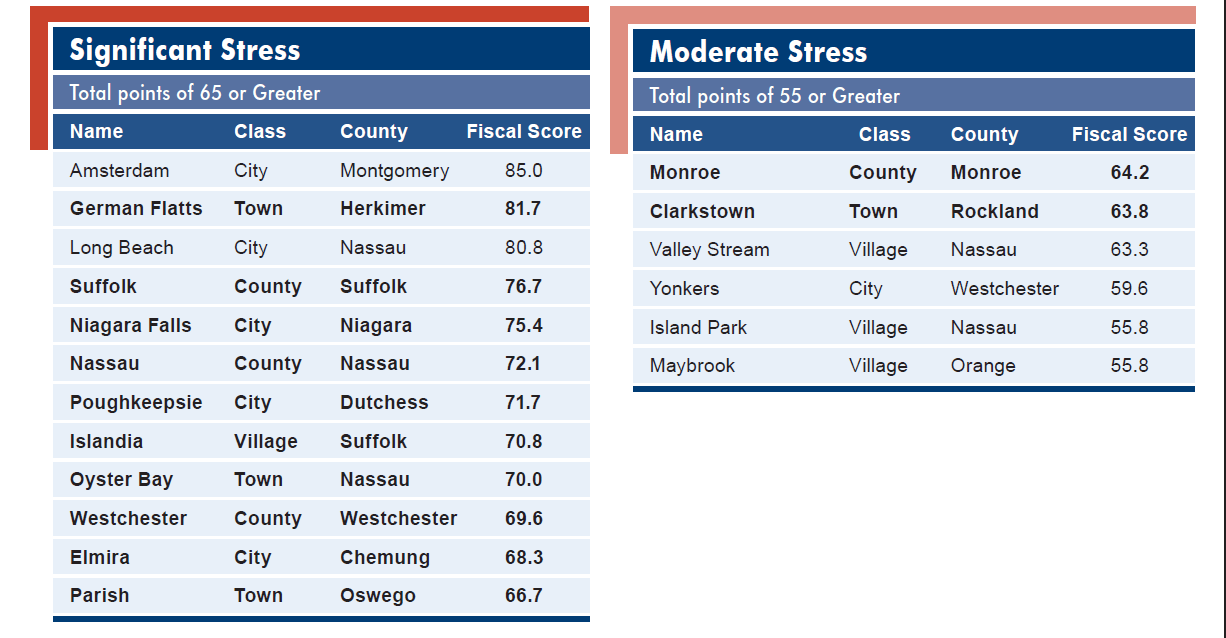 "Strict budgeting, careful cost-benefit analysis and responsible long-term planning have been the cornerstones of my administration's policies," said County Executive Ed Day. "And while we have made significant progress, we still have a long way to go until we reach full financial strength. I will continue to make the decisions necessary to keep Rockland County on a strong fiscal track."
In 2013, Rockland County had a score of 86.7% and was listed as New York State's most fiscally stressed "A score of 41.7% is yet another affirmation that our finances are improving; the hard choices we have made are being recognized by the Comptroller's Office," said Day. "I truly appreciate the close partnership we have developed with the Comptroller's Office as they have helped us navigate through this situation."
The score is based on assessments of fund balance, cash-on-hand, short-term borrowing, fixed costs and patterns of operating deficits.