Tighter Restrictions For Growing Doggie Daycare Industry
By Tina Traster
Doggie daycare got more stringent in the Town of Clarkstown this week after the town council unanimously amended a town code to control noise, odors, and environmental impact from facilities with outdoor runs.
The amended local law (Chapter 290 of the town code) also requires a 200-foot buffer between pet care facilities and residential zones. Pre-existing businesses are grandfathered but prospective doggie daycare companies will need a special permit from the Zoning Board of Appeals. An applicant who wants to open a doggie daycare site must have a business plan that includes mitigation of noise and odors, and any adverse environmental impact including traffic, drainage, water and wastewater functions, and aesthetics.
The new law does not affect facilities that do have an outdoor dog run.
Clarkstown Town planner Joe Simoes said the proposed amendment grew out of a growing interest in doggie daycare. "Our building department has been getting an increased number of calls from people who are interested in this kind of business and we realized that our code did not address these issues."
Understandably there's a growing demand for doggie daycare. Americans, especially millennials, view their pets as family members. Millennials are also delaying having children, and in many cases treat their pets like children.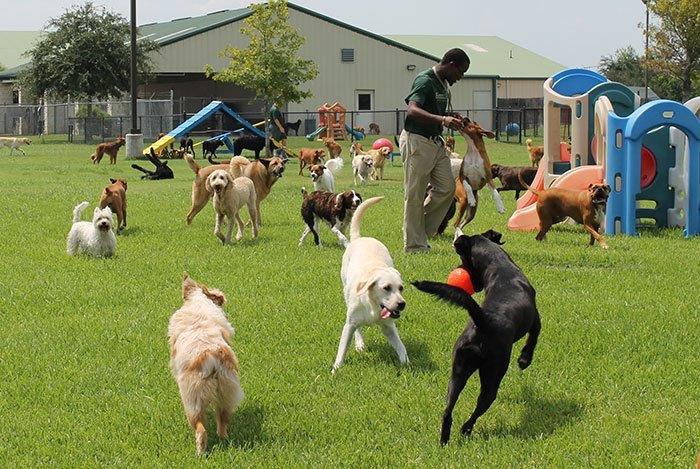 Dogs become bored, restless and sometimes destructive if left alone for long hours. Doggie daycare, essentially like child daycare, is filling a need for pet owners who view their animals as sentient beings who deserve a well-rounded life with socialization, exercise and companionship.
The pet industry has been experiencing explosive growth. According to The American Pet Products Association, almost 85 million households have a pet and over the last 30 years pet ownership has gone from 56% to 68% of all households.
As millennial and Generation Z consumers have come into adulthood, they have embraced the pet-owning and pet-loving lifestyles to a far greater extent than their elders. While baby boomers account for 32% of pets owned, households headed by younger cohorts account for 62% of pet ownership.
People who own pets take their responsibilities as pet parents very seriously. Globally, pet care is a $100 billion industry and growing according to the American Pet Products Association. More than $72.1 billion was spent in the U.S. in 2017 year, up 8.1% from 2016.
Nationwide, there are more than 115,000 businesses, including franchises, operating within the pet care and doggie day care industries, with annual growth rates averaging 6.8% since 2013. There are at least 4,000 exclusive doggy day care facilities that provide nothing other than day care.
25% of the highest-earning dog day care franchises in the U.S. generate revenues of over $1.2 million. The average for all locations within the Camp Bowwow franchise was over $840,000.
Compensation for business owners involved in the care of dogs from an independent company (not affiliated with a franchise) averaged $57,000 in the past year.
On the downside, there is little federal oversight for the industry. Dog owners consider their pets to be family, but the court systems treat the animals as property. If a tragic incident occurs at the facility, then the liability of the owner is one that involves property restoration – not family restoration.
The average cost to start a dog day care business ranges from $2,000 to $10,000, although there are franchises available which may spike this startup price to over $300,000.
"Certainly pet owners have a need for these type of facilities," said Councilman Patrick Carroll. "As a town, we wanted to address that need, and to ensure a balance between businesses and residential neighborhoods."