What Does Rockland's Economic Development Future Look Like?
By Tina Traster
Sullivan County is on fire. Orange County is humming too. What lessons can Rockland County take from its northern neighbors' playbook on stimulating economic development?
In a nutshell, both Sullivan and Orange counties aggressively court development that jives with rural tourism, hospitality, agriculture and light manufacturing. These counties understand their assets, build on history, and capitalize on their geographic location. A casino, boutique and chain hotels, waterparks, and other entertainment venues are siting projects north of Rockland.
In part, land is more plentiful, and these counties are better equipped than Rockland to cater to the bucolic experience tourists want and to handle the traffic it brings. But economic development leaders up north say projects are coming their way because their counties make zoning and permitting approvals manageable. They are educating the populace to understand the benefit of entities that bring jobs and reduce taxes. They understand an over-reliance on housing and retail imbalances the economy, and runs the risk of turning a county into a bedroom community.
"We are sending a message," said Marc Baez, CEO of Sullivan County's Partnership for Economic Development. "You can do business here. You can get an ROI."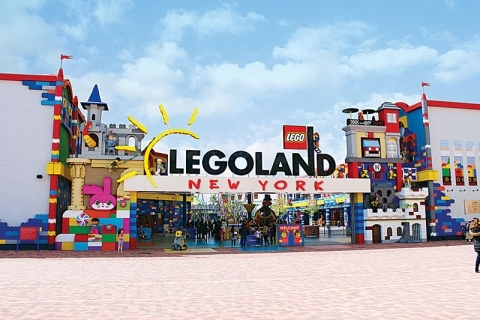 Many in Rockland County economic development circles still smart over the loss of Legoland, which was roundly rejected by Rockland's citizenry. The loss has sparked debate as to what Rockland will become in the next decade. Though land is limited compared with Orange and Sullivan counties, there are still a handful of large parcels in Rockland that are ripe for development, including Stony Point's Letchworth Village and the former "Chair Factory" in the Village of Haverstraw. Signature parcels, too, are for sale including Nyack College, the HNA Center in Palisades and Bradley Industrial Park.
Both Clarkstown and Pearl River are contemplating redevelopment around their train stations, which will stimulate housing and retail. But what about unique resort properties, entertainment venues, cultural draws? The Palisades Center is under pressure from the soon-to-be opened American Dream Meadowlands, the $3 billion retail and entertainment destination, which is being built by developer Triple Five.
Orange and Sullivan counties' roadmap may be an interesting guide for Rockland's planners.
"These are very good times," said Maureen Halahan, president and CEO of the Orange County Partnership for Economic Development. "These are sexy projects."
Both counties are tapping the pleasure economy, and courting burgeoning industries like breweries, distilleries, wineries, mid-sized manufacturing and medical marijuana research.
"These are very good times," said Maureen Halahan, president and CEO of the Orange County Partnership for Economic Development. "These are sexy projects."
When Rockland rejected Legoland, Merlin Entertainments went north.
As soon as Halahan heard Rockland rejected Legoland, she immediately reached out to the company. "I called the company's top executive on his cell phone." At first, she was told Rockland was as far north as the company would go. But Halahan persisted, inviting the company to Orange County to show them sites and to reinforce the notion that the county would work with them. Merlin Entertainments visited but did not at first like what they saw. The county continued to keep a dialogue open, and eventually, with "the work of some savvy brokers who assembled 523 acres" Legoland found a home.
The $350 million theme park on Route 17 in Goshen is set to open in 2020. The park, whose target audience is families with children age 2 to 12, will be open from April 1 to Nov. 1, employing 1,300.
Legoland New York is expected to generate $283 million in sales tax and hotel taxes for Orange County over 30 years, $71 million for the Town of Goshen over 30 years, and under a 20-year payment-in-lieu-of taxes agreement, Merlin will pay $87 million to the town, the school district and the county, with payments increasing to full assessed value by the agreement's end.
Spurred by Legoland, 13 hotels countywide are in various stages of planning and development. Most are situated along the Route 17 corridor from Woodbury to the border of Sullivan County. Most are flagship hotels; a couple are boutiques.
Legoland New York will be Merlin's third park in the U.S. — following parks in California and Florida — and it is the first Legoland park in the Northeast, the company's most lucrative market. An on-site 250-room year-round hotel is planned.
"Rockland kicked Legoland to the curb but it was Orange County's gain," said Baez. "Orange County pursued it aggressively. We did too. But good for them. They get credit for being aggressive. It wasn't an easy transaction. A lot of creative approvals were needed to get it done. It's all about the people who are articulating a message."
Halahan admits the county met with resistance. "But we educated the community," she said. "We explained what it would mean in dollars and cents."
The anti-development movement is becoming rife in Rockland, and in every community. Understandably, people who've moved to Rockland and Orange for a country environment try to protect what's left of a once-rural landscape, and those who've been here for a long time are wary of dramatic change. They balk at projects that will bring thousands of cars to the roads. But Halahan says, "If a parcel is zoned appropriately and the infrastructure and roads and utilities are in place, it's more difficult for a project to fail."
Orange County is trying to woo Great Wolf Lodge, a chain of indoor water-park resorts that has operated one in the Poconos since 2005. They've offered county-owned property that was once the site of New York City's Camp La Guardia homeless shelter, and other sites including a property that already has been cleared for the 431-home Greens at Chester project.
"They have not yet made a commitment," said Halahan.
But in Sullivan County, the state's largest waterpark, The Kartrite Resort and Indoor Waterpark, is set to open this month. The waterpark is located next to the $1.2 billion Resorts Casino that opened last year in Thompson. The Kartrite resort, managed by Benchmark Global Hospitality, will include 15 waterslides, coasters, a wave pool, lazy river and an indoor beach, as well as a 324 all-suite hotel, an arcade, space and eight restaurants and bars. The Alder Hotel, a 101-room boutique hotel on the casino complex, opened in February.
Baez says Sullivan is not sitting on its laurels. Additional waterparks are being looked at.
Waterparks thrive in clusters, particularly in Wisconsin Dells, home to 14 waterpark-hotel properties. "They feed off of each other. They're all sustainable."
Baez says the county, which has pockets of poverty, needs investment. "We're willing to do whatever it takes. To call special meetings. We are not in an adversarial relationship with developers."
There is always going to be opposition to development. But Baez says community opposition is minimalized because the county is locating projects in areas that are suitable. "We're not looking at dramatic rezoning. We've got land. Lots of land. The Lord's not making any more land, which is what Rockland and Orange are experiencing."
Sullivan County is proactively expediting zoning changes to ready 100-acre to 150-acre lots to make them attractive to developers. Sites are pre-approved for development. Infrastructure and roadwork is there. "We're reaping the fruits of years of effort," Baez added, noting that this renaissance comes just as Sullivan County is preparing for this summer's 50th anniversary of the Woodstock Festival, which took place in Bethel.
The Eldred Preserve in the town of Highland is expected to open in time for the festival. The resort has been rebuilt to weave together of three Sullivan County legacy brands – The Eldred Preserve, The Bradstan Country Hotel and The Old Homestead Restaurant. The resort property will include an event space, luxury accommodations and a classic steakhouse offering a unique farm-to-table experience. The new owners, Dan and Joan Silna, plan to develop the property into an entertainment hub for the local community and tourists.
In 2016, some 80 acres belonging to the Eldred Preserve were sold to the Millennium Pipeline Company to be used as the site for the Highland Compressor Station for the pipeline.
And Sullivan is welcoming another luxury property. In December, Indian-American hotelier Sant Singh Chatwal, who owns the Dream Hotel Group, broke ground on a $50 million, five-star 50-room luxury retreat inside The Chapin Estate, an elite residential community. Up to $100 million could eventually be invested, depending on the project's success, according to Dream Hotel Group CEO Jay Stein.
Dream Hotel Group operates 20 hotels, including the Chatwal New York and Time Hotels, and more than 50 restaurants and bars worldwide. The company has another 20 hotels under construction.
Chatwal is betting on the Catskills. The Dream Hotel Group also operates the Time Hotel in Nyack, which has recently been bought at auction for $18.5 million by IMH financial, an Arizona-based group that operates three hotels. The Dream Hotel Group did not submit a bid for the Time Hotel, which is in bankruptcy.