Changing Demographics Shift Airmont Eats' Future
By Tina Traster
The team of entrepreneurs who built the well-known Airmont Eats in Airmont have opened a fast-casual restaurant in Sloatsburg, and they intend to transform their original enterprise to reflect updated trends and demographics.
"People in the area want to eat kosher and we are not kosher. It's not our market."
After a decade of serving Airmont and its surrounds, co-owner Ilan Nifco says sales are declining because the population is changing. "We do not have a kosher kitchen."
Recognizing a need to pivot to keep their business vital, Nifco and his partner David Diamond, opened Happy Belly Kitchen earlier this month on Route 17 in a charming, one-story, 850-square-foot building the pair bought and renovated.
Happy Belly Kitchen serves healthy "fast casual," which means small batches of fresh food offered daily from a limited menu that is ready to be assembled for takeaway or to eat at the establishment's wonderful communal wood table. The dishes are a pastiche of everything: Mexican, Indian, Mediterranean, and vegan. "We have modeled this off of Chipotle, fresh&co, Dishes and a slew of other places in New York City that are doing healthy fast-casual."
Within the next two months, Airmont Eats will be scaled down to replicate the fast-casual format and renamed Happy Belly Kitchen. The Airmont location will turn into a commissary for Happy Belly's production. Nifco says the pair want to grow Happy Belly into a chain, eventually expanding to other Rockland and Bergen county locations.
Airmont Eats has been a staple of the community for a decade. It draws customers from the Good Samaritan Community Hospital, RCC, corporate entities and the schools. But the changing population has bitten into profits.  Nifco understands the importance of being nimble. Before opening Airmont Eats, he worked in the diamond industry. The internet was changing the viability of the business. "I saw the handwriting on the wall," said Nifco. "I was losing faith."
The then-diamond man moved forward with a childhood passion – food – and his canny business sense, and with Diamond opened Airmont Eats, which has been a mainstay for many. Nifco grew up in Mexico City and Israel with a single mother and a culinary-gifted grandmother. The kitchen was a refuge. A place of comfort. And where Nifco learned about healthy eating,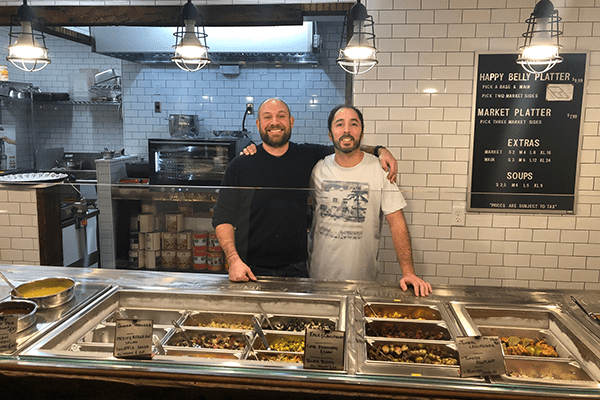 Nifco designs the daily menus for Happy Belly Kitchen, which employs two additional cooks. The restaurant has seating for 12, and is opened Monday through Friday 11 to 7 and Saturday 11 to 4. For now it's closed on Sunday but that will change when the weather warms up.
Sloatsburg is a new frontier for the entrepreneurs but it is also a new frontier for the county as it gentrifies with assets like Michael Bruno's Valley Rock Inn, The Village Blend, and other businesses that see a new era dawning. Woodmont Properties is building more than 380 apartments on Route 17.
Nifco says Harriman State Park is increasingly popular for hikers and bikers (in part due to the Explore Harriman campaign), and that "This is exactly the kind of food they want to eat," he said.
The entrepreneurs scouted Rockland County broadly but chose Sloatsburg. These two seem to have a good sense of timing. They pay attention to the tea leaves.
"We looked around and made a calculation," said Nifco. "We believe Sloatsburg is having a perfect storm. It's revitalizing. It's a destination."
If it doesn't work out? Nifco says "Worst case scenario, we own a building. We have a real estate investment." No doubt the savvy engineers will know how to pivot again, if necessary.