Are Bathroom Hand Dryers The Next Smart Platform For Advertisers?
By Tina Traster
They've given us The Beatles, PG Tips, Range Rover. Will adDryers be the next British invasion that blows us away?
Four entrepreneurs who've founded Orange Media Distribution in Tuxedo, NY hope so. So does the Palisades Center, which will be the first U.S. customer to use the adDryer, a wifi-enabled smart product from the British company Savortex that screens advertising and content on bathroom hand dryers.
The dryers will be installed and ready for airing within the next 12 weeks in all of the mall's common-area public bathrooms (two per bathroom).
To date, some 2,000 adDryers have been installed in airports, banks, shopping centers and corporate offices in England. The utility-patented dryers, invented by Syed Ahmed, founder and managing director of Savortex, have two benefits: they provide energy usage data and they represent opportunities for advertising revenue.
"We are looking for ways to reach people in places where they have to be.
"An advertiser can really see where its ad dollars are going," said John Watson, Orange Media Distribution's Inventor and Tech Entrepreneur. "Every time hands activate a dryer, you've got eyeballs on that dryer for 10 seconds." The dryers also provide data on energy usage.
Watson says the dryers have a captive audience because the user is in close proximity to the device. "We are looking for ways to reach people in places where they have to be," he said. Orange Media Distribution is on a quest to find "outside the box" advertising platforms such as GasPump TV, with whom they have a "strategic alliance."
The team is hoping to become a notable player in the niche called "digital out-of-home" advertising. "When you think of advertising, you think of billboards, print, radio spots or tv commercials," said Watson. "We're thinking outside the box." And inside the bathroom, a sanctuary that has not been typically thought of as a revenue center. But why not?
Watson says adDryers offer measurable results for advertisers. "Take a billboard, for example," he said. "There is zero percent chance of knowing who has seen it." In contrast, every time an adDryer is activated, there's a "90% chance someone is looking at the screen." Additionally, anyone who walks by the device, even if they don't wash their hands (which they should), sees the advertising if it is activated.
The company plans to target shopping centers, entertainment venues, sports arenas, airports, restaurants and fitness facilities in the U.S.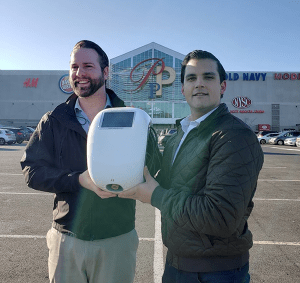 The Palisades Center, which has 24 million annual visitors, will install two adDryers in each bathroom. After the Palisades Center, Watson says Pyramid Management will install the dryers in 16 locations, with a reach of 184 million annual visitors.
"adDryer's use of built-in sensors that report actual dryer use in real-time can help us be more energy efficient and resourceful by servicing restrooms based on actual usage versus timed intervals," said Darrin Houseman, general manager of Palisades Center.
The machines, measuring 13 inches by 10 inches, and 4 inches deep, display advertising and content on a 4-inch by 5-inch screen that uses an MP4 format. Multiple advertisers rotate on a one-minute cycle. Companies can purchase units, which cost around $1,500 per unit, or have Orange Media Distribution sponsor them. When companies purchase the units, they enjoy a larger split in the advertising revenue. For the Palisades Center, Orange Media is funding the project, and the advertising revenue will be shared in the media company's favor.
Both Orange Media and Pyramid have in-house advertising teams that are selling ads for this new venture. Content providers pay to run information or data on adDryers.
Asked if he thought it would be a good idea to go on Shark Tank, Watson said, "We like Shark Tank but we don't need to. We don't need funding."
For now, Orange Media Distribution is importing the dryers but plans to start up production in the U.S. The company is optimistic it will be poised for an IPO over the next five years.
---
Also read: Palisades Center And Town Of Clarkstown In Court Again Over Mall Expansion