Award-Winning Illustrator Johanna Goodman Dabbling With Commercial Venture
By Tina Traster
It takes a savvy artist to navigate the intersection of commerce and art.
Nyack illustrator Johanna Goodman, known for her fantastical dreamscape designs, has honed these skills with an impressive client roster that includes The New York Times, The Los Angeles Times, Metropolitan Transportation Authority (MTA) of New York, the Rock & Roll Hall of Fame, and more.
But recently Goodman has been moving from the page to products. This Friday, a collection of designs on textile and fashion items will debut at Maria Luisa Boutique's annual holiday party between 4 pm and 8 pm.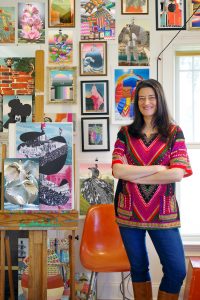 The designs are based on "The Catalogue of Imaginary Beings," an ongoing series Goodman launched in 2015, and culled from more than 20 years of portraiture and collage work. Products in the debut collection for Maria Luisa Boutique will include pillows, shower curtains, handbags, and totes.
Last year, Goodman licensed her designs for one season to West Elm for a line of wall art, throw pillows, plates, vases and glass objects. Her designs have also been featured on Habitat Skateboards. In her latest foray with Maria Luisa, Goodman is wearing a new hat: She is now a manufacturer and wholesaler, albeit of a small, experimental line she's hoping to grow.
"It's on a small enough scale," said Goodman, who did the R&D to choose an American-based manufacturer.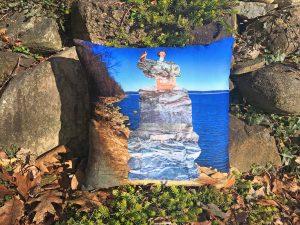 Goodman has been selling art online. She's itching to see how it feels to have her products at a brick-and-mortar location in her home town. "I'm looking forward to community feedback and to see how this experience will educate me on the process," she said.
The artist collages photographs to create surreal, monumental, disjointed portraits of figures, mostly women, dressed in outsized frocks floating in imaginative landscapes. They have a fantasy Hollywood look, an haute couture vibe. They are infused with humor and joy and politics.
Let's talk about Ruth. You know, RBG. In one Goodman design, Ruth's tiny head sits atop an enormous justice's robe. The design will adorn totes. "She's so important right now, and I'm so happy to be able to portray her in a monumental way," said Goodman. "She's a force to be reckoned with. She's larger than life. I have never been political. Until now."
"I'm looking forward to community feedback and to see how this experience will educate me on the process."
This is not Goodman's first rodeo with Ruth. Persisticon commissioned Goodman to illustrate a poster for an advance screening of the RBG documentary at the New York Film Forum to raise money for Emily's List.
And it's not Goodman's first political statement either. Recently her political commentary on the Brett Kavanaugh confirmation process ran as an illustration on the front page of the New York Times Sunday Review section. In this collage, a woman's body was comprised of female protest marchers.
Pivoting from politics to passion, another Goodman design inspiration for the Maria Luisa store incorporates Hook Mountain with a woman's body made from the rock formations, standing along the water's path, with a hawk perched on her shoulder. "This expresses my affection for Nyack and Rockland County," she added.
Products will be priced between $59 and $100.
Goodman, a Parsons School of Design graduate, describes this retail venture with Maria Luisa as a collaboration, as the two worked together to choose the images and the products they would appear on. "It felt like working with a gallery, where we both had input on what we wanted the line to look like," she said.