The Wilson System Converts Unsorted Municipal Waste To Green Energy
By Tina Traster
A UK-based company hoping to sell a high-tech composting system that converts unsorted municipal waste to green energy has been meeting with Rockland County's decision-makers for the past few months.
Hughes Energy, the U.S.-based distributor for Wilson Bio-Chemical Ltd, recently presented its pitch to turn solid municipal waste into bio coal to the Rockland County Solid Waste Management Authority. The technology would likely be situated at one or more of the county's three transfer stations (Clarkstown, Haverstraw, Hillburn).
"As with any new technology, there is a lot to review."
"We've met with them and our engineers are reviewing the information before we can make a determination," said Anna Roppollo, Executive Director of the Solid Waste Management Authority. "As with any new technology, there is a lot to review."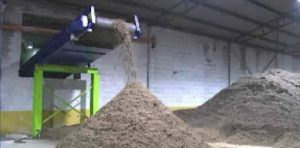 Developed in 2001 in the UK, the Wilson System converts unsorted municipal solid waste to a biomass fiber that can be used to generate electricity, convert to biofuel, or for secondary processes such as gasification, pyrolysis or anaerobic digestion. The company says its system can reduce transporting waste by up to 90%, and its byproducts can be profitable to municipalities.
"If we can compost and get green energy out of composting, that'd be wonderful," said Michael Shilale, partner with Michael Shilale Architects. "How great would that be to get to net-zero waste, to not have to truck our waste to a landfill. Right now the county trucks 70% of its garbage north and to Canada."
Hughes Energy is a Yonkers-based company with exclusive rights to distribute, implement, and service the garbage-to-biomass fiber technology developed by Wilson Bio-Chemical Ltd.
Bio coal is a biomass fuel that goes through a torrefaction (or thermal) process to create a high-density, energy-rich fuel product in the form of pellets or briquettes. Wilson's patent-protected method processes municipal solid waste in steam autoclaves to create a homogeneous biomass fiber.
Company officials say the system composts 20 tons per hour of unsorted municipal solid waste, or 160,000 tons per year, reducing municipal solid waste volume by 90% (20-25% of recyclables can be sold, 5% of waste including textiles and woods are sent to landfills). On average nationally, 60% of municipal solid waste ends up in landfills.
The system, says the company, reduces waste to up to 80% of its original volume. It does not require pre-sorting at the source.
According to the NYS DEC 2017 report, Rockland transfer stations process as follows: Hillburn, 85,000 tons per year; Clarkstown, 109,000 tons per year, and Haverstraw, 25,000 tons per year. The tipping fee is $76 per ton.
Everyone is interested in green technology but whether or not the Wilson System is well-tested remains a question. Wilson Bio-Chemical Limited opened its first plant in Limerick less than two years ago. The plant has been sold, and its new owners are waiting for it to be recommissioned. Meanwhile, there are two small-scale plants running in England: one has been sold to an undisclosed buyer in Chesterfield, England, to test on food waste and the other is located at the Bio Renewables Development Center at the University of York, according to the company's marketing manager Sheila Hughes.
"Right now we do not have an operational plant that is at 160,000 ton capacity," said Hughes. "We just have the smaller demonstration plant."
Wilson Bio-Chemical Limited does not have a U.S. presence, though the company is in "talks with many municipalities nationwide," Hughes said.
Hughes Energy is seeking support from the county's Solid Waste Management Authority for its system, which would need to be "installed and maintained by Hughes Energy for the process guarantee to be applied," according to the company. The facility can be built within 18 months. It runs 22 hours a day, nearly all year long, and has a 25-year life-span.
The facility would create 50 jobs.
Roppollo says any decision of this magnitude would be made with a large consensus of elected officials.
"Nothing going to happen that isn't known to the supervisors and legislators," said Roppollo. The Authority's 17 board members include the towns' five supervisors, eight county legislators, two mayors, and two county executive appointees.
"Everybody wants a clean source of reducing garbage but nobody's been successful yet," said Town of Haverstraw Supervisor Howard J. Phillips, who is also the chairman of the county's Solid Waste Management Authority. "I'm not sure this is proven technology. We have to be extremely careful and do our due diligence because this is taxpayers' money we're talking about."
How it works:
Waste arrives and is discharged, allowing easy removal of any large or unsuitable items which are set aside for disposal.
Autoclave Loading Batch sizes are typically twenty tons. The automatic closure system is manually initiated to ensure all automatic, manual interlocks and several other safety protocols.
The Central Control System engages steam charging. Pressure of 72 psgi (160°C) attained for ≈ 40 minutes, exceeding requirements for achieving medical grade sterility. Mechanical agitation and speed of rotation also greatly facilitate the breakdown of recalcitrant inputs such as cardboard, paper, etc.
Material discharged from autoclave is taken away by an out-feed conveyor system.
Several high level screening processes are engaged, and the thorough separation of materials occurs. The separated Wilson Fibre® is transferred to a storage area via a series of conveyors.
A PC-based control system governs all of the processes while monitoring the environmental parameters and recording the operational history for regulatory compliance.