RCBJ-Audible (Listen For Free)
College Working With County To Cultivate Career Opportunities
By Tina Traster
Ask a college-bound student who is seeking a career in the hospitality industry where she'd like to attend school, and the wish list likely includes powerhouses like Cornell, NYU, or maybe even the Culinary Institute of America. But now, though it's just in its infancy, St. Thomas Aquinas College (STAC) in Sparkill has added a Hospitality Management program to its business school, and early enrollees are seen as its pioneers.
"This has been a real-life opportunity for students to plan an event as though they were professionals."
To date, eight students are taking hospitality courses but four are the architects of an upcoming event that will take place during cocktail hour on Dec. 11th for some 60 invited guests at the school's Azarian McCullough Art Gallery to showcase the new program. The "conversation and canapes" soiree is designed for students and industry folk to mix and share ideas. Students were put in charge of bringing the event to life – from developing its theme to designing promotional material to planning food and entertainment. Guest speakers will include Billy Procida, CEO of Procida Funding & Advisors, Brian Harniman, operating executive with Brand New Matter, and Lucy Redzeposki, Rockland County's director of the Office of Tourism and Economic Development.
"This has been a real-life opportunity for students to plan an event as though they were professionals," said Professor Angela McDonnell, who was recruited in 2017 to spearhead the Hospitality Management program. "This hands-on experience is not academic or theoretical. Students have worked with real businesses to make this happen."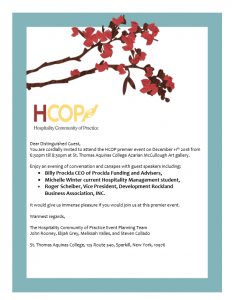 A degree from STAC's Hospitality Management program is broad enough to prepare students for careers in hotel management, resorts, restaurants, conference and trade centers, event planning agencies, casinos, travel agencies, airlines, and even human resource management and customer service management. The course is one of 100 academic programs at STAC, which has nearly 3,000 undergrads and grad students.
Program courses include Hospitality Finance and Revenue Management, Service Technology and Innovation, Event Planning Management and Internships. Students in the business school are eligible to take courses in the program.
STAC has a long way to go to develop its program and put it on the academic map. Though a scroll through a list of the best hospitality schools shows there are only a few top programs in the northeast, and less than a handful in New York.
McDonnell believes the greatest resource for cultivating the hospitality program is right at STAC's front door: Rockland County. Like STAC, the county is also in a waking-giant phase of promoting its tourism assets, including 2,600 acres of parks and open space, the Hudson River, breweries, a vineyard, ballpark, the Palisades mall, walkable villages, the Edward Hopper House, RCC's new culinary center, restaurants and some 20 hotels, golf courses and more. Visit Nyack has aggressively marketed its Village over the past few years with a robust advertising campaign.
What McDonnell and her faculty are hoping for is to work collaboratively with all the players to stimulate and coordinate the tourism industry in the county. "The fact that the program is in its infancy and Rockland is really focusing on developing its tourism at the same time, means the two can work in tandem." Though Redzeposki is a powerhouse and has undertaken impressive efforts to boost tourism, McDonnell says it would be ideal if the county had a tourism board.
Hailing from Ireland, McDonnell taught hospitality management for the University College Birmingham in England, and has built tourism curricula in Europe, Hong Kong, the Maldives and elsewhere. "There's so much to learn from Europe and Asia in terms of tourism strategies," she said. "Rockland has a ways to go but we're getting people on board."