No One Has a Crystal Ball On What Will Become of Nyack College Campus
By Tina Traster
Speculation over what will happen to the for-sale Nyack College campus was like a parlor game in rooms across Rockland County these last couple of weeks. First, came the initial shock, which shouldn't have been shocking at all because many in the know knew Nyack College was struggling financially. Not long after, opinions in both public forums and private settings over what will or should happen next began flowing like volcanic lava.
The easiest and least disruptive concept to get one's arms around is that Nyack College will sell its 107-acre campus in South Nyack to another learning institution. That would allow for the smoothest transition; one that would not likely require a zoning variance. The land (a significantly smaller portion of the college campus is situated in Central Nyack and the Town of Orangetown) is zoned R18, which are large-acre single family home sites but the college's long-time use ensures protection for a pre-existing, nonconforming use. The college has more than 40 buildings.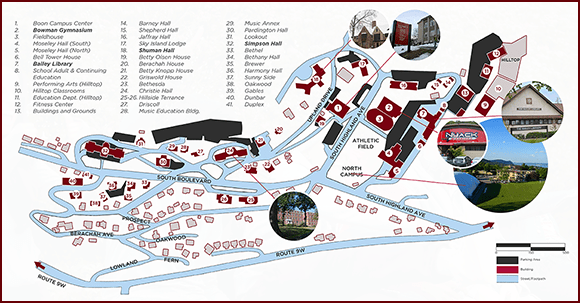 Attracting a for-profit learning institution would be an enormous boon for South Nyack's tax rolls. Nyack College, a nonprofit, did not pay taxes. "It would change the equation," said South Nyack Mayor Bonnie Christian. "This would affect our community a lot. In a good way."
"We'd like to keep the (physical) characteristics of South Nyack as they are," Christian added.
Facing mounting debt, Nyack College recently took out a $38.5 million loan against its South Nyack campus from 100 Mile Fund LLC, owned by Procida Funding & Advisors, a non-bank lender.
When asked what he thought the campus was worth, Billy Procida, president of Procida Funding said, "The campus is worth, well, a lot." When pressed how much is a lot, he said "upwards of $70 million."
David C. Jennings, executive vice president and treasurer for Nyack College, said the sales price for all of what Nyack College owns — which includes the 37-acre site of the Alliance Theological Seminary on Route 9w in Upper Nyack, and a 22-acre parcel in Orangetown with a private residence where the college president lives — is priced near $100 million. This estimate is based on two appraisals, including one from the listed agent CBRE, according to Jennings.
The Christian college's financials as of 2017 shows the nonprofit has multiple loans totaling more than $70 million. The loans' annual interest payment for the year ended June 2017 was $3.87 million.
One commercial broker who spoke on the condition of anonymity said he believes a buyer could pay upwards of $70 million but would have to invest at least another $50 million to bring the campus up-to-date. "The campus is outdated, and there may be substantial deferred maintenance."
Jennings agrees many campus buildings need modernization, though he says roofs, boilers, and other infrastructure, according to inspections, are considered to be "in good condition."
The four-year, private Nyack College plans to close the South Nyack campus and move its students to its Manhattan location. The campus includes dormitories, classrooms, athletic facilities and performing arts buildings.
Though it might be a small detail, a prospective buyer, will need to negotiate with the Nyack School District over the former middle school complex, which the college uses for its athletic facilities. The school district stands to lose nearly $270,000 annual revenue from the loss of this leasing agreement.
Many agree there are challenges to attract another learning institution including limited road access and inadequate transportation. Resistance from South Nyack may end up being a factor too. Though in the end of the day, this is a private sale. CBRE, a world-renowned real estate firm, was hired as the exclusive broker to market the property.
South Nyack is still convulsing from disruptions brought on by the new Mario M. Cuomo Bridge and the Shared Use Path (SUP). The sale of the college opens yet another vein of uncertainty for the residential village. "We'd like to keep the (physical) characteristics of South Nyack as they are," Christian added. The mayor also talks about wanting to South Nyack to remain "diversified," citing the college has always been a paragon of diversity for the village.
County Executive Ed Day views the sale as a county-wide concern. Last week at the RBA luncheon he told the crowd, "We cannot be fractionalized. We cannot be myopic. Those days are over. We have to understand development in one town affects the entire county."
The site, on many a radar, represents opportunity for Rockland to market a signature property that has amenities and facilities that can bring ratables and jobs, according to Jeremy L. Schulman, president and CEO of Rockland Economic Development Corporation. "We already have a couple of candidates in mind."
Rand Commercial's chief strategy officer Paul Adler balks at any prospect that has to confront a zoning challenge. He says a specialized or vocational school, like as medical or dental college, makes sense for the property. But he's urging South Nyack to be flexible with its zoning. If a college wants to build out the campus, the village "should not make it a zoning nightmare."
Elected officials outside of South Nyack have let it be known that they want to sit at the negotiating table. One idea being floated is this: What if Nyack College sells its campus to RCC, freeing up RCC to create an available site for Pomona to site a centralized yeshiva complex, rather than do so on the 75-acre town-owned "Stryker" property? A Ramapo insider said there a lot of moving pieces but the idea is intriguing. RCC officials are taking a look at this.
Ramapo's proposal to sell three parcels of undeveloped land on Concklin Road to a nonprofit that wants to build more than 10 schools does have detractors who have voiced concerns over building on land that contains trees, streams, wetlands and wildlife. Pomona officials are under pressure to combat the building of yeshivas in temporary trailers, converted homes, and illegal buildings throughout.
Real estate insiders say a sale of the RCC Suffern campus could garner price tags somewhere between $75 million and $100 million.
---
Read also, New RCC Student Culinary Center To Benefit Area Businesses