Rolling Cow Ice Cream Shoppe Franchise Looking To Expand
By Tina Traster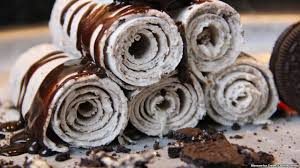 The Thai rolled ice cream trend has found its way to the New York burbs with the opening of Rolling Cow Ice Cream Shoppe on level 4 in the Palisades Center in West Nyack. This is Rolling Cow's sixth mall location: there are two in New Jersey (Paramus and Westfield), two in NYC (Kings Plaza in Brooklyn and the Staten Island Mall), and Danbury Fair in Connecticut.
Rolling Cow Ice Cream Shoppe opened its first location in Paramus, New Jersey and is now looking for additional franchisers to sell the stir-fried ice cream, which puts an Asian spin on a favorite classic. Also known as "rolled ice cream," the treat is a sweetened, frozen dessert that originated in Southeast Asia, and has become popular and very Instagramable here.
Thai Rolled Ice Cream is little rolls of ice cream, about the size of a roll of quarters that are packed into a cup, then topped with extras, such as toasted marshmallow, gummy bears, coconut and hot fudge. Rolling Cow "artisans" mix and freeze the ice cream in front of customers using a cold plate. The ice cream is then rolled and wrapped, similarly to a crêpe.
Thai Rolled ice cream takes about two minutes. Ice cream prep staff pour a cup of flavored milk-based liquid on to an extremely cold metal circle that looks like a big pizza pan (some places use dry ice to chill it, others run coolant underneath that plunges the temperature well below zero.
As the base freezes, it's manipulated with little paddles, like kneading bread, and then spread out across the big circle. Once the ice cream evenly covers the circle, the prep staff pushes a spatula across it and turns strips of it into rolls.
Customers are invited to create their own flavor by mixing a base of Rolling Cow ice cream with a myriad of fresh fruit choices. None of their ice cream contains any artificial flavors or preservatives.
The process and the product have been a popular trending topic on various social media platforms. The concept is the brainchild of three ice cream lovers who got together and created a place where fellow ice cream lovers can rejoice and indulge in an assortment of flavors ranging from our fan-favorite "Cookies 'n' Cream" to the distinctive "Matcha Red Bean" made from Organic Japanese Matcha.
"We're excited to officially open at Palisades Center!" said John Chan, owner of the Rolling Cow kiosk.
Rolling Cow is now looking for single and multi-unit operators. Startup costs range from $95,000 to $275,000
If you're interested in franchising, here's what you need to know from Rolling Cow:
Q: What are your net worth requirements?
A: We require franchisee candidates to have a $400,000 minimum net worth and $150,000 of liquid capital.
What is the initial cost of opening Rolling Cow?
A: Basic Costs:
Franchise Fee – $25,000 upon joining our franchise
Build-Up Cost – $70,000 – $250,000 (estimated; dependent on kiosk or storefront, site size, location, and condition)
Royalty Fee – 5% gross sales monthly
Q: Will you find the real estate for us?
A: We can provide recommendations and guidance through the process, however, the franchisee takes main responsibility to source real estate.
Q: What is the recommended location size?
A: 150-250 square feet for kiosk locations; 500-1,000 square feet for storefront locations.