RCBJ-Audible (Listen For Free)
Actor Paris Themmen, AKA Mike Teevee, Will Be Among The Treats At Chocolate Expo of 2024 on Dec. 10 at Newburgh Armory Unity Center
By Tina Traster
Wine, cheese, and meads pair nicely with chocolate. You know what also goes well with chocolate? Nostalgia.
"When times are difficult, people look for an escape," said Baum.
Particularly when it evokes Willy Wonka and The Chocolate Factory, the iconic 1971 movie starring the incomparably camp and devilish Gene Wilder, who died in 2016. Many of us who grew up on this colorful candy confection still recall the cast of kids who took us on an adventure in the film inspired by Roald Dahl's 1964 children's book Charlie and the Chocolate Factory.
On Sunday Dec. 10th, at the Chocolate Expo of 2024 at the Newburgh Armory Unity Center in Newburgh, attendees will get a chance to listen to actor Paris Themmen, who played Mike Teevee, reminisce. Film buffs will recall he was the fourth Golden Ticket winner and the fourth and final child to be eliminated from the factory tour. Mike meets his doom in the TV room, shrinking himself down to go inside the television and hopping from channel to channel until he is retrieved. The Boston-born 64-year-old child star left acting when he was 14 years old; he spent his career in real estate, travel, and film production.

After Themmen regales chocoholics in Newburgh, he is set to join Wonka veterans at a reunion with two of the Willy Wonka "children," as well as an Oompa Loompa at the Chocolate Expo of 2024 on January 27 and 28 at the Shriners Auditorium in Wilmington, MA. Peter Ostum, who played the adorable towheaded Charlie Bucket and Julie Dawn Cole, the memorable Veruca Sault, will be on hand for the memory lane fest. Oompa-Loompa Rusty Goffe, who has appeared in five of the Harry Potter films, as well as a Star Wars movie, will round out the panel.
The Newburgh Chocolate Expo coincides with the planned release of the new Willy Wonka film with an all-star cast including Timothée Chalamet as Willy Wonka, Hugh Grant playing an Oompa-Loompa (that alone might make this remake worth it), Rowan Atkinson, Olivia Colman, and Sally Hawkins. Much has been debated over the decades as to whether Wonka was a creative CEO who paired morality with chocolate or whether he was a tyrannical factory owner who was darkly maniacal. Seventies movies were not afraid to go to the dark side; it will be interesting to see how Wonka is resurrected in the latest iteration.

In the meantime, credit a local maestro for the magic of wrangling the Wonka children for the two chocolate expos. Marvin Baum of New City first brought the Chocolate Expo to the Palisades Center in West Nyack 15 years ago. The festival later moved to Westchester County Center in White Plains, and later to New Jersey, Long Island, and other parts of the Northeast. From 2006 to 2020, the event grew from one location to seven.
Baum, who grew up in the seventies in New City, started down a technology path after earning an MBA in technology management from Rensselaer Polytechnic Institute. He spent a decade in the digital imaging field at a company before starting his own business that transferred film to digital images.
"I'm not an artist but I have a good eye; I can see things visually," said Baum. "I have a good eye for design."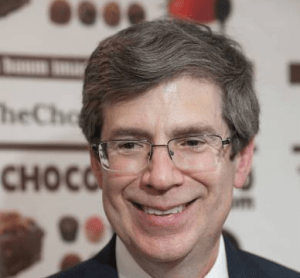 Baum also possesses a raft of strong skills that have made him known as an ardent activist for environmental causes, as well as a community organizer. He's a visionary, an extraordinary organizer, and as the Town of Clarkstown learned, he's a consummate researcher. He led the effort to shine a light on the deforesting of land by a homeowner on West Hook Mountain in Valley Cottage. He's also working on bringing a local winery back to the county on land he's recently purchased in New City.
But Baum, unlike the tightly controlled Wonka, has learned that when you leave your life open to serendipity, amazing things happen. In 2004, he teamed up with Elliot Landy, a music photographer, to organize the 35th Woodstock Festival at the New York State Museum in Albany. Baum knew Landy because the photographer needed high-grade digital technology to convert his photographs. Baum had done some exhibition work – but that wasn't his main strength. What was – and what has long been his best asset is his passion. Baum dove headfirst into event organizing, teaching himself the ropes. He minimized time spent in his digital imaging business, which was becoming more obsolete. But the success he had led to another event gig for then-departing Gov. George Pataki. From there, Baum knew his calling.
"I had to rely on my savings," said Baum, who was not earning money on these early endeavors. "But I believe passion should be your roadmap. Pursuing dreams at time can seem crazy, and of course it's important to have a financial cushion or a backup but, if possible, pursue what you love because you don't want to have regrets."
Baum's Chocolate Expos eventually took off, but fate intervened during the COVID pandemic, when group events vanished. It took at least a couple of years before people felt comfortable to gather in large spaces again.

Chocolate is precisely the antidote we need at this time when the world feels topsy turvy.
"When times are difficult, people look for an escape," said Baum. "All the noise, the shouting on Cable TV, how divided we all are. This is a place where everyone comes together. It's beautiful."
Expo Info
Timed-entry tickets to The Chocolate Expo are $20/adult and $10/child (ages 5-12), when purchased online from www.TheChocolateExpo.com, or $30/adult and $15/child (ages 5-12) at the door. With the time-entry The Chocolate Expo's "Late-Day Special" ticket is $10/person (all ages 5 and up) for admission after 4 p.m., when purchased online, and $15/person, when purchased at the door. A special VIP ticket for $40/person and available online only, provides an early "Preview Entry" at 9:30am and priority entry plus one deluxe Chocolate Expo insulated tote bag (a $20 value) with an included VIP Chocolate Bar and chocolate lip balm gift.
For tickets, go to: www.TheChocolateExpo.com

---