RCBJ-Audible (Listen For Free)
Village of Haverstraw to Receive $1 Million For Tree Planting
The Village of Haverstraw is about to green up, thanks to a program through the U.S. Department of Agriculture's (USDA) Forest Service's Urban and Community Forestry program.
Senate Majority Leader Chuck Schumer last week announced that a handful of Hudson Valley communities, including Mount Vernon, White Plains, Yonkers, Hastings-on-Hudson and Kingston, will receive more than $11 million in federal funds to plant thousands of trees and expand youth education and job training programs.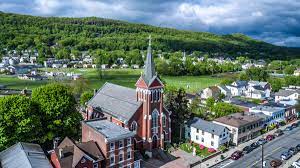 The Village of Haverstraw, an urban riverfront enclave that is undergoing waterfront changes, will receive $1 million in grant money. Tree planting helps fill in "heat islands" in urban areas where heat builds because of impervious surfaces and dense building.
Groundwork Hudson Valley will rake in $5,526,563 of the funding. Mount Vernon, the Village of Haverstraw, White Plains, Yonkers, Port Jervis, will each score $1 million. The City of Kingston in Ulster County is being given $500,000 while the Village of Hastings-on-Hudson in Westchester gets $433,275.
The $11.5 million was included in the Inflation Reduction Act. The Inflation Reduction Act included more than $1 billion for the USDA to spend nationwide on its greener community program.
"Investing in helping green spaces grow not only improves quality of life, it helps tackle systemic inequalities like urban heat islands, creates cleaner air and so much more," said Schumer. "Growing our green spaces is how you plant the seeds for a brighter future for communities that need it most in the Hudson Valley. Now a greener, healthier, and more equitable Hudson Valley can finally take root and blossom."
The Groundwork Hudson Valley project will create a program for high school students in Southwest Yonkers at the Barack Obama School for Social Justice. The students will get paid training and forestry experience through a new Urban Forestry & Climate Resilience Technical Career Pathway. It eventually would connect them with the professional workforce development program in urban forestry at SUNY Westchester Community College.
---
Farm Market Maestro Joe Serra Brings Four-Week Farmers' Market To Pearl River
He's done it again! Building on the success of his Piermont farmers' market experience, Joe Serra is debuting a much-needed farmers' market in Pearl River for four Saturdays this Autumn.
Starting September 23, the Fall Harvest Festival" at Central Field in Pearl River will promote local farmers, chefs, artists, and artisans curated by The Souk.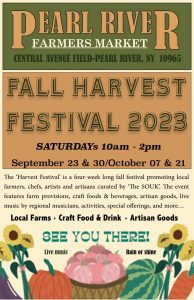 The event will feature farm provisions, craft foods and beverages, artisan goods, live music by regional musicians, activities, special offerings, and more. Local businesses are invited to participate in this farmers market-style, family friendly, community-oriented event for all ages.
Planning of the event has been in the works since last February when the Town of Orangetown began collecting feedback on a prospective weekly farmers' market in Pearl River.
Farmers' markets are complicated entities that need seasoned operators, strategic locations, the right mix of offerings, and cooperation from a municipality.
Pearl River has had farmers markets over the years, but they haven't stuck. There is no definitive reason for their failure but those who are planning one understand there are elements that make up successful farmers' markets including location, vendor selection, marketing.
Serra, the seasoned operator of the Sunday Piermont Farmers' Market, has been in the game for several years – first running an indoor farmers' market at The Souk in Piermont; later taking over the contract for the outdoor Sunday market. The evolution of that market adds another reason for Piermont to be a destination on Sundays, and the market draws from both Rockland and Westchester counties, New Jersey, even Manhattan and Brooklyn.
For more info: TheSouk.PearlRiverFarmersMarket@gmail.com
---
Hudson Gateway REALTOR® Foundation Donates $4,000 to Center for Safety and Change
The Hudson Gateway REALTOR® Foundation (HGRF), the charitable arm of the Hudson Gateway Association of REALTORS®, has donated $4,000 to the Center for Safety and Change in New City.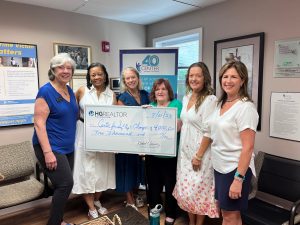 The Center for Safety & Change offers programs and services for victims and survivors of domestic violence, sexual assault, human trafficking, and other crimes.  The Center provides a 24-hour hotline and residential services at a confidential location. It is Rockland County's only domestic violence emergency shelter.  The Center is also the only crime victims' serving organization in Rockland.
In-person support, support groups, advocacy and counseling are also available for those in need. In addition, the center established the "Paws for Safety" program in 2011 to provide a safe haven for pets of clients who utilize the residential and non-residential services and need care for their pets.
The center also provides community outreach, school-based education, sexual harassment prevention training for businesses, as well customized community and work-based training programs.
"The Center is grateful to the HG Realtor Foundation for generously supporting our staff in assisting victims and survivors to navigate and secure housing," said Elizabeth Santiago, the Center's CEO. "Housing for victims of domestic violence is a constant challenge, as many victims/survivors are forced to leave and relocate. Victims often encounter additional challenges after leaving, such as work insecurities due to time off for court appearances and children adapting to a new environment, school, and friends."
---