RCBJ-Audible (Listen For Free)
Sept 7th Opening of Perry Lawson Fine Art Gallery To Feature Works By Local Artist James Kimak
By Tina Traster
For more than a decade, the bustling village of Nyack has branded itself with the slogan "Art & Soul on the Hudson." And it's mostly lived up to its moniker with boutiques, restaurants, music, the Edward Hopper House Museum & Study Center. But it falls short when it comes to galleries displaying fine art, according to a pair of entrepreneurs who are hoping to change that.
Robin Lawson Scheuer and Carole Perry, both artists and curators, are planning the September 7th opening of Perry Lawson Fine Art, LLC at 90 North Broadway, next door to the Edward Hopper Museum. The gallery will join Lagstein Gallery on South Broadway and the Johnny Appollo Gallery on Main Street. From the 1970s through to the mid-1990s, Nyack, like many artsy small towns in the Hudson Valley and beyond, brimmed with antique shops and galleries. Slowly, places like Nyack, which increasingly became bedroom communities, struggled to re-identify themselves. Over the past two decades, Nyack lost the Helen Hayes Theater and other artisanal crafters, transforming into a magnet for the food, craft beer, boutiques, and a night scene.
But art is in Nyack's DNA. The Village is filled with writers, artists, musicians, painters, sculptors, and other creatives. Which is why Scheuer and Perry are hopeful a fine arts gallery will be a good addition to the scene.
The duo has a business plan that leaves them with less risk than a gallery owner who must lease space for a locked in period-of-time in Nyack's expensive commercial downtown. In 2021, Scheuer and her husband John Scheuer bought a three-story, 1857 Victorian house for $770,000. Zoned mixed use, the 2,500 square-foot edifice was already split between an upstairs residence and ground-floor offices.
"My husband John and I saw this house was on the market, next to the Hopper Museum and thought it looked like a nice way to pull together business and art," said Scheuer, who lives north of the blue Victorian with her husband on North Broadway. "We bought the house as a very long-term investment, but Carole and I had been having conversations for a long time and the idea of having exhibition space – we thought that would be dreamy."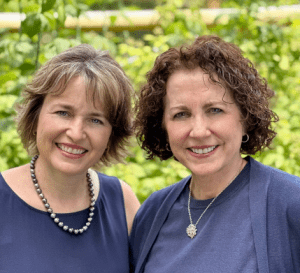 The manifestations of dreams often take time – and a concrete plan. The two women knew one another through the Hopper House and art circles. Scheuer had been a board member at the Hopper House during Carole Perry's 15-year tenure as artistic director and curator of the cultural institution.
After Perry left in 2018, the pair began to meet and brainstorm, wondering how they could work together to bring serious art to the Village.
"When you come to Nyack, you expect to find galleries," said Perry, who has been an art consultant and curator for more than three decades. "We want to bring talks and salons and shows and create an active hub on North Broadway."
The plan, for now, is to dedicate about 350-square feet on the ground floor of 90 North Broadway to the Perry Lawson Fine Art gallery, while the Scheuers monetize the building through residential and office rentals. The Scheuers have extensively renovated the building and are seeking a solo tenant for the ground floor, which has previously been leased to a doctor, an attorney, and other professionals over the years. In the meantime, there are plans to turn a garage into an art studio and gallery space. The pair also intend to use the patio as an outdoor sculpture garden.
Scheuer, a marketing professional, artist, and administrator, has worked as Director of Sales and Marketing in the music industry for more than 25 years. She and Perry are equal partners in Perry Lawson Fine Art, LLC. To diversify revenue streams, the gallery will offer curating and appraisal services.
"Art is a tough business," said Perry. "Rents are so high, it's daunting. It's difficult for artists or gallery owners to make ends meet. Collectors mostly go to New York City, but we want to draw them to Nyack. For that we need a local art scene."
The inaugural show, Lightscapes, opens in the "Salon" on September 7 with about 20 recent paintings in acrylic by local artist James Kimak. The artist, who lives in Orangeburg, has shown his work in galleries in New York and New England, and in museums, including Edward Hopper House Museum & Study Center, the Parrish Art Museum, and the American Museum of Illustration.
In describing Kimak's gallery show, they said, "through the use of vibrant hues and strong light/shadow contrasts, he skillfully captures the interplay between light and form in his paintings. Drawing inspiration from such renowned artists as Edward Hopper, Fairfield Porter, and Richard Diebenkorn, many of Kimak's works suggest a hint of abstraction along with their explicit realism." His paintings will be on sale at the gallery, with prices ranging from $1,500 to $5,000. The exhibit runs through Nov. 5.
Perry Lawson Fine Arts will be open Fridays, Saturdays, and Sundays, 12-5 pm and by appointment. For more information, contact info@perrylawsonfineart.com, visit perrylawsonfine.art or call (347) 450-2190.
---