RCBJ-Audible (Listen For Free)
RCC Names New College President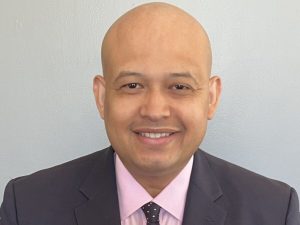 Lester Edgardo Sandres Rápalo, a Bronx Community College administrator, has been tapped to become Rockland Community College's new president.
The appointee is the eighth president in the SUNY school's 64-year history. He succeeds Michael Baston, who stepped down in 2022.
RCC's Board of Trustees approved Rápalo's appointment March 13, and SUNY did the same June 6. He takes office on July 1.
Rápalo last served as provost and vice president for academic affairs at Bronx Community College, City University of New York (CUNY). He was responsible for the school's $140 million budget, and supervised five deans, 15 academic departments, 260 full-time faculty, and 440 adjuncts.
He was also involved in CUNY-wide (25 colleges and universities in total) governance, including serving as the co-chair of the Recognizing and Rewarding Excellence in Teaching Task Force Committee and membership in the CUNY Academic Council.
---
Judge Scott Ugell Resigns From Clarkstown Bench
Clarkstown Town Justice Scott B. Ugell has resigned, according to the New York State Commission on Judicial Conduct announced Monday. Ugell's resignation is effective June 25. His term would have expired on December 31, 2025.
Ugell may not seek nor accept judicial office in the future, under the terms of his resignation.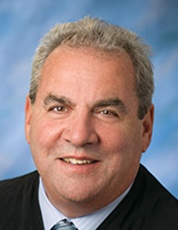 Ugell was under investigation for three allegations. He was accused of presiding over a landlord/tenant case without disclosing the attorney in the case had personally represented him in an unrelated matter. Second, he became a candidate for Clarkstown town supervisor without resigning as justice. Third, he was accused of testifying falsely in a lawsuit challenging his eligibility to run for town supervisor.
Ugell has said he cooperated with the commission's investigation, but had planned to retire from the bench.
The Commission has not rendered any substantive determinations on the complaints, officials said in the stipulation.
Ugell and his attorney Deborah Scalise released a statement that recognized Ugell's service, indicated Ugell cooperated with the commission's investigation and said his leaving the bench was consistent with his retirement plans.
"Judge Ugell agreed to conclude this investigation with the understanding that the stipulation is not an admission or concession of guilt, and, in fact, includes that there was no finding of wrongdoing. He also wished to avoid the expense and inconvenience of protracted litigation," the statement said, adding that Ugell will continue to practice law, looks forward to serving his clients and participating in bar association activities in the future.
---
Journalists Demand Better from Gannett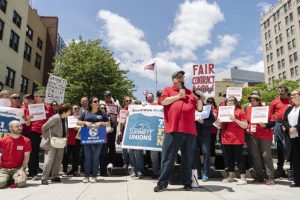 Scores of journalists for Gannett, the country's largest newspaper chain, walked off the job on Monday, saying the company has destroyed local newsrooms through layoffs and attrition. The walkout was staged to coincide with Gannett's annual shareholder meeting on Monday. The NewsGuild, which represents more than 1,000 journalists from Gannett, sent a letter to shareholders in May urging a vote of no confidence against Mike Reed, the CEO and chairman.
The letter accuses GateHouse Media, which merged with Gannett in 2019, of mortgaging "the future of our company" by loading it up with debt. The union said his compensation — $7.7 million in 2021 and $3.4 million in 2022 – was incongruous given that the company has gutted newrooms and "depressed wages."
The walkout represents the most significant labor action in the company's history, according to the union representing the journalists. It included workers from two dozen newsrooms, including those in the Hudson Valley.
The merged company, which owns USA Today and more than 200 daily newspapers in 43 states, has closed dozens of publications since 2019.
---
Friends of Rockland Lake and Hook Mountain Land $100,000 Grant For Education & Outreach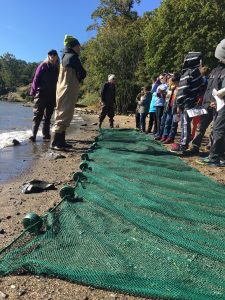 The Friends of Rockland Lake and Hook Mountain  has received a $100,000 grant to strengthen and expand its Learning in the Parks program, which focuses on outreach to young people from groups underrepresented in parks.  The organization won the grant through the Trail Partnership Grants program, which is funded through the New York State Environmental Protection Fund.
Learning in the Parks introduces public school students to Hook Mountain and Nyack Beach State Park. Students explore educational stations that showcase real-world science, stewardship, and how much fun it is to spend time in nature, said The Friends.
The Friends are required to raise 10 percent of the grant amount received.
---