RCBJ-Audible (Listen For Free)
---
Remaining Lots Off 33 North Airmont Acquired By Brooklyn-Based LLC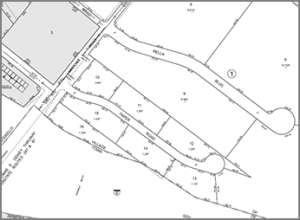 Yitzi Hager, through GP 33 N. Airmont Rd, LLC has purchased two more lots on the border of the Village of Montebello and the Town of Ramapo just off 33 North Airmont Road. The purchase price for the two lots was $2,216,667. The seller was Solomon Menche. The two parcels total 2.22 acres and consist of vacant non-residential land according to the Real Property Transfer Report.
In December 2022, Hager closed on two other adjacent lots (55″08-1-13, and 55:-8-1-14)in the same subdivision. Those lots total 2.26 acres. Hager paid $2,216,667 for those lots.
In March of 2023, Hager purchased lots 12 and 15 of the same subdivision. In this acquisition, Hager acquired lots 10 and 11.
The land is zoned LO-C (Laboratory Office-Campus District).
Hager is based in Brooklyn, NY. His company Cornell Realty Management is a broad-based real estate development company. Hager established his firm by partnering with larger players – such as Hudson Realty Capital, Madison Realty Capital and L&L Capital Partners. He has been involved in several controversial projects in Brooklyn, and in recent times has been the subject of claims of fraudulently transferring millions of dollars from an entity affiliated with a bankrupt Williamsburg hotel project to shield the money from the property's creditors, according to a trustee for the creditors.
Hager also lost his stakes in two high-profile properties to bankruptcy sales, according to the Real Deal.
---
69 South Broadway in Nyack Sells For $1,150,000 To Brooklyn Investor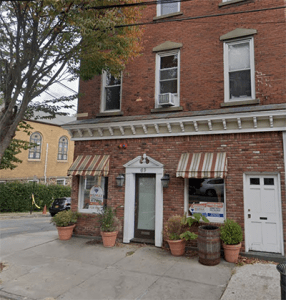 Built around 1900, the office property at 69 South Broadway in Nyack (corner of Hudson) sold for $1,150,000. The seller was KO Realty Nyack LLC, based in Ridgewood, NJ. The Buyer is Simcha Schwartz's Brookyn-based  Broadway SM LLC.  The ground floor office space is approximately 1315 square feet with apartments above. The building on .06 acres sold for about $290 per square foot.
KO Realty purchased the building in 2016 for $950,000.
Financing was provided by Brooklyn-based Elite Equity Holdings, LLC in the amount of $875,000 at the rate of 12% per annum, with no prepayment permitted for the first six months. The prime rate, as of publication, is 8.25%.
Last July, 77 South Broadway sold for $935,000 (about $220 per square foot). Last October, 40-42 Franklin Street sold for $1.9 million (about $320 per square foot). In June of 2022, 66 South Franklin sold for $850,000 (about $240 per square foot).
Ground floor rents on South Broadway run between $23 and $28 per square foot.
---
Back To Earth Organic Grocery Building Sells For $1.1 Million

The property at 306 South Main Street in New City, home of Back To Earth Organic Market for the last 26 years, has sold for $1,100,000 to Spring Valley-based 306 South Main LLC. The 6,600 square foot free-standing building built in 1970 on .59 acres has 144 linear feet of frontage on South Main Street.
The natural foods market has been in business since 1996 and plans to remain on as a tenant at the property.
The seller was G&J 59 LLC. Financing was provided my Buffalo-based M&T Bank in the amount of $780,000.
The buyer has already listed the property for resale for $2,050,000. Approximately three years remain on the existing Back to Earth lease, with one five-year option thereafter.
---