RCBJ-Audible (Listen For Free)
Chipotle Looking At Orangeburg Commons For Fast Food Location, But Needs Zoning Amendment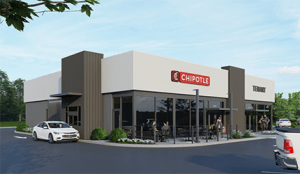 Owners of Orangeburg Commons on Route 303 in Orangeburg have petitioned the Orangetown Town Board for a zoning text amendment to allow Chipotle to occupy a portion of one of the vacant pads in the shopping center. According to the owner's submission, "Chipotle has expressed a serious commitment to establishing and operating one of its restaurants on the property."
The Special Permit under which the mixed-use shopping center operates does not currently allow for a fast-food restaurant on the site. Permitted are two hotels, a food market, a bank, and a "traditional" restaurant.
According to the petition, it has been ten years since the site was developed and despite diligent efforts to find a bank and restaurant tenant, the two pads in the parking lot remain vacant.
The owner is asking for approval for a 2,435 square-foot Chipotle restaurant with a drive-thru, 2054 square feet for retail use, and 2556 square feet for a traditional restaurant, retail or for personal services.
Chipotle would occupy a portion of the pad site at the southern-most edge of the existing parking lot. At the April 25th Town Board meeting, the Town Board viewed the proposal favorably and a public hearing on the matter is likely to be set for June.
---
Catholic Charities Community Services of Rockland To Host their Annual Blessing of the Soil Event on Saturday, May 6
Catholic Charities Community Services of Rockland will host the annual Blessing of the Soil Event "From Seed To Supper" on Saturday, May 6th at noon. Attendees will learn how Catholic Charities is able to provide so much fresh produce to those in need as well as detailing the nutritional significance of eating freshly grown vegetables.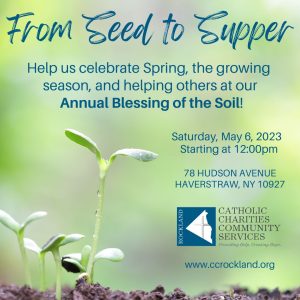 CCCSR has hosted this community event since 2011 after creating a large garden on the side lawn of their location in Haverstraw where staff and volunteers oversee the growing of fresh vegetables for families and individuals who access the food pantry. It is also home to one of the only greenhouses on the site of a food pantry in the northeast.
Good Samaritan Hospital is the Premier Sponsor for the event. Additional sponsorships are available and those who want to make a donation before, during or after the event can do so on the website at www.ccsrockland.org .
Catholic Charities Community Services of Rockland, The Warm Heart of Rockland, provides services to people of all ages, from every race and ethnic group from all over the County. The organization's focus is to provide life necessities, including food, shelter and other emergency assistance to those in need. The staff speak English, Spanish, French and Creole, and assist people of all ages, races, and religions in Rockland County. CCCSR also runs the Warming Center for Rockland County during the colder months. More information can be found at www.ccsrockland.org or by calling (845) 942-5791.

---
"Dancing for the Foundation" to Hit the Stage at Glen Island Harbour Club in New Rochelle on May 18
Move over "Dancing with the Stars"!   The Hudson Gateway Realtor Foundation has adapted the popular TV series to its own special fundraising event, "Dancing for the Foundation," taking place on Thursday, May 18 from 6 to 10 PM at New Rochelle's Glen Island Harbour Club.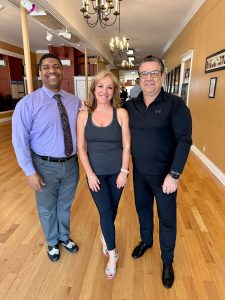 HGAR Realtor and Affiliate members from around the New York metro area will be tapping their toes for prizes and the coveted "winner" status of the Foundation's first dancing competition event. The event will also feature Realtor judges – one of whom appeared on 13 seasons of "Dancing with the Stars." Christian Perry of Sotheby's International Realty in Greenwich is an accomplished professional ballroom dancer. Other Realtor judges include Bonnie Koff of Corcoran Legends Realty Group in Tarrytown, and Elisabeth Vieselmeyer of Feeding Westchester in Elmsford.
"We are so excited about this event – this is the first of its kind for the Foundation," said Carol Christiansen, Chair of the HG Realtor Foundation Fundraising Committee. "It's definitely going to be an interactive event with audience participation and a great opportunity for networking, and of course, having a lot of fun!"
The event is open to the public and includes an open bar, appetizers, a plated dinner, dessert and coffee, and a DJ. The audience can participate in the judging. Arthur Murry Dance Centers of White Plains is providing free dance lessons for the competitors.
The seven dancing couples participating are:
Irene Amato, ASAP Mortgage Corp.in Peekskill and Mark Aakjar, Mark's Inspections in Ossining
Jessica Broomhead, Compass Greater NY LL in Chappaqua and Anthony Ruperto, Ally Realty in Beacon
Wasfiyah Talib, ERA Insight Realty Services in White Plains and Raymond LaFlamme, U.S. Bank Home Mortgage in Greenwich
JP Endres and Joe Maymi, Howard Hanna Rand Realty in New City and White Plains
Liz Razzari, William Raveis New York LLC in Rye and Roger Guzman, A.S.A.P. Mortgage Corp.in Peekskill
Vili Mirtcheva, Corcoran Legends Realty in Bronxville and Steven Reese, Christie's International Real Estate in White Plains
Layla Boyles, Century 21 Realty Center in Monroe and Alex Delgado, Christie's International Real Estate in Nyack
Tickets are $175 per person and all proceeds benefit the Hudson Gateway Realtor Foundation, which supports local charities and non-profit organizations in the Hudson Valley and beyond.  For more information or to purchase tickets, please visit HGAR.com
PHOTO ID (from left)  Stephan Vegan, Dance Instructor, Arthur Murray Dance Studio of White Plains; Vili Mirtcheva Corcoran Legends Realty and Steve Reese, Christies International Real Estate Westchester & Hudson Valley, both dancing in the competition.
---