RCBJ-Audible (Listen For Free)
Henry Varnum Poor House In Clarkstown Is An Architectural & Cultural Gem That Has Fallen Into Disrepair After Town of Ramapo Neglected To Restore And Maintain It
By Tina Traster
Rockland County has a precious asset but some of its leaders have let it fall into dire disrepair. The question members of the Henry Varnum Poor Foundation want answered is whether different county or town leaders will step up and save the house of a renowned 20th-century artist, architect, creator, and thinker. Though located in Clarkstown, the Poor House (also known as the Crow House) is owned by the Town of Ramapo.
Crow House on South Mountain Road in New City is the handcrafted home built by artist and craftsman Henry Varnum Poor in 1920. Listed on the National Register of Historic Places, the sandstone house was a studio for the potter and furniture designer, as well as a magnet for 20th century artists like Burgess Meredith, John Houseman, Ruth Reeves, Maxwell Anderson, Milton Caniff, Paulette Goddard, Kurt Weill, Lotte Lenya, Sidney Simon and many other well-known activists, composers, and writers.
Poor's son Peter in 2007 sold the house and the 6.4-acre property for $1.3 million to the Town of Ramapo, which used $500,000 in state funding for the purchase. Former Ramapo Supervisor Christopher P. St. Lawrence at the time had said, "Crow House is a piece of artwork. It's a cultural imperative that we save it."

Unfortunately, Ramapo didn't.  Now HVPF foundation members are hoping to convince the Town of Clarkstown and/or the County Executive to step in and save the gem. They have collected more than 1,100 petition signatures and are seeking to meet with the two community officials to press their case.
"We need to impress upon George Hoehmann and Ed Day that it's now or never," said historian Clare Sheridan, who sits on the board of the Henry Varnum Poor Foundation. "This property has been neglected for 17 years, it's in poor condition, it needs to be rescued now."
Sheridan is hoping the county and Clarkstown will collaborate in saving the house, just as they did the Cropsey House and Barn in New City in 2006. Clarkstown also showed initiative in rescuing and restoring the sandstone Tallman-Budke House on Germonds Road a decade ago.
"Ramapo has no interest in restoring and maintaining the house, as was the agreement," said Sheridan.
Ramapo is ready and willing to sell but it needs a buyer.
"Since I took office in 2018, I have sought to sell or otherwise appropriately convey the property to any municipality that was interested in owning it, including the Town of Clarkstown," said Ramapo Town Supervisor Michael Specht. "As of this date, although we have had discussions, Clarkstown has not expressed to us an intention to purchase. If the County, Clarkstown, or any other municipality or entity, including the Henry Varnum Poor House Foundation,  is interested in acquiring the property, we would be more than happy to discuss a proposal to do so."
The Foundation has not pursued purchasing the property because it believes "only another municipality would be approved by New York State Parks," said Sheridan.
RCBJ reached out to Mindy Scott, Deputy Finance Director for New York State, but did not hear back.
Advocates of historic preservation say saving an important home, whether for its architecture or its artistic and cultural legacy, not only keeps history alive – it drives tourism and benefits the local economy. The Edward Hopper House in the Village of Nyack is a key tourist attraction that brings people worldwide to the village and beyond.
In recent years, frustrated Crow foundation members appealed to New York's State Historic Preservation Office (SHPO) to force Ramapo to adhere to its promise to fix and maintain the house. Two years ago, SHPO made an official visit to the house but told foundation members that State Parks "is not in a position to compel the Town to take any specific actions at this time."
The State further said "State Parks is not authorized to act as a mediator of this unfortunate situation."

Unable to hold Ramapo's feet to the fire, the foundation has shifted its energy toward finding another municipality to acquire the property. Clarkstown made sense because the house is located in the township, they say. And the State said in a letter to the board, "State Parks would likely support such a transfer."
Sheridan said she had reached out to Hoehmann informally a year ago about a potential partnership but was told he didn't think he'd have the support of the Town Council. Last November, Hoehmann's Chief of Staff Al Moroni said in an email to the foundation "Interest in the Crow House has waned for various reasons…it is unlikely the Town would want to pursue this acquisition at this time."
In recent years, Clarkstown has purchased Rockland Country Day School, Bear Swamp in Valley Cottage and the Grace Baptist Church in Nanuet.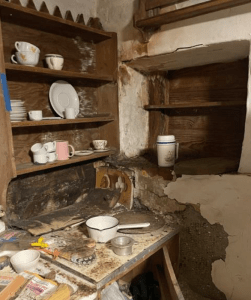 Hoehmann did not respond to a request seeking comment.
Undeterred, the foundation is pursuing talks because they say they have no choice.
"We want the county and town to take ownership and restore the house, and our foundation will act as a non-profit partner and steward of the house," said Sheridan.
The historian also believes there is potential for something greater, an "Inter-municipal Open Space and Historic District," because the house is proximate to swathes of green spaces. The foundation says it has applied for funding from the county's Open Space Acquisition Program.
Asked about the foundation's efforts, County Executive Ed Day said, "We have no role in this process and no information about it to share."
Nearly two decades ago, when Ramapo bought the property, restoration was estimated at $50,000. Today, said Sheridan, the cost would likely be ten times as much given that the house "is in a significant state of disrepair." When Ramapo bought the house, Friends of Crow House/Henry Varnum Poor Foundation was founded to work with Ramapo in an advisory capacity.
Henry Varnum Poor might not have been as famous as Edward Hopper but in the mid-20th century he was one of the country's foremost ceramicists, a fresco muralist (Department of Justice, Washington DC and other federal buildings), an architect and author. He left behind an oeuvre of work that still circulates today and his home on South Mountain Road spurred other artists, writers and composers to make the road a storied part of Rockland County.
The house needs to be stabilized and restored before it's too late. The foundation envisions turning the house into a small museum, and possibly an artists' residence.
Poor built Crow House from the ground up, using local materials, working largely alone. He lived there with his family until his death in 1970, creating pottery, paintings, furniture, designs for fresco, textiles, and tile murals. His ceramics are in collections of museums like the Art Institute of Chicago, the Metropolitan, the Whitney, Brooklyn, Newark, the Phillips in Washington, Wichita, Kansas City, and many others.
He also built a few houses for famous friends like Burgess Meredith and Maxwell Anderson.
---