RCBJ-Audible (Listen For Free)
Jawonio Awarded $2.2 Million Grant To Build Behavioral Health Center
Jawonio has been awarded by $2.2 million by New York State for a new Behavioral Health Center for its PROS (Program Personalized Recovery Oriented Services.) The grant , which will help the organization purchase a building in Nanuet to relocate its services to a more accessible location, was part of $658 million in funding from the state to support 127 new health care transformation projects.
"We want to thank Governor Hochul for her extraordinary support of a new space for our behavioral health program," said Jawonio CEO Randi Rios-Castro. "We are humbled to be one of 127 projects funded state-wide that will improve the lives of so many of our most vulnerable individuals."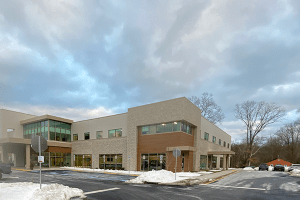 The 8,000 square-foot space for the (PROS) program will be a resource to the community. It will benefit people with behavioral health challenges including bipolar disorder, schizophrenia, depression, substance abuse, and the dually diagnosed including those with a developmental disability and mental health diagnosis.
"This is truly a game-changer for our staff, the participants we support and the community," Rios-Castro added.
The PROS Behavioral Health program serves more than 200 individuals and provides wrap-around services for employment opportunities and job creation for dually diagnosed adults.
Program offerings also include health and wellness education, mental health counseling, transition services, recreation, socialization, as well as vocational services to support participants with educational and employment goals.
Other Grant Recipients
Green Hills Estate Home for Adults: $1,204,945 for capital improvements to modernize the facility in Haverstraw and enhance resident safety and welfare.
Montefiore Nyack Foundation: $4,176,317 to renovate and modernize Extended Care Unit that includes an inpatient recovery unit and labor and delivery unit.

---
Nyack's Third Annual Foodie "Feast" Kicks Off March 1
Foodies, friends, and families hankering for good food will find great eats and great values in Nyack during the village's third annual Nyack Feasts! restaurant event.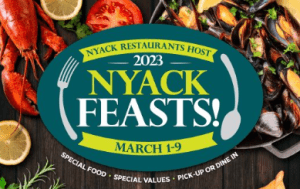 Nyack Feasts 2023 runs from Wednesday, March 1 through Thursday, March 9 for brunch, lunch, dinner, and in-betweens, with a raft of 30 restaurants and culinary spots.
The event is sponsored by Audi of Nyack, in partnership with local organizations and individuals. During the feast, hosts will serve up tailored menus at promotional prices, discounts of up to 50 percent for on-premises dining, pick-ups, and special items, plus giveaways to accompany orders.
Partakers can participate in a "pair your fare" program with 20 retail shops and personal services businesses – "a great way to combine good food with a day of exploration in Nyack's one square mile of eclectic, one-of-a-kind businesses," says Visit Nyack.
Participating restaurants, shops and service businesses – with details on specific offerings — are available on the Visit Nyack website at Nyack Feasts 2023.

---
Empire State Development Programs Offer Raft Of Capital, Loans To Small Businesses

Empire State Development Programs Offer Unprecedented Access to Capital for Loans, Equity and Technical Assistance for Small Businesses
More than $500 million in federal funding is available to support the resurgence of small businesses across New York State through the State Small Business Credit Initiative (SSBCI), a program through the American Rescue Plan Act.
Managed by the U.S. Department of Treasury, SSBCI provides funds to support programs for small businesses, including socially and economically advantaged (SEDI) businesses and very small businesses (VSB), to recover from the economic effects of COVID-19 and allow them opportunity to succeed in the post-pandemic economy.
With this funding, Empire State Development (ESD) has developed a suite of capital access and equity programs to help New York State small businesses recover from the economic effects of COVID-19 and allow them the opportunity to succeed.
---