RCBJ-Audible (Listen For Free)
Town of Orangetown Plans to Hold Public Hearing On HNA Eminent Domain
The Town of Orangetown on Tuesday at 7 pm plans to hold a hearing on the future of the HNA Training Center, the former IBM property, at 334 Route 9W in Palisades. The town has begun first steps in having the 106-acre parcel and its buildings appraised, as it prepares to begin eminent domain proceedings.
The former HNA hotel and conference center has been shuttered for nearly two years, and the property is rapidly deteriorating.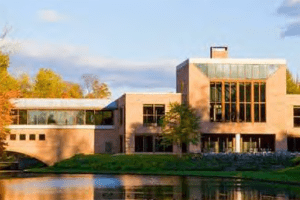 Orangetown inserted itself into the future of the site more than two years ago, putting out an RFP for a developer to buy and redevelop the site. The chosen development team, REVEIL of California, has tried unsuccessfully to negotiate with the Chinese-owned property.
Eminent domain or condemnation is the right of the government to take private property for a public purpose. Upon the taking of private property under eminent domain the government must pay "just compensation."
While eminent domain has been used to foster commercial redevelopment for the public good, such a tool is not without its challenges. The process of eminent domain is costly and time consuming.  According to the New York State Attorney General's Office, the acquisition of property occurs only after an extensive engineering process that includes a series of planning and design phases to determination that the property is "necessary for public improvement." Prior to acquisition, the condemnor, in this case the town, must conduct a public hearing to review the public use to be served by proposed acquisition and the environmental impact. At the end of the process, the government must pay fair market value for the condemned property, which could be millions of taxpayer dollars. HNA would have a right to contest the fair market value in court.
If the town condemns the property, REVEIL would not be bound by the contract it negotiated with HNA, but the developer would have the option to participate in the project going forward.

---
N.J. Megamall Has a Mega Load of Financial Headaches
American Dream, the colossal mall in New Jersey's Meadowlands, is being sued by two junior lenders who gave private loans that helped finance the megamall's $5 billion construction.
The suit, which was filed Feb. 7 in New York State Supreme Court by SOL-MM III LLC, an administrative agent working on behalf of firms linked to Western Asset and Nonghyup Bank of South Korea, seeks to reclaim more than $389 million in loans that came as part of a larger $1.7 billion construction financing package, according to Bloomberg Law.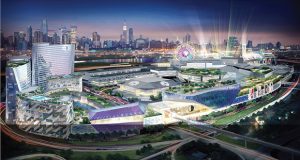 Though senior lenders on that debt granted Triple Five Group, the mall's owners, a four-year extension on repayments after defaulting, that November 2022 agreement "effectively cut those junior creditors out," prompting them to pursue legal action, according to a report by The Bond Buyer.
American Dream in 2021 generated about $173 million in revenue but expenses ballooned to more than $232 million. It recorded $305 million in sales — well below the $2 billion the company projected for its first year of operations. The mall recovered slightly last year, reporting $422 million in gross sales, a 38.4 percent increase over 2021.
Earlier this month, U.S. Bank Trust Co., a trustee representing another set of creditors, said an $8.8 million semi-annual interest payment from American Dream to bondholders had been missed.
The reserve account tapped for payments made in August 2021 and February 2022, again had insufficient funds to make a payment due last week, according to a notice to bondholders from U.S. Bank Trust Co. As of Feb. 1, the balance was $878.50.
Bondholders last year also received a notice of default on interest payments.
With the traditional enclosed shopping center in decline, mall developers and operators are scrambling to reimagine the model.

---
Nyack Village Awaits The Opening Of A Supermarket Within Walkable Distance For Residents
The Nyack Fresh Market is preparing to open its doors at 117 Main Street – a welcome relief for a Village that has not had a supermarket or food store within its walkable downtown for years. The market will occupy the former Helen Hayes theater.
Wilson Bermeo, the seasoned owner of two Spring Valley supermarkets and the recent buyer of the Mount Ivy Diner, plans to have a soft opening on 20th, followed by a grand opening and ribbon cutting on Feb. 25. Bermeo owns Huerto del Eden and Compare Foods Supermarket, both in Spring Valley.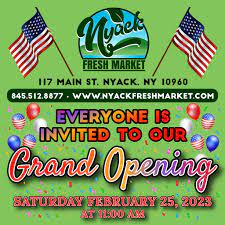 Residents have been waiting nearly seven years for the theater space, which went dark after severe flooding in June 2011, to be put back to use. TALI Plaza at 177 to 125 Main Street includes the attached two-story strip mall that sits along Main Street.
Bermeo's two Spring Valley supermarkets are targeted to the Latino community, but the Nyack market will be a upscale supermarket selling produce, deli, meat, fish, bakery, dairy, and household items.
The supermarket specialist says he understands the nuances of what different communities need and look for in a supermarket.
Last August, Bermeo bought The Mount Ivy Diner All American Diner on Route 202 in Pomona for $2.23 million.
The New City resident emigrated from Ecuador in 1995.
---