RCBJ-Audible (Listen For Free)
T.A.R.A Van Returns After Long Absence From Rockland County
Beginning March 9, T.A.R.A. (The Animal Rights Alliance Inc.), based in Middletown in Orange County, will bring its mobile spay and neuter clinic to Rockland County after a three-month hiatus. The  mobile unit will be parked at the Palisades Center parking lot (on the Route 59 side).
The already sold-out spay/neuter clinic for that date for cats only indicates how great the demand is in Rockland County for low-cost spay/neuter for low-income residents and for rescuers who trap strays and community cats (ferals). The next clinic will be April 13.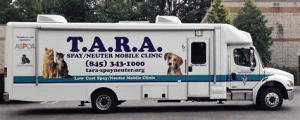 The nonprofit TNVR (Trap, Neuter, Vaccinate, Return) and adoption group Four Legs Good persuaded T.A.R.A to return. The van previously came to Rockland for both cat and dog clinics; its van then parked at Hudson Valley Humane Society in Pomona. In addition, another group, Putnam Animal Wellness (P.A.W.) had also been coming to both Nanuet and Haverstraw two to three times a week for low-cost spay/neuter for nearly four years but no longer does.
"We breathed a sigh of relief that T.A.R.A is returning, but we still need a monumental effort to address the out-of-control kitten population in Rockland County," said Nixie Gueits, who heads up Four Legs Good.
T.A.R.A's charge for a female spay or male neuter is $70 per cat. The fee includes rabies vaccine, ear cleaning, nail trim and a mandatory tattoo. Feral cats may be "ear-tipped" at no additional charge, if requested at check-in. Ear-tipping a community cat indicates the cat has been fixed.
T.A.R.A. addresses one of the greatest causes of animal suffering, pet overpopulation. "Our mission is to reduce the number of stray, abandoned and unwanted cats and dogs from coming into a system that cannot hold them. This will stop the killing and create more good homes," according to the group's website.
Rockland County does not have a provider for low cost spay/neuter.

---
Rising Above Bakery To Temporarily Occupy Former Hudson Market On Main While RCC Seeks Tenant
Until Rockland Community College can find a full-time tenant for its Nyack Hospitality Center, Rising Above Bakery will run a storefront selling baked goods made with the help of young adults with special needs and learning disabilities.
The store is set to open Feb. 10 and 11th, and will subsequently operate Tuesdays, Wednesdays, and Thursdays.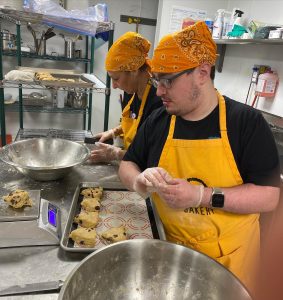 Hudson Market on Main in Nyack closed last January while it sought to replace its hospitality vendor for its food service and café. The market, run by Rockland Community College's Hospitality & Culinary Arts Center, briefly contracted with a new vendor after replacing FLIK Hospitality Group.
Hudson Market on Main, which opened Nov. 2019, is located in the heart of Nyack at 5 North Broadway in a village building that had long been vacant until the RCC Hospitality & Culinary Art Center was created to foster qualified employees for restaurant and tourism jobs in the Mid-Hudson Valley. The program offers fast-track culinary arts degrees and certificate programs, workforce-ready training for veterans and underserved populations.
Rising Above Bakery based in Chestnut Ridge serves Bergen County, NJ, and Rockland County, NY, with premium breads and other baked goods made by hand from the finest ingredients, according to the company's website. The company says that teaching young adults to bake also provides "life skills, pride and self-sufficiency."
All the proceeds of the sales will be used to develop the bakery and train employees, according to Rising Above.

---
Ford and Rockland Community College Rev Up Career Opportunities In Automotive Industry for Underserved Youth
A new automotive-industry training program from RCC and Ford Motor Company, which promotes career opportunities for underserved high-school students, kicked off with an informational session at A. Philip Randolph Campus High School in Manhattan on January 24.
The initiative, known as the Automotive Career Exploration (ACE) program, is a partnership between RCC, Ford Motor Company, and New York City-based nonprofit, Sound Business, Inc. (SBI) designed to provide automotive industry exploration and career path access for high schoolers. Enrolled students will study new model training, electric systems engineering, and steering suspension, as well as the history of Ford Motor Company.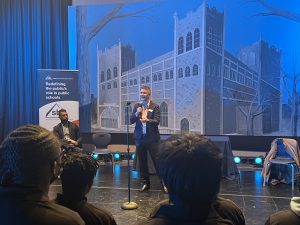 "This program is very important to Ford given the current demand across the country for qualified automotive technicians," added Ford's Earle Mitchell. "We are at a point where things are changing in the automotive industry. These students are at the center of that change, and in this program, students will get to learn it all in real time."
The ACE program will serve as a feeder to another Ford/RCC program, Automotive Student Service Educational Training (ASSET), which enables students to earn an associate degree as well as automotive-technology certifications while enrolled at RCC.
The ACE and ASSET programs are opportunities for students to "get a good education and take their next step, in turn transforming themselves and the community," said Dr. Katie Lynch, RCC's Officer in Charge of Academic Affairs. "As we think about partnerships like this one, we focus on reaching our high schools and how we can help high-school students reach forward."
RCC's Automotive Technology program offers life-long learning opportunities to continually increase skills in the automotive industry and utilize the latest tools and equipment. The College offers an Associate of Applied Science (AAS) in Automotive Technology, with several manufacturing-specific programs, and an Automotive Technician Fundamentals microcredential, which is endorsed by Ford Motor Company. The next opportunity to begin Automotive Technology classes is summer 2023. Visit RCC's website for more information: sunyrockland.edu/programs/automotive-technology/.
For more information about the ACE program, contact Earle Mitchell (Ford Motor Company) at 770-776-9653 or earlemitchell360@gmail.com.
---