RCBJ-Audible (Listen For Free)
Taxpayers Will See Rise In Tax Levy In 2023 & Beyond As Rockland Green Retrofits A Warehouse For New Shelter Building
By Tina Traster
At a feel-good ceremony last week, Rockland County Executive Ed Day leased the building that Hi-Tor Animal Shelter in Pomona has occupied for decades to Rockland Green (the former Rockland County Solid Waste Management Authority) for $1 annually for the next two years.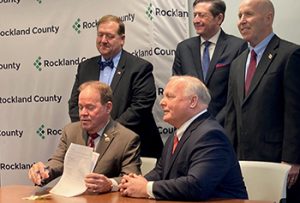 "We will sever our relationship with Hi-Tor," said Day, at a press conference last week where a lease was signed, a symbolic dollar was exchanged, and a Hi-Tor puppy named Tallulah rounded out the crowd that included four town Supervisors, Rockland Green officials, and members of the legal team that negotiated the contract.
The lease runs through Dec. 31, 2024 and gives Rockland Green the option to extend the term into 2025 with Hi-Tor's consent.
Rockland Green will assume a role in animal management, rather than simply becoming Hi-Tor's landlord. The Public Authority will levy taxpayers $1.7 million in 2023. Of the $1.7 Rockland Green plans to raise $1.4 million will be allocated for Hi-Tor, while $225,000 will be set aside to lease 427 Beach Road in Haverstraw, a vacant warehouse building Rockland Green plans to use for the future shelter site.
Day said, "All maintenance, repairs, and alterations to the (Hi-Tor) property are the responsibility of Rockland Green, with approval by the county." For decades, the county has severely neglected the physical state of the building. But Rockland Green's $1.7 million levy bakes in only $85,000 in 2023 as a cushion for the upkeep and maintenance of the severely dilapidated Hi-Tor facility. This sum includes the payment of utilities.

The monies provide Hi-Tor with about $1 million dollars allocated toward salaries, vet techs, food, and general supplies, and about $400,000 to veterinary fees, trainers, behaviorists, and medical supplies. However, the contract provides for offsets against the $1.4 million dollars for funds or salaries that Hi-Tor doesn't use.
It does not provide any additional funds in the event of emergencies or extra veterinary or care needs.
Hi-Tor board members originally requested $1.9 million to run the shelter based on the needs of the animals and staff, and estimates of "best care practices," but Rockland Green approved only $1.4 million.

Rockland's taxpayers with the exception of Orangetown will spend roughly $20 per household in 2023. Orangetown will continue to contract for dogs with the Hudson Valley Humane Society; its taxpayers will be on the hook for roughly $2 per household in 2023 but that will rise considerably in 2024. Orangetown taxpayers, along with the other towns, will foot the bill for the $225,000 annual lease for 427 Beach Road and for the costs to buy and retrofit the proposed shelter.
Taxpayers countywide will likely see a considerable rise on their tax bill in year two as Rockland Green engages professional architects and engineers to retrofit the empty warehouse building it's planning to buy. Animal shelters are complicated structures that require extensive ventilation, complex floor drainage, secure medical and quarantine areas, nonporous surfaces, antibacterial shields – similar to construction of  a medical facility. The warehouse is currently windowless.
The county previously spent more than $500,000 of taxpayer money for similar architectural and engineering services for the ill-fated re-build of the Hi-Tor facility at the current shelter site. Plans for the rebuild were scuttled when the Rockland County Legislature tabled a vote to increase the total spending from $10 million to $18 million last year.
There have been no projections on the cost of retrofitting the Beach Road warehouse, but the burden will ultimately rest on taxpayers. The prior but defunct Hi-Tor rebuild had monies raised through Hi-Tor donations, state grants, and municipal bonds totaling more than $8 million.
Rockland Green is on track to purchase 427 Beach Road for $3.8 million, which means the Public Authority will float a bond that will increase the tax levy, presumably in 2024. The original asking price on the building was $4.2 million. The property, in the northeast corner of the county is adjacent to the Joint Sewer Authority's plant, is located in a flood zone and is situated directly across a 30-acre uncapped construction landfill where a developer is proposing to build a 450,000 square-foot distribution trucking warehouse.
"Earlier this year town supervisors decided they wanted complete control and leadership over siting and constructing a new animal shelter and thus entered into a new agreement with Hi-Tor to begin that process effective January 1, 2023," said Day.
---