RCBJ-Audible (Listen For Free)
Pharma Giant Accuses Hey Pharma LLC of Bardonia Of Misrepresenting Its Brand
Pharmaceutical giant Sanofi Consumer Healthcare claims a Rockland company is selling stale and damaged versions of its products online, misrepresenting that they are new.

Sanofi accused Hey Pharma LLC of trademark violations, in a complaint filed Oct. 28 in U.S. District Court, White Plains, for allegedly misrepresenting its products.The products are sold on Amazon.com and other websites as new, the complaint states, "despite the fact that they are used, close-out, liquidation or diverted products."
Sanofi never authorized or granted Hey Pharma permission to use its trademarks, the suit says.
Sanofi is a $108 billion company by market capitalization and its consumer healthcare division is based in Bridgewater, New Jersey.
Hey Pharma, founded in 2016, is headquartered in Bardonia, and is affiliated with MedWiz Solutions. Hey Pharma sells health, beauty and household products.
Amazon.com is its most prominent online outlet, according to the complaint, where it operates as Royal Meds.
The Sanofi brands in dispute include ACT mouthwash, Allegra allergy relief, Aspercreme topical pain reliever, Cortizone 10 anti-itch cream, Dulcolax laxative, Gold Bond lotions, Icy-Hot pain reliever, Rolaids heart burn relief and Unisom sleep aid.
Hey Pharma allegedly represented Sanofi products as new when they were actually renewed, used – like new or open box, or used – very good.
"Each brand is uniquely authentic and has earned its place in the lives of millions of customers by consistently exceeding their expectations," the complaint states. "When the Sanofi products arrive damaged, in poor packaging or not as described, consumers think less of the brands."
Sanofi argues the sale of inferior products online confuses consumers, dilutes its goodwill and results in fewer sales.
The complaint charges Hey Pharma with unfair competition, false advertising and false designation of origin under federal trademark law.
It is asking the court to stop Hey Pharma from using its trademarks or intellectual property, from falsely advertising the condition of its products, and from selling its products in violation of trademark regulations. It is asking for three times the profits Hey Pharma made as a result of its actions.
Hey Pharma managing partner Barry Lampert has told said Westfair.com that Hey Pharma intends to vigorously defend itself, aggressively pursue claims against Sanofi for anti-competitive actions, "and continue to offer consumers quality products at fair prices."
Sanofi is represented by Manhattan attorney Priya Chadha and Boston attorneys Christopher S. Finnerty and Morgan Nickerson.

---
Clarkstown Continues To Tweak  Zoning Code
In its continuing effort to update its zoning code and bulk tables, the Town of Clarkstown is advancing two proposals.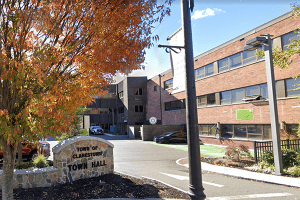 The first would remove the concept of "maximum building coverage," from the bulk tables, defined as "the percentage of the lot that is covered at the ground area of a building and its accessory buildings, if any" and instead utilize "maximum lot coverage," which generally includes the building footprint. The change would also allow a developer to exceed the maximum lot coverage by 50 percent without seeking a variance if an engineered drainage mitigation plan was approved by the Town's Engineering and Facilities Management Department. The proposal also adds "swimming pools" to the definition of impervious surfaces.
The second change would allow buildings with pre-existing non-conforming uses to be altered, repaired, or maintained in the same way as buildings with non-conforming bulk. The previous code provision only addressed non-conforming bulk, and not non-conforming use. The proposal also addresses the issue of reconstruction when a building with a non-conforming use is damaged by casualty or by voluntary demolition.
Clarkstown has been making changes to its zoning codes to comply with the vision outlined in its recently revised comprehensive plan. Other recent changes involved proximity to places of worship as related to restaurants, parking requirements in various zones, updates to the Nanuet Transit Oriented Development, and residential density in senior housing developments.

---
New Human Rights Commissioner Appointed for Rockland County
Spencer Chiimbwe of Stony Point has been named Rockland County's Human Rights Commissioner. The new appointee replaces Constance Frazier, who resigned last spring.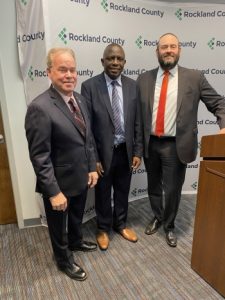 Chiimbwe most recently worked for the county as a grant specialist for the American Rescue Plan Act Department, assisting local organizations and negatively impacted communities navigating the sometimes-complicated grant application processes.
"I call upon the residents of Rockland, and all the stakeholders of human rights work in our county, to give me a chance to skillfully work with everybody in fulfilling my mandate as commissioner of human rights," he said.
Chiimbwe said human rights transcend race, religion or any groups we subscribe to.
The new pick has also worked for The ACTION Support Center, securing grants from entities like the Ford Foundation, The New York State Senate conducting legislative research and drafting policy documents, and The United African Congress inspiring community engagement and participation around key issues like health care, domestic violence, education, and empowerment.
He has volunteered for Congresswoman Nita Lowey, assisting with constituent services and connecting with community stakeholders.
"We are confident that his prior experience will give him a necessary advantage in his new role," he said, "as our human rights commissioner needs to be omnipresent throughout Rockland," said County Executive Ed Day.
The position pays $105,000 annually and requires confirmation of the Rockland County Legislature.
---