---
Local Sales Tax Collections Up 10.1% in July, Year Over Year
September 6, 2022 – Local sales tax collections in New York state increased by 11.9% in July compared to the same month in 2021, according to an analysis released today by State Comptroller Thomas P. DiNapoli. Overall, local collections totaled $1.8 billion, up $188 million as compared to July of last year.
In Rockland County, sales tax collections are up 10.1% comparing the first six months of 2022 to 2021. From January to July 2021, sales tax collections were $150.3 million. In 2022, sales tax collections were $165.5 million.
"Statewide local sales tax collections growth continued to be strong in July, despite the participation of many counties in the gas tax holiday," DiNapoli said. "However, it is important that local officials continue to monitor economic factors that impact overall sales tax revenues."
---
Attorney General James and FTC Sue Online Apartment Finder for Defrauding Renters
August 30, 2022 – New York Attorney General Letitia James and the Federal Trade Commission (FTC) today sued Roomster — an online platform that claims to help individuals find apartments and roommates — and its executives for defrauding millions of users nationwide. The lawsuit alleges that Roomster, a Manhattan-based company, failed to verify apartments submitted to its website, posted non-existent apartment listings, and scammed consumers out of tens of millions of dollars. Roomster, which is used predominantly by low-income renters and students, also bought and uploaded tens of thousands of fake positive reviews on app stores to boost traffic to its platform. Attorney General James and the FTC are co-leading a coalition of six attorneys general to stop Roomster's deceptive practices and secure restitution for impacted individuals nationwide.
---
New York Law Updated to Reflect the Fact that Not All Real Estate Salespeople are Men
August 18, 2022 – Governor Kathy Hochul signed legislation, S.536a/A.8077a, that updates the nearly century-old section of New York State law relating to real estate salespeople, striking antiquated, gender specific language, and replacing it with gender neutral language. The new law takes effect immediately.
Prior to enactment of the new law, the underlying section of the State's real property law, which regulates the real estate brokerage and sales professions and was written in 1927, included 85 references to "salesmen" and dozens of instances of gendered pronouns like he, him, and his. The law only included references to a "salesperson" in two places, and made no references to "saleswomen."
The legislation updates Article 12-A of the Real Property Law by:
Changing all instances of the word salesman to salesperson
Removing gendered language from the Article by removing references to "his or her" in favor of "their," change "himself" to "themselves," as well as appropriate changes in variations to these words.
According to studies by the New York State Association of Realtors and the National Association of Realtors, men are actually a minority in the profession, with women representing 64% of Realtors nationally and in New York State. By removing gendered language from the State's real property law, the law will reflect the gender diversity of the real estate sales profession.
---
State Agencies Preserve Affordable Housing Coop
August 3, 2022 – New York Attorney General Letitia James and New York State Homes and Community Renewal (HCR) Commissioner RuthAnne Visnauskas today announced they have preserved an affordable housing cooperative (co-op) development in Rockland County. During the course of a two-year investigation, the Office of the Attorney General (OAG) found that the building, located at 18-36 Columbus Avenue in Spring Valley, was in danger of foreclosure due to illegal misuse of co-op funds by real estate fraudster Russell Mainardi and his girlfriend, who was acting as a property manager for the co-op. Mainardi and his girlfriend grossly mismanaged the building's finances for personal gain, putting residents at risk of losing their homes. With support from the Rockland Housing Action Coalition (RHAC), the Community Preservation Corporation (CPC), and law firm Nixon Peabody, OAG and HCR were able to preserve and stabilize the property both financially and physically.
This agreement requires Mainardi and his collaborators to pay $148,681 in restitution to the co-op and $250,000 in penalties, forces his girlfriend to resign as property manager, and permanently bans Mainardi from real estate development or financing activity in existing residential properties in New York. The agreement also requires Mainardi to vacate $696,647.00 in liens he had improperly placed against the property.
Constructed in 1970, 18-36 Columbus Avenue is a limited equity co-op originally financed by the federal Department of Housing and Urban Development.
---
Completion of $20 Million Jawonio Corporate Headquarters and Summer Education Cabins in Rockland County
July 22, 2022 – Governor Kathy Hochul today announced the completion of the $20 million Jawonio campus in New City, Rockland County. The project consisted of the relocation of Jawonio's summer education facility and construction of a new 70,000 square foot facility for corporate offices and a new Workforce Training Center. As part of this project, the organization has committed to creating 230 new jobs and retaining nearly 700 full-time positions. New York State supported the expansion with more than $3.3 million in Empire State Development capital grants, recommended by the Mid-Hudson Regional Economic Development Council.
The project involved the redevelopment of the organization's 16-acre campus. This effort consisted of demolition and construction of its new summer education cabins, building a new corporate headquarters to consolidate IT functions from multiple sites and expanding its provider services. The organization's former campus had become outdated and inadequate to meet the challenges and changes facing the health care industry today.
Jawonio is the largest provider of lifespan services in the Hudson Valley for individuals with developmental disabilities, behavioral health challenges, and chronic medical conditions. Read more…
---
DiNapoli Releases Annual IDA Report
Net Tax Exemptions Doubled Over Past Decade to $966 Million; Jobs Gained During 2020 COVID Year Were Smallest in Past Decade
June 20, 2022 – New York's local Industrial Development Agencies (IDAs) reported 4,262 active projects with a total value of $114 billion in 2020, an increase of $5.3 billion from the prior year, according to an annual report on IDAs released by State Comptroller Thomas P. DiNapoli. While reported project values have risen, the number of projects has decreased by 58, or 1.3%, since 2019. This continues a long-term trend, where project values have increased by 57% and the number of projects has declined by 4% since 2010.
IDAs reported the following:
For the 4,262 active IDA projects, it was estimated that a total of 225,227 jobs would be created during the life of the projects, with a median salary of $40,000, and 251,888 existing jobs would be retained, with a median salary of $44,727. A projected 44,636 temporary construction jobs would be created.
The number of net jobs gained (reflecting current jobs reported by projects minus initial jobs reported) were 167,984 in 2020. This is the smallest number of jobs gained in the last ten years.
Total tax exemptions for IDA projects amounted to over $1.7 billion, up $273 million, or 19%, over 2019. Property tax exemptions represented $1.6 billion, or 90% of total tax exemptions, and were partially offset by $782 million in payments in lieu of taxes (PILOTs) in 2020.
Net tax exemptions (reflecting total tax exemptions minus PILOTs) totaled $966 million, an increase of $171 million, or 21%, from 2019. Over the ten-year period ending in 2020, net tax exemptions just about doubled.
Regionally, total net tax exemptions granted were much higher downstate, with IDAs in New York City, Long Island and the Mid-Hudson regions together granting 61% of all net tax exemptions. On a per capita basis, the New York City IDA provides the lowest net tax exemptions per capita ($22), while the Capital District had the highest ($93) in 2020.
In 2020, IDAs had total revenues of $72 million, consisting largely of project fees, a decline of $3.6 million from 2019. New York City IDA had the highest total revenues ($6.7 million), followed by Genesee County IDA ($5.7 million), Chautauqua County IDA ($4.8 million) and Chemung County IDA ($4 million).
Total IDA expenses in 2020 were $85 million, down $11.8 million from 2019. The largest operating expense category was professional services contracts, such as for accounting, legal or marketing services ($22.2 million, or 26%, of the total). Salaries, wages and benefits for IDA employees accounted for $19.2 million, or 23%, of the total.
---
New York Says "No" to Good Cause Eviction Bill
June 8, 2022 – The state legislature declined to pass a controversial bill that would have prohibited most evictions and made it harder to raise rents.
The legislature ended its session without taking action on the proposed Good Cause eviction bill, a decision that was cheered by multifamily industry representatives who say it amounts to another form of rent control and will hinder rather than help create affordable housing and decried by housing advocates who say it will lead to higher rent hikes and homelessness.
---
New York Governor Signs Bill To Convert Underused Hotels Into Permanent Housing
June 8, 2022 – Governor Kathy Hochul signed into law a bill to make it easier to convert underused hotels in the state into affordable housing. The new law allows properties ranked as Class B hotels within residential zoning districts or within 400 feet of those districts to operate as permanent residential spaces.
"As we envision the post-pandemic world, we have an opportunity to rethink everything from work life, education, telehealth services, all the way to housing," Hochul's office said Tuesday in a statement. "With hotels hit so hard by the pandemic, many of them never reopened, an opportunity has arisen to use vacant hotels. We're going to make the rules more flexible, making it easier to convert underused properties into residential space."
---
Expansion of Educational Opportunity Program (EOP) to Rockland Community College
May 10, 2022 – Governor Kathy Hochul today announced the expansion of SUNY's life-changing Educational Opportunity Program to include four additional SUNY campuses: Cayuga County Community College, Corning Community College, Rockland Community College, and Tompkins Cortland Community College. This increases the total number of campuses to 54, with work continuing to ensure every campus provides access to EOP's academic resources, mentorship, and financial aid.
Rockland Community College Vice President for Enrollment Management & Student Affairs Dr. Bart Grachan said, "Rockland Community College's Educational Opportunity Program will provide access, academic support, and supplemental financial assistance to make higher education possible for 100 first-time RCC students with tremendous talent, but insufficient resources, to break the cycle of generational poverty that has traditionally made higher education out of reach for some New Yorkers. Based on extensive assessment of the needs and diversity in the Rockland County community and RCC's success with similar projects like TRIO Student Support Services, RCC's EOP will include a combination of counseling, tutoring, workshops, and pre-freshman services to enhance student retention and success among students who demonstrate academic promise, but whose life circumstances have not permitted them to reach their full potential. All services to be provided by the program are designed to enhance student retention and success."
---
$638 Million in Grants for Water Infrastructure Improvements Across New York State
April 21, 2022 – The New York State Environmental Facilities Corporation has awarded $638 million in grants to municipalities and public authorities for 199 water infrastructure projects across the state that protect public health or improve water quality. Nearly $601 million in Water Infrastructure Improvement Act grants and over $37 million in additional federal subsidies will support approximately $1.6 billion in total infrastructure investment. The grants are projected to contribute over 35,000 jobs to New York's economy and save taxpayers an estimated $1.4 billion.
The only recipient in Rockland County was the Village of Suffern which is to receive a grant of $319,680 toward its project cost of $532,800 to rehabilitate equipment to remove PFAS from its water supply. There were 199 grants awarded statewide.
---
---
Several Rockland Villages Fail to File or Filed Inconclusive Data For Fiscal Stress Monitoring
April 13, 2022 – The Rockland County Villages of Nyack, Piermont, Pomona and Spring Valley are all listed by the Office of the New York State Comptroller as either not filing or filing inconclusive information to enable the Comptroller's Office to rate the municipalities for fiscal stress for year-end 2021.
The Fiscal Stress Monitoring System (FSMS) and resulting fiscal stress designations rely on data from annual
financial reports submitted by local governments to the Office of the State Comptroller.
This list includes non-calendar fiscal year end municipalities. The above referenced municipalities noted did not file their annual financial report or reported data that was inconclusive for FSMS purposes as of the date their score was to be calculated, and therefore a fiscal stress score could not be calculated.
---
---
66 Percent Worried About Gas Prices; Buying Plans Stay Strong Despite Inflation
The New York State Index of Consumer Sentiment as of March stands at 68, down 5.1 points from the last measurement in the fourth quarter of 2021, according to the latest poll by the Siena College Research Institute (SCRI).
New York's overall Index of Consumer Sentiment is 8.6 points above the nation's Index of 59.4.
Both the current and future indexes fell about 5 points resulting in New York's decline from 73.1 last quarter to 68.0 now. The national indexes all decreased between six and nine points.
Overall confidence is higher in New York than nationally with future confidence in New York below the breakeven point of optimism and pessimism but 17.5 points higher than a national low of future confidence not seen since October 2011.

National data compiled by the University of Michigan shows points above/below breakeven point at which sentiment is balanced. Inflation plus war equals uncertainty for New York consumers.
The index has fallen to where it briefly stood when the coronavirus first slammed our economy. New York's overall and future numbers are much higher than the national outlook owing to a partisan economic sentiment divide in which Democrats – a better than 2-1 advantage in New York – remain upbeat about the future while Republicans in this survey recorded the lowest consumer sentiment score ever recorded in a Siena survey. Gas prices and their impact is taking our collective breath away, hitting Republicans, Upstaters, and women the hardest.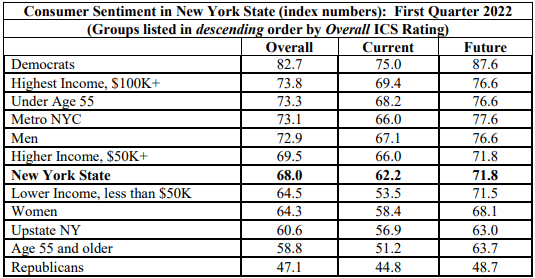 While buying plans remained strong, increasing for cars, major home improvements are nearly seven points under last year's forecast," said Don Levy, SCRI's Director.
In the first quarter of 2022, buying plans were up from the fourth quarter of 2021 measurement for cars/trucks to 20.6 percent (from 17.8 percent) and homes to 11.1 percent (from 10 percent). Buying plans were down for consumer electronics at 40.7 percent (from 47.1 percent), furniture to 27.1 percent (from 32 percent), and major home improvements to 24.4 percent (from 31.1 percent).
Sixty-six percent (up from 61 percent last quarter) of all New Yorkers say gasoline prices are having a very serious or somewhat serious impact on their financial condition. Seventy-two percent (unchanged from last quarter) of state residents indicate that the amount of money they spend on groceries is having either a very serious or somewhat serious impact on their finances.
---
---
Second Round of Emergency Home Heating Aid Available for Struggling Households Facing Heating Emergencies Amid Statewide Surge in Energy Costs
February 23, 2022 – $65 million in funding remains available to help low- and middle-income New Yorkers avoid having their home heating disconnected or exhausting their heating source amid fuel price increases this winter. Administered by the state Office of Temporary and Disability Assistance, the Home Energy Assistance Program is now accepting second emergency benefit applications for those New Yorkers who have used up their regular and first emergency benefits and are facing a heating emergency.
To qualify, applicants must meet HEAP eligibility criteria and income guidelines, which vary by household size. For instance, a family of four may have a maximum gross monthly income of $5,249 or an annual gross income of $62,983.
---
Village of Nyack in Rockland County -$3,000,000 WIIA grant to replace approximately 13,000 linear feet of water main.
February 15, 2022 – Environmental Facilities Corporation Board of Directors approved $41 million in funding that includes low-cost loans and previously awarded grants, enabling the recipients to access these loan and grant funds and move their water and sewer infrastructure projects forward.
Among the awards (under the Water Infrastructure Improvement Act) was a $3,000,000 grant to replace 13,000 linear feet of water main in the Village of Nyack.
---
DiNapoli: 23 School Districts Designated in Fiscal Stress; East Ramapo Leads the List
January 27,2022 – Twenty-three school districts statewide were designated in some level of fiscal stress under New York State Comptroller Thomas P. DiNapoli's Fiscal Stress Monitoring System for the school year (SY) ending on June 30, 2021, down from 31 school districts in fiscal stress the prior year.
"Fewer of New York's school districts were scored as under fiscal stress in 2021, but the operational issues caused by the pandemic for all school districts were extreme," DiNapoli said. "School districts must watch their finances closely as the pandemic continues, prices rise and staffing issues mount."
DiNapoli's Fiscal Stress Monitoring System was designed to identify issues that school districts, counties, cities (excluding New York City), towns or villages are having with budgetary solvency, or the ability to generate enough revenues to meet expenses. The Comptroller releases fiscal stress scores for the various categories of government three times a year. School districts are given a fiscal stress score based on several factors: year-end fund balance, operating deficits and surpluses, cash position, and reliance on short-term debt for cash-flow.
The monitoring system found two school districts were designated as being in "significant fiscal stress," which is the highest category including: East Ramapo Central School District in Rockland County (76.7 points) and Newfield Central School District in Tompkins County (66.7 points).  Read more…
---
New Round of New York State Funding Includes Several Rockland Projects
January 1, 2022 – Several Rockland County projects received funding in the latest round of releases. Included in the December releases are a $25,000 award to the Rockland County ESD Planning Projects for Rockland for development of a Strategic Economic Development Action Plan to strengthen the County's economy by identifying methods to attract new businesses and support existing local businesses and industries. The Strategic Economic Development Action Plan will also prepare Rockland County to implement initiatives that will connect low-income residents with employment, enhance tourism standing in the Mid-Hudson Region, and attract residents to Rockland County.
Orangetown secured $40,000 to develop an update to the 2003 comprehensive plan. The update will include provisions for combating climate change, increasing sustainability, and addressing environmental justice as well as assessing options for a significant stretch of Hudson river shoreline that has become a part of the town after the
dissolution of the Village of South Nyack.
Oak Beverages secured two awards totaling $713,600 to relocate its corporate headquarters to a larger and more
functional space in West Nyack. The new facility will be equipped with a state-of-the-art refrigerated cooler and loading docks to help improve and expand the distribution operation through its service network.
And in November, Clarkstown secured $1,250,000 to  invest in several infrastructure projects for the Revitalization of Historic West Nyack Hamlet. Projects include upgraded streetscape, improve parking, EV charging stations, and a new bus stop along with new sidewalks, curbs, energy-efficient lighting, and expanded green space with an accessible playground and benches that will accommodate and encourage economic activity.
The application for traditional ESD Grant funds remains open, and applications are being reviewed on an ongoing basis until funds are exhausted. Applicants with strong, shovel-ready projects that align with the state and region's economic development priorities can apply through the Consolidated Funding Application.
---
Contracts Finalized for Clean Path NY and Champlain Hudson Power Express to Deliver Clean Renewable Energy from Upstate New York and Canada to New York City
November 30, 2021 – New York State Energy Research and Development Authority (NYSERDA) has finalized contracts with Clean Path New York LLC for its Clean Path NY (CPNY) project and H.Q. Energy Services (U.S.) Inc. (HQUS) for its Champlain Hudson Power Express (CHPE) project to deliver clean, renewable solar, wind and hydroelectric power from upstate New York and Canada to New York City.
The state's first-of-its-kind renewable energy and transmission projects are expected to deliver up to $7.4 billion in overall societal benefits statewide, inclusive of greenhouse gas reductions and air quality improvements, and $8.2 billion in economic development across the state, including investments in disadvantaged communities. As the largest transmission projects contracted for New York State in the last 50 years, these projects will reduce the city's fossil fuel use for electricity by more than 80 percent in 2030 when combined with the state's deployment of clean energy and offshore wind.
Today's announcement accelerates progress to exceed New York State's goal for 70 percent of the state's electricity to come from renewable sources by 2030 on the path to a zero-emission grid as outlined in the Climate Leadership and Community Protection Act. It will also help the city of New York achieve its ambitious climate goals.
---
Over $81 Million Awarded in Round XI of the Regional Economic Development Council Initiative
November 22, 2021 – over $81 million has been awarded to support 97 priority projects across New York State through the Regional Economic Development Council initiative. This year, $150 million in grant funds from Empire State Development was made available on a continuous and competitive basis to support the immediate needs of applicants. Additionally, projects within each region are eligible for a share of $75 million in Excelsior Jobs Program Tax Credits to help attract and grow business in their region.
Only one Rockland County project was awarded funds. The Town of Clarkstown was awarded $1,250,000 and will invest in several infrastructure projects for the Revitalization of Historic West Nyack Hamlet. Projects include upgraded streetscape, improve parking, EV charging stations, and a new bus stop along with new sidewalks, curbs, energy-efficient lighting, and expanded green space with an accessible playground and benches that will accommodate and encourage economic activity.  See the full list of awards and projects here.
---
DiNapoli Releases Interactive Map of Local Census Results – Report Profiles Demographic Changes
November 18, 2021 – New York State Comptroller Thomas P. DiNapoli today released a report tracking New York's local demographic changes based on 2020 Census data and an interactive online map that breaks down population statistics by age, race and ethnicity, along with housing trends, in New York's cities, counties, towns and villages. DiNapoli's report provides a snapshot of New York state's population, which totaled more than 20.2 million in 2020, up 4.1% since 2010.
---
New "Dark Store" Assessment Law Signed by Governor
October 25, 2021 – Legislation sponsored by Assembly Member Zebrowski and signed into law by Governor Hochul requires assessors in communities with populations of less than 1,000,000 persons to utilize certain standards on assessment rolls prepared after January 1, 2022. The new standards require consideration of comparable properties exhibiting similar uses or uses at the time of sale in the same real estate market. By requiring similar uses, assessors would not be able to use comparables of what the industry calls "dark stores" — that is comparing fully operating, tenanted property with vacant properties to secure valuations closer to the dark store  or vacant property values.
The new law will be part 305-a of New York's Real Property Law.
---
New Workplace Guidance Issued By New York State Department of Labor
October 21, 2021 – The MRTA amended Section 201-D of the New York Labor Law to clarify that cannabis used in accordance with New York State law is a legal consumable product. As such, employers are prohibited from discriminating against employees based on the employee's use of cannabis outside of the workplace, outside of work hours, and without use of the employer's equipment or property.
PERMITTED EMPLOYER ACTIONS
The MRTA amended New York Labor Law Section 201-D by adding a new subsection 4-a, which provides that
employers MAY take employment action or prohibit employee conduct where:
• An employer is/was required to take such action by state or federal statute, regulation, or ordinance, or
other state or federal governmental mandate
• The employer would be in violation of federal law
• The employer would lose a federal contract or federal funding
• The employee, while working, manifests specific articulable symptoms of cannabis impairment that decrease or lessen the employee's performance of the employee's tasks or duties
• The employee, while working, manifests specific articulable symptoms of cannabis impairment that interfere with the employer's obligation to provide a safe and healthy workplace as required by state and federal workplace safety laws
Detailed workplace policies are outlined in the DOL Guidance, including drug testing, retaliation for use, termination, reinstatement, off-hours or off-site use, and work-from home use. For a more in depth look, review the guidance here.
The MRTA and New York Labor Law Section 201-D do not apply to individuals who are not employees (e.g., students who are not employees, independent contractors, individuals working out of familial obligation, volunteers) or provide any consumer protections. Employees under the age of 21 are also not covered, as cannabis use by individuals under the age of 21 is prohibited by New York Law and not subject to the present protections. The law also does not apply to employees of the federal government.
---
New Legislation Requires Documents to Be Discussed at Open Meetings to Be Made Available At Least 24 Hours Prior to Meeting
October 19, 2021 – Governor Kathy Hochul today signed legislation boosting transparency in state and local government. The legislation requires documents that are going to be discussed at open meetings to be made available on request or posted on the government's website at least 24 hours prior to the meeting.
This legislation makes documents to be discussed at open meetings available to the public at least 24 hours in advance of the meeting. The Open Meetings Law is intended to empower the public through the accessibility of meetings of public bodies. The law requires them to make available to the public relevant documents, such as any proposed rule, regulation, or resolution. However, the current law only requires documents to be made available prior to meetings "as determined by the agency or department." This standard has resulted in some government bodies failing to make materials available in advance of meetings, reducing transparency. This legislation requires any proposed resolution, law, rule, regulation, policy, or amendment to be made available upon request and to be posted to the body's website at least 24 hours in advance of their discussion at an open meeting, giving the public access to these important documents in advance
---
Home Energy Assistance Program Opened October 1st
October 4, 2021- More than $373 million in home heating aid is becoming available for low- and middle-income New Yorkers who need assistance keeping their homes warm during the upcoming winter season. Applications opened Friday, October 1st for the Home Energy Assistance Program, also known as HEAP, which is overseen by the state Office of Temporary and Disability Assistance and provides federal funding to assist homeowners and renters with their heating costs during the cold weather months.
Eligible homeowners and renters may receive up to $751 in heating assistance, depending on their income, household size and how they heat their home. A family of four may have a maximum gross monthly income of $5,249 or an annual gross income of $62,983 and still qualify for benefits-a modest increase from the previous year's threshold.
In the 2021 season, 17263 Rocklanders received assistance. 35,129 Westchester residents, 19,541 Orange County residents and 19,541 Ulster County residents received home energy assistance. Apply online here.
---
Increase in Minimum Wage December 31st
September 29, 2021 – Starting December 31, 2021, the minimum wage is going up to $13.20 an hour in New York State. The Department of Labor said the increase coincides with the scheduled increase to $15 an hour on Long Island and Westchester County.
The state DOL had authority under state law this year to raise the minimum wage above its current rate of $12.50 an hour outside New York City and its immediate suburbs. The agency said the increase is the result of "evidence of pressure for wages to rise in the midst of a pandemic-driven labor shortage."
The minimum wage was already set to rise December 31st from $14 an hour to 15 per hour on Long Island and in Westchester. But the increase in the rest of the state is new after the state Legislature passed a scale in 2016 to increase the minimum wage over the next five years, first hitting $15 an hour in New York City at the end of 2018 for large employers.
---
DiNapoli Announces Fiscal Stress Scores
September 22, 2021 – Thirty local governments in New York State ended 2020 in some form of fiscal stress, State Comptroller Thomas P. DiNapoli announced today. The communities were identified by the
Comptroller's Fiscal Stress Monitoring System (FSMS).
Clarkstown was the only town in Rockland to rate as "susceptible to fiscal stress."
DiNapoli releases fiscal stress scores on municipalities (excluding New York City) twice a year. The latest round of scores announced today identified 19 local governments designated in fiscal stress, including six counties, four cities, and nine towns. This release is based on financial information of local governments operating on a calendar year basis (Jan. 1 – Dec. 31) for 2020 and covers all counties and towns, 44 cities, and 10 villages. In April, DiNapoli announced that 11 local governments with non-calendar fiscal years were in stress.
---
New York Law Makes Contractors Liable for Wages Paid to Their Subcontractors
September 6, 2021 – This legislation (A.3350-A/S.2766-C) makes contractors on construction projects jointly liable for wages owed to employees of their subcontractors. Construction contractors are not currently liable for wages of their subcontractors' employees unless there is an employment relationship between the contractor and the employee of the subcontractor. This bill applies prospectively to contracts entered 120 days after the bill becomes law. It also allows contractors to demand payroll information from subcontractors and withhold payment if the information is not provided. Read more…
---
New Moratorium on COVID-related Commercial Evictions, Effective Through January 15, 2022
September 2, 2021 – The legislation's moratorium on commercial evictions and commercial foreclosure proceedings apply to small businesses with 100 or fewer employees that demonstrate a financial hardship. Tenants must submit a hardship declaration, or a document explaining the source of the hardship, to prevent evictions. Read more…
---
Legislation Passed Extending Virtual Public Meetings
September 2, 2021 – Governor Kathy Hochul signed legislation (S.50001/A.40001) extending virtual access to public meetings under New York State's Open Meetings Law, which allows New Yorkers to virtually participate in local government meetings during the COVID-19 pandemic. The legislation, which was initially implemented by Executive Order during last year's State of Emergency, allows state and local government meetings that are normally held in person to be held remotely instead, as long as the public has the ability to view or listen to the meeting and as long as the meeting is recorded and later transcribed.
---
Change to Insurance Law Provides Less-Expensive Way to Protect Wireless Communication Equipment
July 22, 2021 – Legislation amends state Insurance Law to expand the coverage that a credit card issuer, debit card issuer, or bank may offer to their customers. The law specifically authorizes coverage to protect a cell phone and other wireless communication equipment if it is damaged, lost, stolen, or incurs a breakdown. Read more…
---
New York's Wide-Ranging Ban of Harmful Pesticide is Among First in the U.S.; Banning Pesticides Containing Chlorpyrifos Protects Public Health and Safeguards Environment and Pollinators
July 21, 2021 – Final regulations were released today prohibiting the sale, distribution, possession, and use of pesticide products containing the active ingredient chlorpyrifos. In 2019, Governor Cuomo directed the State Department of Environmental Conservation to ban the organophosphate pesticide chlorpyrifos to safeguard public health and protect environmental resources, particularly pollinators. New York is the first state in the U.S. to completely ban pesticides that contain chlorpyrifos, and its regulations are the most stringent in terms of the prohibited uses of this organophosphate pesticide. Read more…
---
Governor Announces More than $7 Million Available to Advance Low Carbon Solutions for Multifamily Buildings
July 9, 2021 – Governor Andrew M. Cuomo today announced that $7.8 million is available through the Low Carbon Pathways for Multifamily Buildings program for owners or managers of multifamily buildings to implement low carbon solutions as part of planned upgrades. This new incentive complements existing capital planning support and free resources, which together provide a step-by-step pathway to decarbonize buildings. Today's announcement supports New York's progress toward Governor Cuomo's goal of reducing greenhouse gas emissions 85 percent by 2050 as outlined in the Climate Leadership and Community Protection Act. Read more…
---
Governor Cuomo Announces New York Will Explore Potential Role of Green Hydrogen as Part of Comprehensive Decarbonization Strategy
July 8, 2021 – State Collaborating with National Renewable Energy Laboratory and Additional Partners to Study Possible Applications for Green Hydrogen, Making $12.5 Million Available for Long Duration Energy Storage Solutions. Read more…
---
DiNapoli: 33.55 Percent Annual Investment Return for New York State Pension Fund Is Largest in Its History
May 26, 2021 – New York State Comptroller Thomas P. DiNapoli today announced that the New York State Common Retirement Fund's (Fund) estimated overall investment return was 33.55 percent for the state fiscal year (SFY) that ended March 31, 2021, reflecting the financial markets' dramatic rebound from lows reached during the COVID-19 pandemic. The return on investments increased the Fund's value to an estimated $254.8 billion.
Read more…
---
---
$800 Million Small Business Recovery Grant Program to Provide Funding to Small Businesses to Help Them Recover From the Economic Impact of the Pandemic; Online Applications Accepted Starting June 10
May 25, 2021 – The small business recovery grant program makes up to $800 million in funding available for small businesses to help them recover from the economic impact of the pandemic. Applications for the program will be accepted starting June 10 for small and micro businesses and small for-profit independent arts and cultural organizations to help them recover from the economic impact of the pandemic. Flexible grants up to $50,000 will be made available to eligible small businesses and can be used for operating expenses, including payroll, rent or mortgage payments, taxes, utilities, personal protective equipment, or other business expenses incurred during the pandemic. Over 330,000 small and micro businesses are potentially eligible for this program, including 57 percent of the State's certified MWBEs.
ESD has created a website –NYSBusinessRecovery.ny.gov – to highlight the various resources available to support small businesses seeking pandemic relief. The website will be continuously updated as more details and funding information as it becomes available.
---
New York Extends the Moratorium on COVID-related Residential and Commercial Evictions and Foreclosure Proceedings for Those Filing a Hardship Declaration Until August 31, 2021
Governor Andrew M. Cuomo today signed an extension of the COVID-19 Emergency Eviction and Foreclosure Prevention Act of 2020 and the COVID-19 Emergency Protect Our Small Businesses Act. The legislation (S.6362-A/A.7175-A) extends protections prohibiting residential and commercial evictions, foreclosure proceedings, credit discrimination and negative credit reporting related to the COVID-19 pandemic until August 31, 2021.
Commercial Evictions:
The legislation places a moratorium on evictions until August 31, 2021 for commercial tenants have endured COVID-related hardship. The legislation applies to small businesses with under 50 employees that demonstrate a financial hardship. Tenants must submit a hardship declaration, or a document explaining the source of the hardship, to prevent evictions.
Commercial Foreclosure Proceedings:
The legislation places a moratorium on commercial foreclosure proceedings until August 31, 2021.
Tax Lien Sales
The legislation prevents local governments from engaging in a tax lien sale or a tax foreclosure until at least August 31, 2021. Payments due to the locality are still due.
---
Curfew Will Be Removed for Outdoor Dining Areas Beginning May 17 and Indoor Areas Beginning May 31
April 28, 2021 – The 12 a.m. food and beverage service curfew will be lifted for outdoor dining areas beginning May 17 and for indoor dining areas beginning May 31.
The 1 a.m. curfew for catered events where attendees have provided proof of vaccination status or a recent negative COVID-19 test result will be lifted beginning May 17, with the curfew for all catered events set to be lifted May 31.
Catered events can resume at residences beginning May 3 above the State's residential gathering limit of 10 people indoors and 25 people outdoors, as long as the events are staffed by a professional, licensed caterer, permitted by the respective locality or municipality, and strictly adhere to health and safety guidance, including social and event gathering limits, masks, and social distancing. Also on May 3, the guidance for dancing among attendees at catered events will be aligned with neighboring states, replacing fixed dance zones for each table with social distancing and masks.
Starting May 3, seating at bars will be allowed in New York City, consistent with the food services guidance that is in effect statewide. Read more…
---
Website Launch for Office of Cannabis Management
April 2, 2021 – Governor Andrew M. Cuomo today announced the website launch for the New York State Office of Cannabis Management. This website educates the public on the OCM's regulatory structure which, with the Cannabis Control Board, will oversee the licensure, cultivation, production, distribution, sale and taxation of medical, adult-use and cannabinoid hemp within New York State. The website also provides resources for individuals seeking medical cannabis practitioners, caregivers and medical cannabis IDs as well as businesses seeking licensure to participate in adult-use, medical and cannabinoid hemp industries. Read more…
---
Restaurants Outside New York City Can Move to 75 Percent Indoor Capacity Starting March 19
March 7, 2021 – Governor Andrew M. Cuomo today announced that restaurants outside of New York City, which have been operating at 50 percent capacity, can now move to 75 percent capacity starting March 19. The data has shown that restaurants can operate safely and in accordance with strict health protocols at 75 percent capacity. New York City restaurant capacity will remain at 35 percent capacity. Read more…
---
State Pension Fund Calls on Companies to Address Climate Risk, Transition to Cleaner Operations
March 4, 2021 – The New York State Common Retirement Fund (Fund) has reached agreements with five major U.S. companies, including Domino's Pizza Inc., to set targets to reduce their greenhouse gas emissions (GHG), adopt new energy efficiency measures and increase their use of renewable energy, New York State Comptroller Thomas P. DiNapoli, trustee of the Fund, announced today. In response to the agreements, the Fund withdrew the shareholder resolutions with the companies. Read more…
---
Proposed Legislation Would Extend Moratorium on Commercial Evictions Until May 1, 2021
January 11, 2021 – The Governor will advance legislation to codify an existing Executive Order to extend a statewide moratorium on commercial evictions until May 1, 2021 for tenants who have endured COVID-related hardship. Landlords can evict tenants who are creating safety or health hazards.  
The Governor will codify and extend existing Executive Orders to ban late payments or fees for missed rent payments during the pandemic. It will also allow renters facing financial hardship due to COVID-19 to use their security deposit as payment and repay their security deposit over time.  Read more…
---
Legislation (S.6829/A.8829-A) Prohibits the Use of TCE as a Vapor Degreaser, Refrigerant, Cleaning Product and Other Uses
December 28, 2020 – Governor Cuomo today signed legislation (S.6829/A.8829-A) banning the most harmful uses of trichloroethylene, or TCE, a toxic chemical used in industrial and commercial processes. The legislation bans TCE's use as a vapor degreaser, an intermediate chemical in the production of other chemicals, a refrigerant, an extraction solvent or in any other manufacturing or industrial cleaning process or use.
TCE is typically used as an industrial cleaning and degreasing agent in manufacturing processes. It can enter the body through water, air, food and soil. It easily evaporates into the atmosphere and enters groundwater.  Read more…
---
---
Sales Tax Deadline for Restaurants Extended Until March 2021
December 22, 2020 – A three-month extension to the deadline for restaurants in orange zones, including New York City, to turn over sales taxes to the state has been implemented. Restaurants in impacted areas were required to suspend indoor dining temporarily. Extending the sales tax deadline for payment of taxes due on December 21 to March 2021 will ease tax burdens for restaurants and bars in communities where COVID-19 metrics necessitated additional restrictions. Affected restaurants should follow guidance from the Tax Department to request this relief.
---

---
Legislation Designates a Scheme to Defraud by Disposal of Solid Waste; Imposes Stiffer Penalties on Offenders
Governor Andrew M. Cuomo today signed legislation (S6758-B/A10803a) to strengthen penalties against the illegal disposal of construction debris, demolition debris, and other hazardous substances. The legislation also designates fraudulent schemes involving the disposal of solid waste as a new crime. These strengthened penalties will provide strong new tools for law enforcement to use as they work to stop unlawful waste dumping activities. Read more…
---

---
DiNapoli: NYC Retail Sector Battered by Pandemic
December 14, 2020- The retail sector, one of New York City's biggest employers, is having an uneven recovery from the COVID-19 pandemic, with "non-essential" retailers struggling but online sellers booming, according to a report released today by State Comptroller Thomas P. DiNapoli. Read more…
---
Continuing Temporary Suspension and Modification of Laws Relating to the Disaster Emergency; Extension of Commercial Evictions Ban Until January 31, 2021
December 11, 2020 – According to Executive Order 202.81, The directive contained in Executive Order 202.48, which modified the directive in Executive Order in 202.28, as continued by Executive Order 202.75 that prohibited the initiation of a proceeding or enforcement of an eviction of any commercial tenant for nonpayment of rent or a foreclosure of any commercial mortgage for nonpayment is hereby continued until January 31, 2021. Read more… 
---
New E-Commerce Opportunities Available for Restaurants and Food Service Establishments Affected by COVID-19 | Ritual and PayPal Commit $1 Million Towards Discounted Purchases for Customers of Participating New York Businesses on Ritual ONE
December 11, 2020 – Governor Andrew M. Cuomo today announced the second phase of New York's Empire State Digital initiative to support the state's restaurants and food service industry affected by COVID-19 has launched. Beginning today and extending through April 2021, e-commerce company Ritual will offer its commission-free digital ordering platform Ritual ONE to New York's restaurants and food service businesses at no cost, for pickup and delivery. Additionally, PayPal has committed $1 million towards discounted purchases for customers of participating businesses on Ritual ONE in February 2021, at no expense to the businesses. This follows the Governor's extension of the moratorium on commercial evictions to support restaurants and small businesses. Read more...
---

---
Public-Private Partnership Between Empire State Development, Start Small Think Big and the New York State Bar Association Will Provide Small Businesses and Landlords with Pro Bono Legal Assistance to Renegotiate Lease Terms in Wake of COVID-19
December 10, 2020 – Governor Andrew M. Cuomo today announced the launch of the New York Forward Small Business Lease Assistance Partnership. Recognizing the economic impact of COVID-19, this program will provide small businesses and their landlords with informational resources and pro bono assistance to help both parties reach mutually-beneficial lease workout agreements. This service is available to all New York State small businesses and landlords, and participation is voluntary. Over the next year, the partnership has the capacity to serve thousands of small businesses statewide. Read more…
---

---
New York State Pension Fund Sets 2040 Net Zero Carbon Emissions Target
December 9, 2020 – New York State Comptroller Thomas P. DiNapoli announced today that the New York State Common Retirement Fund (Fund), valued at an estimated $226 billion, has adopted a goal to transition its portfolio to net zero greenhouse gas emissions by 2040. This process will include completion within four years of a review of investments in energy sector companies, using minimum standards to assess transition readiness and climate-related investment risk, with, where consistent with fiduciary duty, divestment of companies that fail to meet minimum standards. Read more…
---
Going Into Winter Season, Highly Destructive SLF Pest Confirmed on Staten Island, Areas in the Hudson Valley, and in the Southern Tier; Monitoring Ongoing and Public Urged to Continue to Report Findings of Insects and Egg Masses Through the Colder Months
---
Unemployed and Underemployed New Yorkers Can Access Nearly 4,000 Online Free Courses And Certificate Programs On Coursera
November 17, 2020 – Governor Andrew M. Cuomo today announced the launch of a new online training platform which will enable unemployed and underemployed New Yorkers weathering the COVID-19 pandemic to learn new skills, earn certificates, and advance their careers at no cost. The new tool will provide access to nearly 4,000 online programs taught by leading professors and industry professionals on Coursera, with a focus on high-growth and in-demand sectors like advanced manufacturing, technology, and health care, among others.  Read more…
---
State Must Consider Pros and Cons of Gaming Revenues, Problem Gambling
November 12, 2020 – As policymakers consider possible expansion of revenue streams from gaming, New York State Comptroller Thomas P. DiNapoli released a report today on the industry in the state that calls for improvements in finding an appropriate balance between reliance on revenue generated from gaming activities and problem gambling. Read more…
---
$11 Million in Volkswagen Settlement Funds to Expand Electric Vehicle Fast Charging Stations in New York
November 12, 2020 – Governor Andrew M. Cuomo today announced the availability of $11 million to build out the state's network of fast charging stations to support wider adoption of electric vehicles. The Direct Current Fast Charger program will be administered by the New York State Energy Research and Development Authority to scale up electric vehicle infrastructure in areas of the state where access to fast charging stations is limited, and will also prioritize improving the availability of charging infrastructure in disadvantaged communities. Applications for the first round are being accepted through February 18, 2021. Read more…
---

---
Cashless Tolling to Go Live Overnight on NYS Thruway's Ticketed System Beginning Friday, November 13, More Than a Month Ahead of Schedule
November 11, 2020 – Cashless tolling will go live on the New York State Thruway's ticketed system – more than a month ahead of schedule – during the overnight hours of Friday, November 13, into Saturday, November 14. The historic conversion will take place simultaneously at 58 tolling locations across the Thruway's 450-mile ticketed system. Read more…
---
New Law Deters Abusive "Strategic Lawsuits Against Public Participation" – Known as SLAPP Lawsuits; Requires Costs and Attorney's Fees to be Recovered Regarding SLAPP lawsuits
November 10, 2020 – Governor Andrew M. Cuomo today signed legislation that protects citizens' rights to free speech and petition by deterring abusive "strategic lawsuits against public participation," known as SLAPPs. SLAPP lawsuits are frivolous litigation brought by affluent plaintiffs who have the ability to spend large sums of money by using expensive and time-consuming litigation to obstruct those exercising their right to free speech. The legislation amends the Civil Rights Law to require costs and attorney's fees to be recovered regarding these frivolous lawsuits, which will deter plaintiffs from bringing such lawsuits in the first place. Read more…
---
Local Sales Tax Collections Down for Third Quarter 2020
October 28, 2020 – Sales tax revenue for local governments in New York state dropped 9.5 percent in the third quarter compared to the same period last year, according to State Comptroller Thomas P. DiNapoli.
Sales tax collections
from July to September totaled $4.3 billion, or $452 million less than last year.
Read more…
---

---
Department of Health's Cannabinoid Hemp Program Will License Processors and Retailers and Set Quality Control Standards
October 28, 2020 – The New York State Department of Health has filed proposed regulations to regulate cannabinoid hemp products in New York State. In accordance with legislation signed earlier this year, the Department is creating a Cannabinoid Hemp Program. The Program will license both cannabinoid hemp processors and retailers and set quality control standards that all cannabinoid hemp products must meet. Read more…
---
New York Extends Moratorium On COVID-Related Commercial Evictions Through January 1
October 20, 2020 – Governor Andrew M. Cuomo today signed an Executive Order extending the state's moratorium on COVID-related commercial evictions and foreclosures through January 1. This measure extends protections already in place for commercial tenants and mortgagors in recognition of the financial toll the pandemic has taken on business owners, including retail establishments and restaurants. The extension of this protection gives commercial tenants and mortgagors additional time to get back on their feet and catch up on rent or their mortgage, or to renegotiate their lease terms to avoid foreclosure moving forward.   Read the Executive Order here.
Department of Financial Services Calls for Regulation of Social Media Giants After Twitter Hack Investigation
October 14, 2020 – The New York State Department of Financial Services (DFS) released a report on the Department's investigation into the July 15, 2020 hack into the Twitter accounts of cryptocurrency firms and well-known public figures. Among DFS' findings: the global social media platform lacked adequate cybersecurity protections and, at the time of the attack, did not have a chief information security officer. The report recommends a new cybersecurity  regulatory framework for giant social media companies. Read the DFS Report here.
---
DFS Issues Guidance to Insurance Industry Clarifying Coverage for PrEP and Related Services
October 8, 2020 – New guidance prohibits cost-sharing for PrEP and related services for consumers. The Department of Financial Services has issued a Circular Letter to New York-regulated health insurers, clarifying coverage for pre-exposure prophylaxis, known as PrEP, for the prevention of HIV infection and related services. Read more… 

---
Suspension of State Debt Collection Renewed for Seventh Time
October 5, 2020 – The state has renewed, for the seventh time, an order to halt the collection of medical and student debt owed to the state of New York that has been specifically referred to the Office of the Attorney General (OAG) for collection for an additional 30-day period. Read more…
---
Final Regulations Requiring Insurers to Provide Fair Coverage for Mental Health & Substance Use Disorders Issued
October 1, 2020 – Governor Andrew M. Cuomo today announced final regulations requiring insurers to put into place policies and procedures that will ensure that they are providing comparable coverage for mental health and substance use disorders. A full copy of the DFS regulations can be found on the DFS website. Regulations will go into effect on December 29, 2020. Read more…
---
"Empire State Digital" with Global E-Commerce Companies to Accelerate New York's Small Businesses' Ability to Compete in the Digital Economy Launched
October 1, 2020 – Governor Andrew M. Cuomo today announced Empire State Digital, a new initiative accelerating New York State-based small businesses' ability to grow their online presence through a first-in-the-nation program with leading global e-commerce enablers, including Shopify, Square, Clearbanc, and Etsy.  Options can be reviewed on Empire State Digital's website which includes additional services available to small businesses. Read more…
---
$18 Million Initiative to Train Workers and Support Entrepreneurs During and After the COVID-19 Pandemic Announced
September 30, 2020 – New York State has been awarded an $18 million federal grant to fund educational opportunities that train New Yorkers for in-demand jobs, support entrepreneurs, and help small businesses recover from the coronavirus pandemic. Read more…

---
Governor Cuomo Reminds New Yorkers "Pink Tax" Ban Goes into Effect Today
September 30, 2020 – New reforms go into effect today prohibiting businesses from charging a "pink tax," otherwise known as the practice of charging different prices for "substantially similar" consumer goods or services that are marketed to different genders. The new measure also requires certain service providers provide price lists for standard services upon request and notifies them that gender-based price discrimination is prohibited under State law. Read more…
---
Initiative to Train Over 1,000 Workers to Install Green Building Technologies to Combat Climate Change Announced
September 29, 2020 – The Career Pathway Training Partnerships program in high efficiency heating, ventilation and air conditioning, and electric heat pump technologies will help prepare New Yorkers for the growing number of job opportunities in the clean energy industry. The partnerships will target training over 1,000 workers and prioritize the state's most underserved populations, including low-income New Yorkers and those residing in environmental justice communities, helping support the state's economic recovery. Read more…