RCBJ-Audible (Listen For Free)
New Yorkers Will Be Voting June 28 and August 23 For Primaries
By David Carlucci
Most states hold the entirety of their primary elections on the same date, but New York State's elections are split into two this year due to redistricting complications.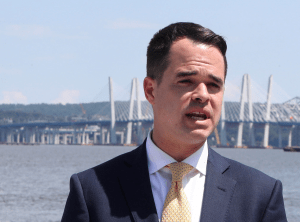 Every ten years, all state district lines are rearranged proportionally to the state's census data. Redistricting is often a contentious process within state legislatures due to concerns of gerrymandering and political bias within drafted lines.
Following the 2020 census, the Independent Redistricting Commission was responsible for redistricting New York's districts. However, the IRC never submitted any proposals, placing the new maps under the authority of the Democratic supermajority.
The drafted map was highly contested by state Republicans. They claimed that the Democrats purposely imported dark-blue neighborhoods into districts with GOP incumbents. Republicans point to Congressional District 11, which contains Staten Island. District 11 is currently held by Republican Nicole Malliotakis. The new map imported the highly liberal Park Slope neighborhood into District 11 which could create obstacles for Malliotakis' reelection.

Scared of potentially losing half of their current seats in the House of Representatives, New York Republicans sent the redistricting maps to the New York Supreme Court, claiming political bias.
The New York Court of Appeals agreed with the Republicans, striking the redistricted maps as gerrymandered, and therefore, null and void. In the ruling opinion on the redistricting maps, Chief Judge Janet DiFiore argued "On these appeals, the primary questions before us are whether this failure to follow the prescribed constitutional procedure warrants invalidation of the legislature's congressional and state senate maps and whether there is record support for the determination of both courts below that the district lines for congressional races were drawn with an unconstitutional partisan intent. We answer both questions in the affirmative and therefore declare the congressional and senate maps void. As a result, judicial oversight is required to facilitate the expeditious creation of constitutionally conforming maps for use in the 2022 election and to safeguard the constitutionally protected right of New Yorkers to a fair election,"
Following the Court's ruling, Judge Patrick McAllister appointed postdoctoral fellow for the Institute of Politics and Strategy Jonathan Cervas at Carnegie Mellon University as "special master" of revising the district maps. District lines were not finalized until the end of May.

Because of this, New York is currently scheduled to hold two elections for the primary season. All seats except for Congress and the State Senate will be held on the originally scheduled date, June 28th. Two months later, New Yorkers will be voting for Congress and state Senate positions on August 23rd. With early voting starting 10 days prior for each election.
David Carlucci consults organizations on navigating government and securing funding. He served for ten years in the New York Senate.